Russian produced avionics set to reduce the cost of the Superjet and MS-21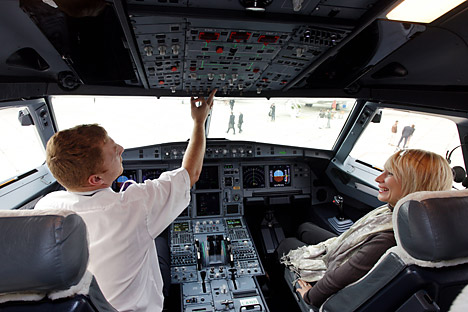 There are plans to install Russian onboard equipment on the advanced MS-21 and Superjet passenger aircraft, and also on the medium range Yak-242. Source: Photoshot
The Russian concern 'Radioelektronniye Tekhnologii' (Radio-electronics Technologies) has submitted an application for EASA licensing.
Plans are on to obtain EASA licensing for Russian onboard aircraft electronics for the first time by 2015. This will not only allow Russian avionics systems to enter the international marketplace, but also to replace imported avionics suites on future Russian airliners.
The Russian concern 'Radioelektronniye Tekhnologii' (Radio-electronics Technologies) has submitted an application for EASA (European Aviation Safety Agency) licensing. Receipt of the licence is planned for 2015.
The Director of the Department of the Aviation Industry at the Minpromtorg (The Ministry of Industry and Trade) Andrey Boginskiy is certain that in the future on board equipment, sub-assemblies and systems for Russian aircraft and helicopters will be produced solely in Russia. According to Andrey Boginsky EASA licensing is "another step towards adding further value to aircraft production in Russia."
An EASA certificate allows European aviation companies as well as those in countries, which have accepted EASA requirements as standard, to obtain and operate aviation technology.
"Obtaining this licence will allow Russian companies to offer spare parts supply services and after sales service as part of not only civil, but also military technical cooperation," says Maksim Kuzyuk, General Director of the holding company 'Aviatsionnoe Oborudovanie' (Aviation Equipment). He also said, "successful realisation of this strategy will support growth in financial performance indicators, specifically in terms of the sector's top and bottom line, thanks first and foremost to a reduction in the cost of the finished product."
There are plans to install Russian onboard equipment on the advanced MS-21 and Superjet passenger aircraft, and also on the medium range Yak-242. Today Russian avionics make up more than half of the MS-21's suite, there are exceptions for example in terms of navigation and communications equipment. According to the experts however the Superjet 100 does not have any Russian electronics on board at all, with production of all the on board equipment takes place in France.
Mikhail Bogatyrev, Head of the Department of the Design and Manufacture of Civil Aviation Technology at Minpromtorg announced that the department has plans to not only replace imported technology but also to export aircraft electronics. At present the key export regions for Russian companies are India, as well as South-East Asian and Latin American countries. It is these regions that will become priority markets for promoting new products.
In the future, electronics manufacturers are hoping to introduce newly certified elements onto other airframes - for example the Be-200 military transport aircraft. Experts however note that transferring electronics from a civil to a military transport aircraft is not possible without modifications: the functionality and serviceability requirements in terms of combat damage for military and civil aircraft differ considerably.
"The military require a different 'hardware' without the use of foreign elements, as well as a programme that has specific functions," says Oleg Panteleyev, Editor in Chief of the agency 'AviaPort'.
All rights reserved by Rossiyskaya Gazeta.