Russian defense minister's visit to Crimea sends strong signal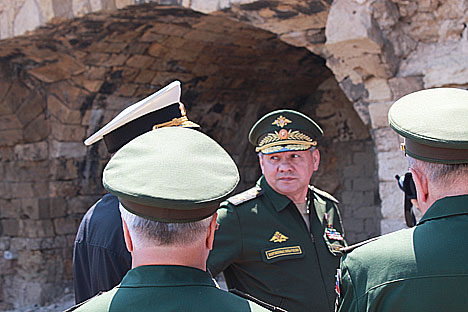 The visit of Russia's Defense Minister Sergei Shoigu (in middle) to Sevastopol draws critisism from the West. Source: Russia Direct
Sergei Shoigu inspected troops in Sevastopol just days after Ukraine went to the polls to elect a new president.
On May 28, Russian Defense Minister Sergei Shoigu paid a visit to the Crimean city of Sevastopol, home of the Russian Black Sea Fleet. Shoigu inspected the fleet and participated in a conference on the occasion of the 70th anniversary of Crimea's liberation from Nazi Germany.
The defense minister's visit came just three days after Ukraine elected a new president, Petro Poroshenko, who has asserted that he will pursue the return of Crimea to Ukraine through international legal mechanisms. The timing led many observers in both Ukraine and abroad to see Shoigu's visit as a reassertion of Russia's claim to the peninsula.
Pavlo Verkhniatskyi, the director of the Kiev-based Center for Operational Strategic Analysis (COSA), considered Shoigu's visit "a symbolic gesture" aimed at reminding Crimean residents of their shared history with Russia.
Verkhniatskyi said that Shoigu's participation in a conference commemorating Crimea's liberation in World War II is in line with "Russia's general information strategy aimed at presenting Ukraine's leadership in a negative light."
This was not Shoigu's first visit to the Black Sea Fleet. On March 24, he inspected troops and military facilities in Crimea, making him the first senior Russian official to travel to the region following its absorption by Russia. Shoigu also accompanied Russian President Vladimir Putin to Crimea on May 9, Victory Day.
Verkhniastkyi said that in his opinion, such visits are detrimental to diplomacy. He pointed out that no delegations from the U.S. or Europe attended the Moscow International Security Conference, held May 23-24, and that Norway has suspended military cooperation with Russia until the end of the year. "Shoigu's visit to Crimea is a small piece of this puzzle," Verkhniatskyi said.
Russian experts have made no secret of their opinion about the West's reaction to events in Crimea. Igor Korotchenko, editor-in-chief of the Moscow-based National Defense magazine and director of the Center of Analysis of the World's Arms Trade, said that Moscow doesn't care at all about opinion of Western officials, because "Crimea belongs to us."
He added that Russia doesn't take into account the West's response to its actions in Crimea, but only takes into consideration its tactics and strategic goals as well as its national interest.
Likewise, Western experts have little positive to say about Russia's position vis-à-vis Crimea. Michael E. O'Hanlon, a senior fellow and director of research in the foreign policy department of the Brookings Institution, questions Russia's actions in the Black Sea region, noting that he "cannot say anything good about how Putin has pursued his aims here," because "they fly in the face not only of international norms but of basic decency."
But, at the same time, O-Hanlon acknowledged that there is "a kernel of reasonableness" to Russia's claim on Crimea.
"If Putin had wanted annexation, and felt the local population could agree to that, he should have waited a year or two to have a proper referendum under international supervision,"O'Hanlon said.
Read the full text, including opinions from other experts on Shoigu's visit to Crimea, at Russia Direct.
Russia Direct is international analytical media outlet with the focus on foreign policy. Its premium services, such as monthly analytical memos and quarterly white papers, are free but available for subscribers only. For more information about the subscription, please visit russia-direct.org/subscribe.

All rights reserved by Rossiyskaya Gazeta.