Source: Nikolay Koroleff
Two soldiers stand at attention beside the walls of Moscow's Kremlin, guarding the Tomb of the Unknown Soldier. Children watching on sometimes take them for the tin soldiers of fairy tales: "Mama, Mama, are they alive? Hey, he blinked! He's alive!" or "Mama! Are they robots?"
In fact, these are young men from all corners of the country who have been assigned to serve in the Presidential Regiment.
The requirements for selection for the regiment are motivation, a minimum of a high school education, no criminal record or police arrest, a sound ethical and psychological condition.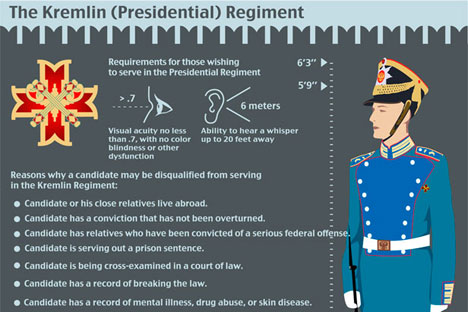 Click to enlarge the infographics
However, those wishing to join the regiment must also pass strict criteria for external appearance: They must have the 'correct' facial characteristics, be between 5.7 and 6.2 feet tall and have no tattoos or scars. Of these men, several are selected for the special guard company — and these are the men who onlookers see standing motionless for hours beside the Kremlin walls.
A week of one's life standing at attention
The Tomb of the Unknown Soldier was installed in the Alexandrovsky Garden next to the Kremlin's walls in 1966, in honor of the 25th anniversary of the defeat of the German army near Moscow. It is a monument honoring all the Russian soldiers who perished in World War II. Its other name is Post. No. 1, or the "country's main post.
In nine months of service, Alexander Makartsev, a private in the 1st Company of the honor guard, has quick-stepped to his post on 150 occasions, raising his legs to an angle around 90 degrees. This means that he has spent an entire week of his life standing at attention.
According to Makartsev, the main offenses among the soldiers are staring at young women and at "their own": When people in the same uniform show up, it is striking.
Since he has been serving, Makartsev has figured out how to distinguish Russians from foreign tourists: "Russians' faces are rounder, while Europeans have symmetrical features and lips in a straight line. Russians are more smiling."
What does a guard think about when he is on duty? Yevgeny Ryndin, a comrade-in-arms of Makartsev's in the 1st company of the honor guard, says that for him it is the social and moral significance of the monument and all that it represents that occupies his thoughts.
"You think about who stood here before you, and what it all means: the Tomb of the Unknown Soldier. A man who sacrificed his life for all of us is buried there. So how can you not stand until the end, not wait it out until the end?"
Selfies next to the Eternal Flame
"It makes me happy to see whole families with children," Makartsev says. "Some people bow down, and some even cry. Elderly women and men generally cross themselves; people leave flowers. It's especially nice to see the Chinese, who are familiar with our customs and bow three times to the ground in front of the Tomb of the Unknown Soldier. There are also young people who come and take selfies. They try to tease us; they shout, 'Come with us.'"
"When things like that happen, I try to look up and disengage myself from the crowd. I notice what's happening and hear what people are saying, but I don't succumb," he says.
Secret strategies
Makartsev shows his sunburnt hands and lifts his shirt to his elbow: the skin is white. "Yesterday it was abnormally hot in Moscow: It was 38 degrees [Celsius, 100 degrees Fahrenheit - RBTH] in the shade, and here the granite gets hot, and it's warm from the flame — so it ends up being around 50 degrees. But you can't do anything about it. You need to tough it out."
The guard shares some of the secrets: If a wasp lands on you, do not panic — it will fly away on its own. If you need to cough, touch your tongue to the roof of your mouth and the urge will pass. Sneeze inside yourself. Yawning and scratching are categorically forbidden.
In case of emergency, a guard can count on a partner to help him out: Another watchman stands a little way from the Tomb of the Unknown Soldier. He whistles a prearranged signal if someone suddenly decides to encroach on the monument.
If the guards need assistance, they have secret signs — they do not shout "Come over here." Instead, the thumb and index finger on the ramrod of the rifle clang on the shaft and the watchman approaches the guard to, for example, fix his uniform or wipe off his face.
The guards each hold a Simonov semiautomatic carbine. The bullet in such a carbine is lethal at a distance of up to a mile. However, Makartsev said that even if the guards were to deploy their weapons, the safety of the people around them would be paramount.
Artist, barber, 19-year-old man
There is a perception that it is easier to serve in the Kremlin regiment than in other divisions. The barracks of the special guard company even have their own movie theater in which soldiers can watch contemporary patriotic films. The young men also take part in amateur performances: The regiment has a full orchestra called the Optimists, and there are organized outings to the theater.
However, Makartsev said that in many ways there is little difference between joining the presidential regiment and being conscripted into an ordinary army unit.
"It's just like the regular army here. Boys are turned into men. When we're isolated from the comforts of home, from the joys of an easy life, who you were before and how much money you had become unimportant."
Makartsev said that at first everybody tries to hide their negative sides, but soon the essence of the person appears. Everyone is different. Someone might, for example, do an unusual martial art like wushu. Makartsev enjoys art, and has decided to make the subject of his next painting the changing of the honor guard. He plans to give the painting to his mother or a comrade-in-arms.
The young guard is also a barber: It is his haircuts that are concealed under his peers' caps. Here, in the barracks, he seats his 'customers' in a huge leather armchair in which former Russian president Boris Yeltsin used to get his hair cut — the chair was later scrapped and given as a gift to the regiment.
Serving in the Presidential Regiment provides some privileges to soldiers. After serving, each soldier receives a rating that helps him with job placement. Serving in such a regiment also gives soldiers privileges when it comes to pursuing higher education: Former soldiers can enter Moscow State University (MGU, Russia's oldest and largest university) without taking entrance examinations if they receive a recommendation from their commanding officer. Makartsev is taking advantage of this option, and plans to submit his documents to MGU during the next school year.
For the young soldier, who now has three months in the special guard company remaining, the lessons he can take from his service are clear. "It was precisely in this place that I understood that a person has no idea what he is capable of," he says.
All rights reserved by Rossiyskaya Gazeta.