Uncertain future for Dnepr rocket program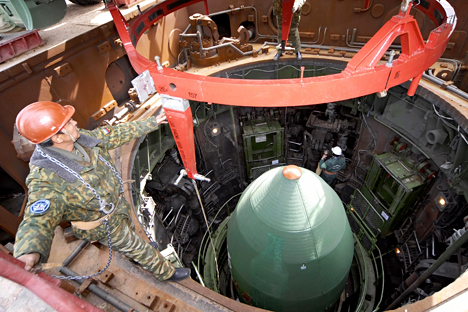 Source: Sergey Kazak \ RIA Novosti
Cooperation between Russia and Ukraine on satellite launches may cease as a result of the situation in the Donbass.
The joint Russian-Ukrainian Dnepr rocket program may be the latest victim of the crisis in Ukraine. The program launches commercial spacecraft into orbit with the help of converted SS-18 intercontinental ballistic missiles (ICBM), but on Oct. 9, a high-ranking source in Russia's rocket industry said that Russia's economic, political and military interests are incompatible with the continuation of launches within the Dnepr Program.
The Dnepr Program began at the end of the 1990s, when the need to dispose of ICBMs converged with a desire to launch commercial satellites into near-earth orbit. Until recently, Ukrainian enterprises carried out technical service of the launching complexes. However, Ukrainian President Petro Poroshenko has ordered the end of all military cooperation between Ukraine and Russia, and it is unclear to what extent the ban will affect the Dnepr program, which is not military, but is based on military technology.
Sergei Boita, general director of Ukraine's Yuzhnoye Design Bureau said that for the moment the project can continue, with modifications, "There is a taboo on servicing military ballistic missiles… We are now working in peaceful space, with difficulty, but working," Boita said, according to Russian media. He estimated the annual losses for Yuzhnoye as a result of the changes at around $200 million.
Russia's space agency is not particularly concerned about the loss of its Ukrainian partners. Russian industry experts say that Russian firms have also been taking part in the routine maintenance of the ICBMs and that the state-owned Makeyev Rocket Design Bureau can create new conversion launchers. "We have already examined the resources needed and the documentation," said Deputy Director of the Russian Federal Space Agency Sergei Ponomarev. "Our enterprise is also a developer and if there is a refusal, we annul the contracts with Ukraine and transfer all the work to the Russian side."
Commercial launches already planned will go ahead as scheduled. At the end of October 2014, the Dnepr is supposed to launch into orbit five Japanese microsatellites and in June 2015, two American next- generation Iridium NEXT spacecraft. The charge for each launch is around $30-35-million, but the division of the revenue among the various parties is a secret.
The political situation may provide a good excuse for Russia to look for more environmentally friendly alternatives to the Dnepr. The Dnepr, along with the Cosmos, Cyclone and Rokot rockets, use toxic fuel components. The Russian Ministry of Defense has made it clear that in the future, it intends to use only ecologically clean rockets to launch light satellites. These new rockets will be built on the basis of the Soyuz-2.1b, developed by the Progress Space-Missile Center in Samarskoye, and the Angara-1.2, developed by the Khrunichev State Research and Production Center.
All rights reserved by Rossiyskaya Gazeta.