From latecomer to leader: Russia's giant leap forward in military medicine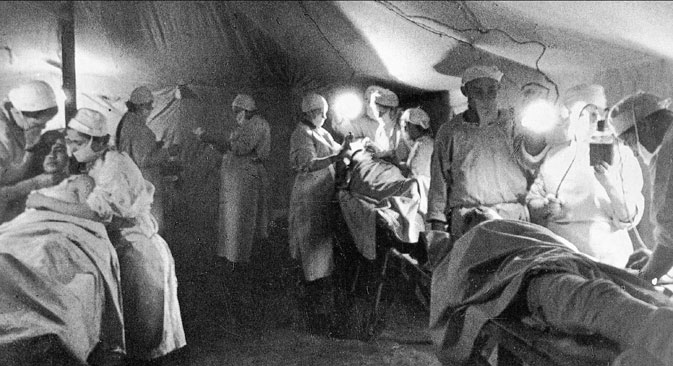 Performing surgery at the field hospital, 1942. Source: RIA Novosti
Although developments in military medicine in Russia languished behind those in Western Europe for centuries, reforms implemented by the likes of Scot James Wylie and Nikolai Pirogov from the late 18th to mid-19th centuries made Russian medical treatment on the battlefield among the most progressive in the world.
Military medicine was a late arrival in Russia. In the 17th century, when the armies of the European monarchies already had military surgeons and travelling pharmacies, Russian archers were still treating their own injuries, applying healing herbs and bandaging each other's wounds.
Yet by then warfare was already so evolved that battlefield casualties were inflicted on a huge scale, while armies had grown so much in size that as many troops fell to disease as enemy action.
The quality of military medical treatment in Russia changed radically under Peter I, taking a significant step forward. When Russia dispatched an army to take the Turkish fortress of Azov in 1695, it sent ships with medical supplies, while doctors and pharmacists accompanied the troops from Moscow.
By the early 18th century, military statutes carried instructions for medical intervention as well as lists of medicines and instruments needed in campaigns.
By the close of the century, as Russia fought one war after another in a variety of locations, military chiefs understood that a military doctor's knowledge was an invaluable resource.
The picture "Moscow. A Military Hospital" also known as "The Military Hospital in Lefortovo" by the master of cityscape Fyodor Alexeyev, 1753-1824). Source: Vyacheslav Bobkov / RIA Novosti
After each campaign, doctors described and recorded their experiences and special medical atlases were drawn up detailing the medical considerations of specific theaters of operation.
By the 19th century, Russian military medicine was among the most efficient in Europe. During the Napoleonic Wars in 1812, the country's military doctors worked as a coherent system, with a high level of organization in evacuating wounded from the battlefield to field hospitals for operation and recuperation.
This complex mechanism was set up by a Scot, James Wylie, who came to live in Russia in the late 1700s and was named physician to the Tsar's household.
Wylie made it a personal goal to ensure that enlisted men as well as officers received medical treatment for wounds instead of being left to die on the battlefield.
Through concerted efforts, the number of non-combat losses in peace time in the Russian army fell to ten percent by the mid-19th century. A huge drop in today's terms, this was an even greater achievement in an era when every fourth European soldier died of disease.
One of the brightest lights of the Russian school of military medicine was Nikolai Pirogov, who astonishingly reached the age of 37 before he gained any battlefield experience.
Working from his offices he developed new methods of treating wounds and reducing the number of amputations. Pirogov initially used frozen corpses to simulate wounds, an apparent sacrilege, but one that enabled him to create a new anatomical atlas that soon became indispensible for military surgeons in both Russia and the West.
At the end of the 1840s, Pirogov finally tested his work in the field, conducting more than 10,000 operations on forces in the Caucasus, most of them with ether for anaesthetic.
While the British fleet was still giving patients a tot of rum or stunning them with a mallet, the Russian army had already introduced the method of inducing a dream state in patients for operations, much like today.
But the surgeon's finest hour came in the Crimean War. In 1855, during the British and French siege of Sevastopol, Pirogov established a functioning health service in the city.
Bandaging the wounded for the first time using starch-soaked bandages as plaster casts brought a sharp drop in amputations.
Pirogov also pioneered the modern triage system of grading injuries according to severity. Under this practice, some casualties were operated on directly in the field, while others were sent to the rear for treatment.
For these and other accomplishments he is still remembered as a founder of modern military field medicine, raising Russia's army to new standards of efficiency. By the outbreak of World War I, the country's military medicine was ranked among the best in the world.
Alexander Vershinin is an historian and holds a Ph.D in History. He is a senior researcher at the Governance and Problem Analysis Center in Moscow
All rights reserved by Rossiyskaya Gazeta.