Kalashnikov Concern sees first net profit in 7 years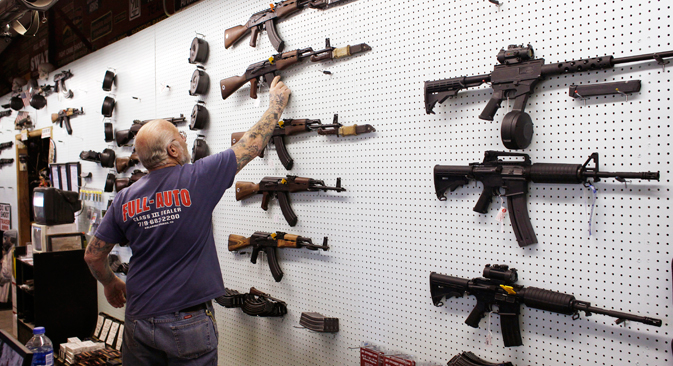 In January, the U.S.-based Russian Weapon Company (RWC, the exclusive distributor of Kalashnikov products in the United States) filed an application to register the Kalashnikov trademark in the U.S. Source: AP
Weapons manufacturer rakes in $45 million in 2014 despite sanctions.
Russia's iconic weapons manufacturer Kalashnikov Concern (part of the Rostec Corp.) registered net profits of 3 billion rubles (over $45 million) in 2014, displaying growth of 28 percent as compared to the previous period in 2013, a company representative told the TASS news agency.
"Revenue was 700 million rubles higher than in 2013. As a result, Kalashnikov generated its first operating net profit in seven years, amounting to 88 million rubles ($1.33 mln). The total net profit under Russian Accounting Standards may be 5 billion rubles ($73.5 mln), largely on account of the positive impact of exchange rate differences and replenishment of the earlier established provisions," the representative said.
He noted that Kalashnikov had unveiled its new 2020 development strategy in 2014, aimed at improving its performance indicators, expanding its sales geography, and a growth in revenue. The company has also developed an integrated investment program up until 2017.
"The main priority is to maintain our role as the leading arms supplier for the Defense Ministry and other Russian law enforcement agencies and further strengthen our position as a global leader in the development and production of small arms. Investments are expected to total 5 billion rubles ($73.5 mln)," said the company's representative.
Earlier the company's head, Alexei Krivoruchko, announced that Kalashnikov had doubled arms production in 2014 to 120,000 units despite the imposition of Western sanctions. The company plans to boost production in 2015 by 20-25 percent.
In January, the U.S.-based Russian Weapon Company (RWC, the exclusive distributor of Kalashnikov products in the United States) filed an application to register the Kalashnikov trademark in the U.S. but has not yet received the right to manufacture branded products there, CNN reported. According to the news channel, weapons would bear the iconic AK-47 name alongside the marking "Made in USA."
In January 2014, Kalashnikov signed a contract with RWC covering annual supplies to the United States and Canada amounting up to 200,000 rifles. However, the U.S. imposed sanctions against the company last summer.
Kalashnikov Concern is the managing company of a holding which carries out research and production of state-of-the-art munitions and arms for military, civilian and sports purposes.
The Rostec (Russian Technologies) Corp., which owns 51 percent of the concern, comprises almost 700 companies that form the backbone of the Russian Federation's technological and scientific sector. The remaining 49 percent of shares are privately owned.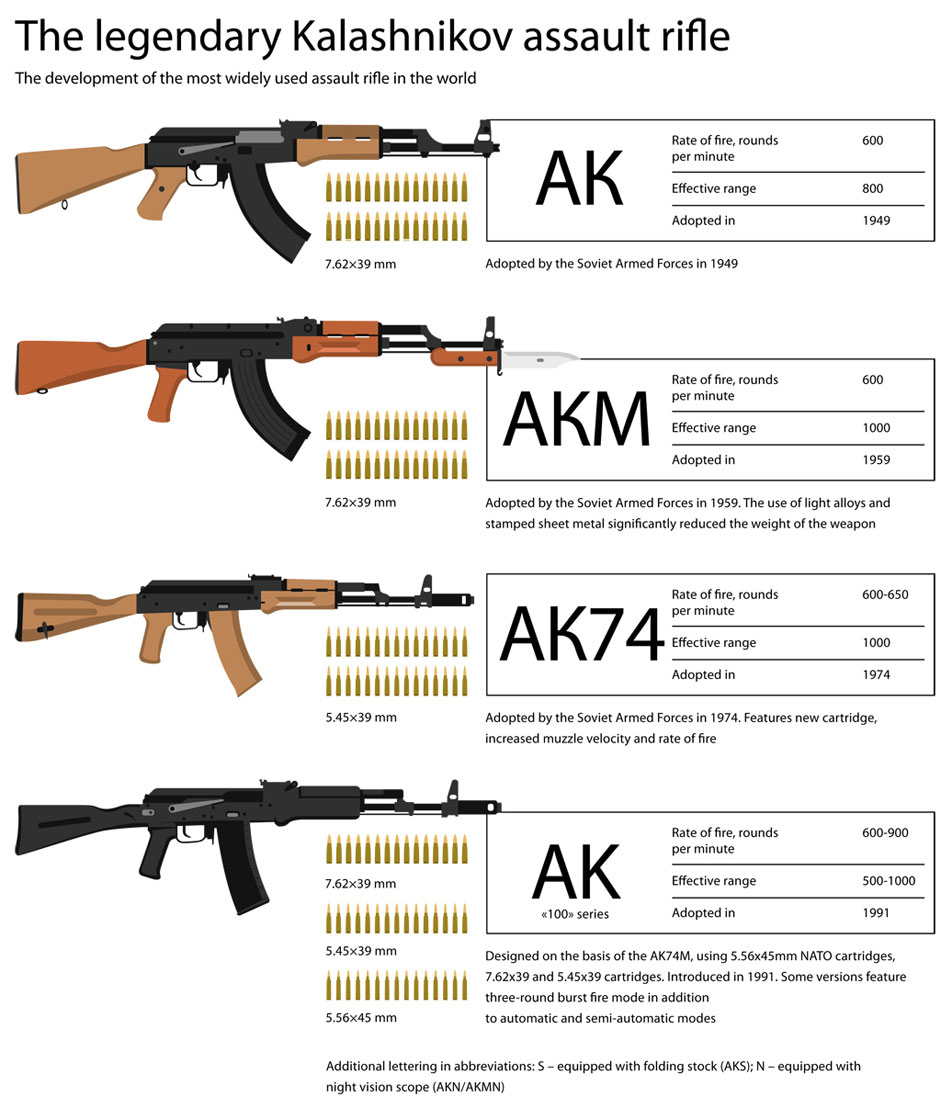 Click to view the infographics: The legendary Kalashnikov assault rifle
Based on materials published by TASS and CNN.
All rights reserved by Rossiyskaya Gazeta.