Russia eyes growth on Asia-Pacific arms market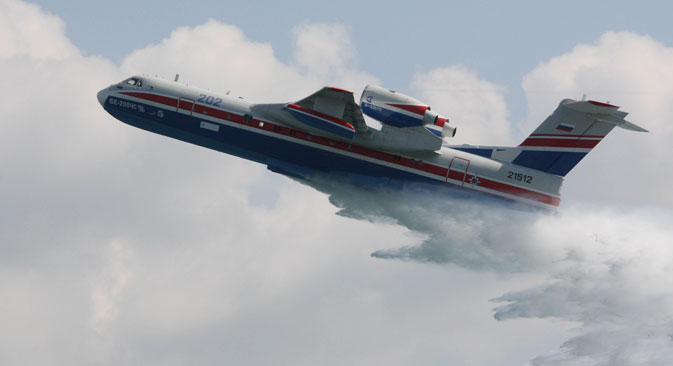 Source: RIA Novosti/Sergey Subbotin
Ahead of the LIMA 2015 exhibition in Kuala Lumpur, the head of the regional department at the Russian state arms exporter, Rosoboronexport, Vladimir Yereshchenko, has given an interview to the Rossiya Segodnya news agency to discuss Russia's prospects on the Asia-Pacific market and the latest models the Russian defense industry has to offer.
Traditionally, the Asia-Pacific region has accounted for nearly half of all Rosoboronexport sales. Given their growing economic potential, the countries of the region are becoming increasingly more interested in beefing up their "muscles" in order to improve their defense capability. The main trend is, of course, to develop one's own defense industry and to make active use of offset programs. We are ready for this scenario. Furthermore, we have extensive experience in setting up large joint and licensed productions, in technology transfer and in implementing truly unique projects.
There is a whole range of Asia-Pacific countries that we are only just starting to cooperate with. In particular, we would like to enter the markets of the Philippines and Brunei, to expand our ties with Thailand, to step up contacts with South Korea. All these countries have traditionally focused on Western manufacturers. However, times are changing and windows of opportunity are emerging that we shall make sure to use. In addition, we are busy developing relations with Nepal. There are now two Mi-17 helicopters in that country that we supplied. We are also expanding links with Sri Lanka and Bangladesh.
Arms requirements of Asia-Pacific countries: from air defense to naval systems
Russian air defense systems are perhaps one of the most promising areas in military-technical cooperation with Malaysia. There are no talks on specific deliveries currently under way, however there is indeed a great interest in Russian air defense systems here. That covers the Igla-S, Pantsir-S1 and Buk-M2E systems. We are therefore engaged in marketing work to promote them on the Malaysian market. There remains a consistent interest in patrol boats and in the coastal control systems we offer. Coastal defense is a priority for Malaysia, especially given that the problem of piracy in the Strait of Malacca remains rather pressing.
Aircraft: focus on Yak-130 and Be-200
Despite the fact that the Be-200 is a unique aircraft and has no equivalents elsewhere in the world as far as some of its parameters are concerned, it still takes quite a lot of time to promote it. One needs to realize that far from all countries need aircraft like that. Yet we continue our efforts to promote it in this region, since the Be-200 could be of interest – primarily to countries that have long maritime borders.
At the same time, we are also very optimistic about Yak-130 sales in the Asia-Pacific region. A contract to supply these aircraft to Bangladesh has been signed. In addition, together with the manufacturer we are continuing active marketing efforts to promote the Yak-130 in Malaysia, Indonesia and Sri Lanka.
Military-technical cooperation with Indonesia will expand
The IndoDefence show that was held in Jakarta in November last year confirmed the significant interest our Indonesian partners have in a wide range of Russian aircraft, naval systems and armored vehicles, as well as air defense systems. The diesel-electric submarines of Project 636 still remain in the sphere of interest of the Indonesian Navy. It is a very successful project, fully developed technologically and meeting all the modern requirements. We expect a visit from an Indonesian delegation in the near future. Indonesia is currently forming its defense budget for the next five years; we are currently on standby as it were. But it is temporary. At the very least, Rosoboronexport is doing its best to strengthen Russia's position on the Indonesian market.
The above is an abridged version of the interview. The full text in Russian is available at Roe.ru on March 17.
All rights reserved by Rossiyskaya Gazeta.