India and Russia move toward co-production of defense equipment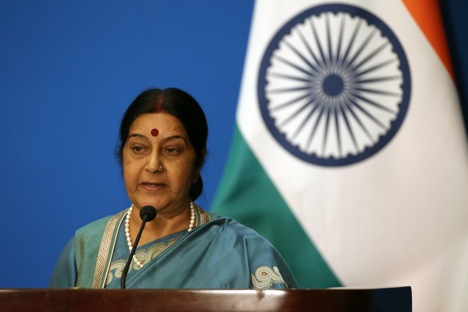 Sushma Swaraj: "Russia and India these ties are based on mutual trust". Source: EPA
India and Russia are moving away from a mere buyer-seller relationship in the defence segment, and moving increasingly towards co-production of hardware, India's external affairs minister Sushma Swaraj said.
Russia and India are increasingly moving towards joint-production of military equipment, and away from a typical buyer-seller relationship, indicating a significant level of improvement and mutual trust in bilateral relation, Sushma Swaraj, India's Minister of External Affairs said. She was speaking at a press conference on Sunday highlighting the foreign policy achievements of the Narendra Modi government's first year in office.
"Our military-technical cooperation with Russia was based on a 'buyer-seller' relationship – they sold arms, and we bought them," she said. "But this (cooperation) has now changed. Russia has decided to produce weapons in India, as well as to jointly manufacture arms with us, transferring the corresponding technologies."
India has been increasingly seeking co-production of defense equipment and transfer of technology, including sophisticated technologies like building fighter jets, submarines, missiles and tanks, as part of the government's 'Make in India' initiative. The defense sector is a major area in which the government hopes to make a success of manufacturing in the 'Make in India' programme.
Talking about bilateral relation in general, Ms. Swaraj said that between "Russia and India these ties are based on mutual trust". "Russia is our time-tested friend," Swaraj added.
She was reiterating the view of successive Indian governments towards Russia since the beginning of this century, particularly, when the relationship was upgraded to the status of a strategic partnership (in 2000) and subsequently to a "Special and Privileged Strategic Partnership," in 2010.
Before and during his recent visit to Moscow, Indian President Pranab Mukherjee also spoke glowingly about Russia being India's "time-tested friend," which always firmly stood by India.
The two countries have an Intergovernmental Commission on Military Technical Cooperation (IRIGC- MTC) co-chaired by Russian and Indian defense Ministers, meeting annually.
India began manufacturing military equipment provided under a Russian license back in 1967, when India's defense aircraft manufacturer Hindustan Aeronautics Limited (HAL) assembled the first MiG-21 in the country.
In 1998, Russia and India jointly manufactured a supersonic cruise missile, BrahMos, (named after the rivers Brahmaputra and Moskva), which has been inducted into the Indian armed forces.
Read the full story at Russia&India Report.
All rights reserved by Rossiyskaya Gazeta.