Russia eyes new Southeast Asian markets for arms sales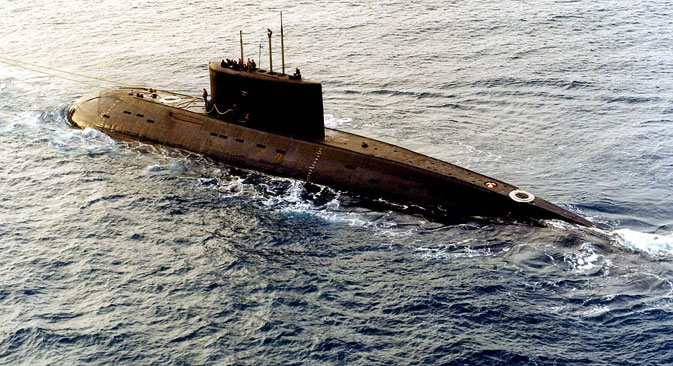 A Russian-built, Kilo-class diesel submarine recently purchased by Iran, is towed by a support vessel in this photograph taken in the central Mediterranean Sea during the week of December 23.‏. Source: Reuters
Moscow is offering a new range of armaments and a broader range of services to potential ASEAN partner including Malaysia, Indonesia and Thailand.
Russia is looking to develop military and technical cooperation with new markets in Southeast Asia, Deputy Defense Minister Anatoly Antonov said at the Shangri-La Dialogue security summit in Singapore.
"This effort will be facilitated by Russia's expanding potential for the export of new armaments and the broader range of services for their after-sale maintenance and also the economic development rates and the desire of the region's countries to diversify the sources of military hardware supplies, Antonov was cited by TASS as saying.
Moscow counts on the active participation of Southeast Asian countries in this important event, the minister said, according to the report.
"Russia has quite a large experience in military and technical cooperation with certain Southeast Asian states, such as Vietnam, Malaysia and Indonesia," Antonov said. "This cooperation has good prospects, considering that Russian armaments are both well-known in the region and constitute the basis for the pool of military hardware in some states like Vietnam, Laos and Cambodia."
Russia exported weapons and military hardware worth more than $15 billion in 2014 and has signed new contracts to the sum of almost $14 billion, according to TASS.
"Our competitive advantages include the successful and years-long operation of domestic armaments in all climatic zones," the news agency cited Russian President Vladimir Putin as saying at the May session of the Russian Commission for Military and Technical Cooperation.
Russia signed a slew of defense deals with Vietnam over the last few years, with the latest being the sale of a land attack variant of the Klub missile for its Kilo attack submarines. Moscow has also supplied Sukhois for the Indonesian and Malaysian air forces.
Thailand is the latest country in Southeast Asia to show interest in Russian weapons, as Bangkok's relations worse with its traditional supplier, the United States.
This month, Moscow will host Army-2015, an international military and technical forum. New contracts on the supply of armaments and military hardware may be signed on the forum's sidelines, Antonov said at the security summit in Singapore.
All rights reserved by Rossiyskaya Gazeta.