Going, going, gone: Russian Defense Ministry auctions military cast-offs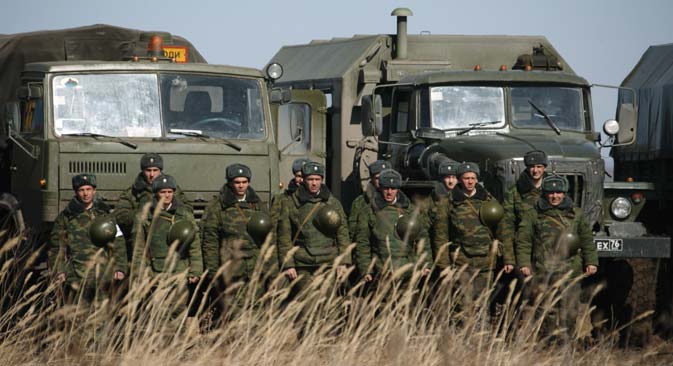 A total of 94 lots containing more than 1,000 units of army equipment went under the hammer at the Army 2015 Forum. Source: Pavel Lisitsyn / RIA Novosti
The Russian Defense Ministry has begun auctioning off mothballed military hardware and equipment to make room for new technology, giving buyers the chance to acquire their very own piece of army history. While it will be impossible to buy weapons and ammunition, old army jeeps, field kitchens and even sea vessels will be available for everyone – even foreigners.
Military enthusiasts keen to get their hands on a piece of Russian army history now have the perfect opportunity: The Russian Defense Ministry's Department of Property Relations has put up for sale a large quantity of military equipment: from field kitchens to VIP carriages and decommissioned sea vessels. The mobile property is being sold off at a series of auctions.
The first auction for the unwanted military hardware was the Army 2015 Forum, which took place on June 16-19 at Kubinka, near Moscow. A total of 94 lots containing more than 1,000 units of army equipment went under the hammer at the event, though it is planned to increase the list of lots at future auctions.
Alexander Nazarov, director of the Department of Property Relations, said that the Defense Ministry is emptying out its storage units to make room for new technology and is selling off old mothballed equipment (except for weapons and ammunition) that is no longer used in the Russian Armed Forces.
A sale with a military dimension

Most of the pieces (especially well-used ones) are being bought by private businesses to be used as scrap metal or with the aim of reselling them. Private collectors or ordinary civilians are buying the newer articles, for example, the kitchens, cisterns or auto parts and hardware.
The ministry has officially been selling military equipment since 2012, but only now has the initiative assumed such a dimension and the form of an auction. According to Nazarov, all the proceeds from the sales will go into the state coffers.
The Department of Property Relations says that in 2015 auctions will be held on a regular basis, and information about their dates and the items on sale will be available in the official Defense Ministry newspaper, Krasnaya Zvezda. In 2015 more than 120,000 items of mobile hardware are planned to be auctioned off.
Open to everyone

Nazarov said that anyone can participate in the auctions, even foreigners. All a potential foreign buyer has to do is to translate their passport into Russian, certify it at a public notary, provide their bank details and fill out an application form, which can be found on the Defense Ministry's official site.
According to the Department of Property Relations, those who buy military property will not be able to obtain "secret technologies," however. Firstly, because the ministry does not sell weapons and ammunition, secondly, because the property being auctioned off is useful only as scrap metal or as a rarity for private collections.
The biggest demand, according to Nazarov, has been for the various Ural trucks and the UAZ452 cars, also in various models, which are often called "loaves" since their shape is reminiscent of a bread loaf. This is a passenger-cargo, biaxial, four-wheel drive with advanced floatability. It has been produced since 1965 and is considered the veteran of the fleet.
Despite the fact that "loaves" have still not been put up for auction, it is precisely these that buyers are interested in. There is also a big demand for army attire – for example, padded jackets or tarpaulin boots. But the Defense Ministry is selling them only in bulk, so it will be difficult to buy just one padded jacket.
One participant of the Army 2015 sale, a 78-year-old former military man named Yury S., said that it had also been possible to "buy military" in the past. However, in those days the Defense Ministry surplus was distributed among "friends" and far from everyone could purchase military technology.
"They would make deals with the commander of the unit and would receive the decommissioned property at a symbolic price," he said. "That's how a friend of mine bought a 'loaf' which we then used for hunting. For hunters this is an ideal car, it will go over any terrain."
All rights reserved by Rossiyskaya Gazeta.