Putin admires 'flying axe' at MAKS Air Show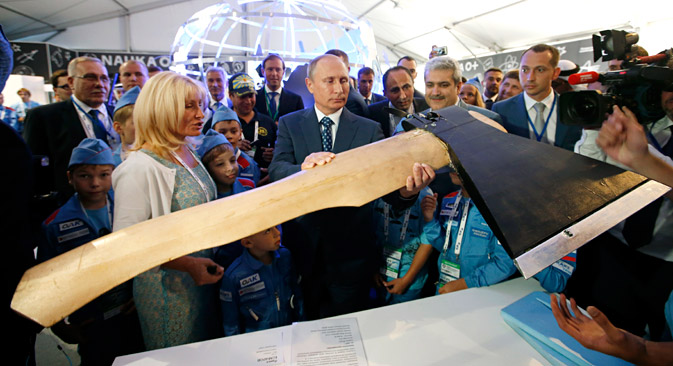 Vladimir Putin visits a pavilion of young aircraft and space designers at the MAKS, International Aviation and Space Show, in Zhukovsky, outside Moscow, Tuesday, Aug. 25, 2015. Source: AP
Young engineers show off their inventions to the Russian president.
Russian President Vladimir Putin has praised the work of young Russian engineers at the opening of the MAKS Air Show
At the opening of the large-scale aviation event in Zhukovsky (Moscow Region) on Aug. 25, the Russian leader visited a pavilion hosting an exhibition of creations by young engineers, where he was shown a "flying axe" - a ground-controlled gadget that takes off and spins on a cord at up to 16 meters with the help of a small engine.
On seeing the 1.5-meter "flying axe," Putin said: "Maybe next time you'll come up with a flying iron."
The MAKS Air Show ends on Aug. 30.
All rights reserved by Rossiyskaya Gazeta.