Russia to begin production of RACHEL high-speed helicopter in 2022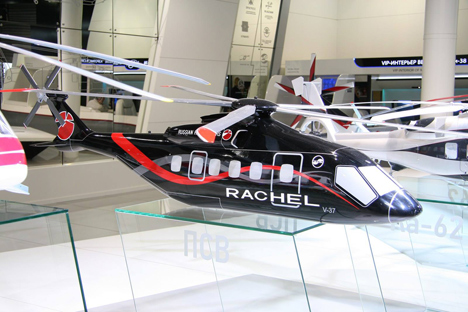 The model of RACHEL. Source: Press photo
Mil Moscow Helicopter Plant's new craft will be most affordable in its class.
The promising high-speed helicopter RACHEL (Russian Advanced Commercial Helicopter) – currently being developed in the interests of the Defense Ministry – will be brought into production in 2022, Commander-in-Chief of the Russian Aerospace Forces, Viktor Bondarev, said on Sept. 1.
The helicopter has been designed to carry up to 24 passengers; it has a flight range of up to 900 km, a top speed of 500 km/h, and an optimum payload of 2.5 tons. According to the developers, RACHEL should become one of the most affordable craft in its class.
For the first time, RACHEL – designed at the Mil Moscow Helicopter Plant (the Helicopters of Russia holding company) – was on display in model form at the air show in Farnborough (UK) in 2013. A full-size helicopter demonstrator was shown at the MAKS 2015 Air Show outside Moscow in late August. The demonstrator's maiden flight is due in December 2015.
All rights reserved by Rossiyskaya Gazeta.