Armata tank and IFVs of the future to be shown at Russia Arms EXPO-2015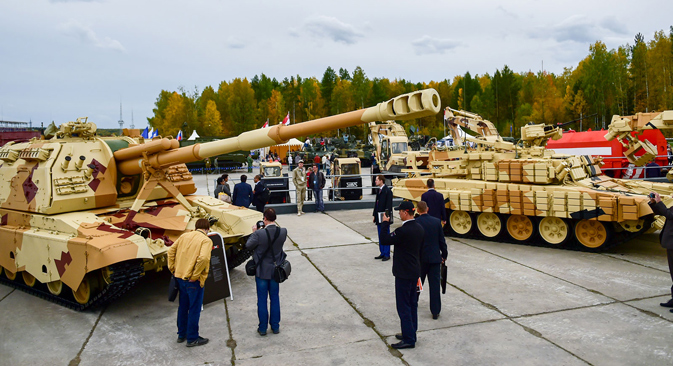 RAE-2015, the first day. Source: Perss photo
Event in Nizhny Tagil will welcome representatives from over 60 countries.
Russia's new Armata tank and a number of infantry fighting vehicles (IFVs) are to be displayed at Russia Arms Expo-2015, an international exhibition of arms and military equipment.
The event, now in its 10th year, is to be held in Nizhny Tagil in the Sverdlovsk Region on Sept. 9-12.
Representatives of over 60 countries will come to the exhibition, including Brunei, China, Honduras, Cuba, the Netherlands, Pakistan, Peru, Romania, Syria, Thailand and Chile.
The scientific and production association Precision Complexes will introduce the Kornet-EM anti-tank missile system, the Varan multifunctional lightweight robotic system and the Vezdekhod-TM3 ultralight multifunctional mobile robotic system.
The Kalashnikov Concern will show the Typhoon-U, a new remote-controlled combat module, mounted on the armored vehicle Ural-5309
The tank manufacturer UralVagonZavod will show a heavy wheeled infantry-fighting vehicle with the 57-mm automatic cannon BM-57. Also showcased will be a tank and an IFV based on the Armata platform.
All rights reserved by Rossiyskaya Gazeta.