Russia's troops to get 71,000 Ratnik combat outfits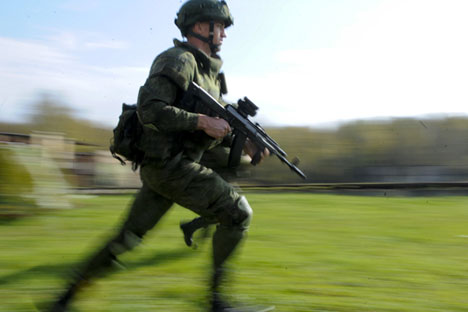 A military man wearing the new combat uniform 'Ratnik' with a Kalashnikov AK-12 assault rifle at a shooting range. Source: ITAR-TASS/ Sergey Bobylev
Army will receive the "soldier of the future" gear by the end of 2015.
The Russian armed forces are to receive the latest version of the Ratnik ("Warrior") outfits by the end of the year.
The combat gear, designated "soldier of the future," protects soldiers from explosions and shrapnel, and features firearms, sighting and protection systems as well as communications, navigation and target designation systems – a total of 50 elements.
The Ratnik outfit has been supplied to troops as standard issue since May 2015. It is primarily designed for snipers, riflemen, drivers of armored vehicles and gunners of airborne combat vehicles.
Work is continuing on the third-generation Russian military gear, which, according to the developers, will feature an exoskeleton. The mass of the third-generation Ratnik will be reduced by a quarter, with the outfit weighing just 28 kilograms.
All rights reserved by Rossiyskaya Gazeta.