Putin: Unfair rivalry, sanctions hindering Russian arms exports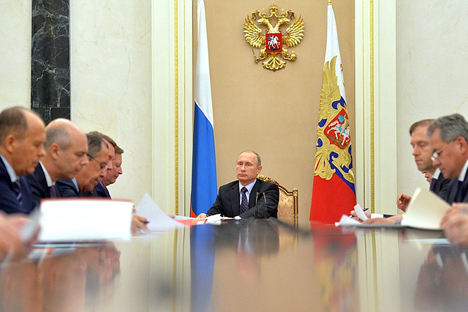 Vladimir Putin at a meeting of the Commission for Military-Technological Cooperation with Foreign States, Oct. 26, 2015
Kremlin.ru
Russian defense enterprises have faced unfair rivalry from Western companies, president said
Russian defense enterprises have faced unfair rivalry from Western companies and obstacles created by anti-Russian sanctions this year, Russian President Vladimir Putin has said.
"Rivalry on the global arms and military hardware market has escalated lately although this area has always been and remains rather competitive. Our defense enterprises have felt that they have faced unfair rivalry from certain Western companies and nations this year," Putin said at a meeting of the Commission for Military-Technological Cooperation with Foreign States.
It is "twice as difficult [for Russian arms exporters] to work under politically motivated sanctions," he said.
However, "this is not a unique situation," the president said.
Russia is substituting imports in the defense sector, and Russian manufacturers are reducing their dependence on the delivery of imported component parts, he said.
"In short, our military exporters are proving their reputation as responsible partners," Putin said.
All rights reserved by Rossiyskaya Gazeta.