Sanctions hindering maintenance of helicopters bought by U.S. for Afghanistan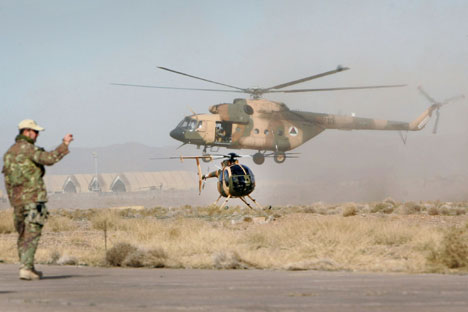 The U.S. sanctions have been harmful for the maintenance of Russian helicopters
The sanctions imposed on Rosoboronexport by the United States have been harmful for the maintenance of Russian helicopters purchased by the U.S. for Afghanistan, Rosoboronexport General Director Anatoly Isaikin said at a press conference in Moscow on Oct. 27.
"Previously, every hardware delivery to Afghanistan had to be approved by the United States. It is hard to get this approval under the sanctions, even for giving maintenance to 63 helicopters supplied to Afghanistan," Isaikin said.
These contracts have been put on hold, he added.
The Afghan Armed Forces are sending numerous requests for Russian armaments but Rosoboronexport can only make the deliveries under commercial contracts.
Afghanistan has two options: either to buy helicopters under commercial contracts or to receive them as military aid via the Defense Ministry, Isaikin said.
All rights reserved by Rossiyskaya Gazeta.