Syria surgical missile strikes upstage old-style tank and troop warfare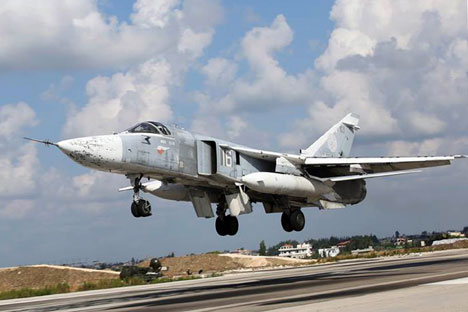 A Russian Air Force Sukhoi Su 24M jet takes off from Hmaimim Air Base.
TASS
Modern warfare has outpaced the old established tactics of opposing masses of tank and infantry. Where artillery fire, armored thrusts and sheer numbers of troops used to play a decisive role, the outcome of conflicts is now more likely to be shaped by powerful generations of new weapons. These include the precision missiles and bombs that Russia has unveiled to significant effect in the Syria conflict.
The offensive operations launched by Russia's aviation and military space forces in Syria on Sept. 30, 2015 marked the largest use of precision weapons in the history of its modern armed forces.
The Russian air wing currently based in the Middle East and consisting of 50 combat aircraft is actively employing homing missiles and guided bombs – hi-tech assets that were previously been regarded as the domain of the U.S. military.
The X-25 and X-29 air-to-ground homing missiles have proved devastating against both mobile units and fortified positions, with an effective range of 6.2 miles (10 km) and up to 18 miles, respectively. The latter weapon's large 700-pound (320-kg) warhead allows the delivery of a heavy explosive payload, and the missile is typically carried by tactical aircraft such as the Su-24, Su-30, MiG-29K and some models of the Su-25.
Hitting targets at a speed of up to 440 yards (400 meters) a second, the missiles can penetrate reinforced concrete structures up to 6.5 feet (2 m) thick, while containing the zone of destruction to 50 feet wide.
However, the most interesting aspect of these weapons is their guidance system, which can be based on laser, infrared, active radar or TV guidance, using a television camera mounted on the actual missile to locate and fix targets. The picture from the camera corresponds with the logged map of the area stored in the missile's on-board computer.
Laser targeting has its limitations, requiring the participation of additional aircraft, or with illumination of the target done by the aircraft itself, which significantly limits its mobility. However, both systems ensure a high degree of accuracy through which a small-size target no bigger than 6.5 feet in diameter is destroyed in 85 percent of cases. This allows the use of such missiles even in densely built-up Syrian cities.
Guided aerial bombs
Another prime asset produced by the Russian military-industrial complex is the KAB-500 laser-guided bomb, which was initially developed by the Soviet Air Force and combines high accuracy with high destructive power. While simple unguided aviation bombs like those used in World War II were in effect localized weapons of mass destruction, dropped from a great height and devastating large swathes of ground, these modern counterparts work fundamentally differently.
Even when dropped from high altitude, guided bombs can deviate from the vertical path to the target by as much as 5 miles (8 km), allowing the aircraft to operate at a distance from the enemy and avoid the risk of direct contact. It was the KAB-500 that was recently credited with the targeted destruction of a factory in Syria that allegedly produced home-made explosive devices for militant forces.
Meanwhile, Russian aviation in Syria is also using the related KAB-250 bomb, which is guided onto targets using a Russian satellite tracking system similar to GPS. The bomb can be dropped by its carrier at supersonic speed, which enables its use by both fighters and fighter bomber aircraft.
Specialised production lines
The Russian leadership initially announced that its campaign in Syria would rely on the use of precision-guided weapons. This required stretching the existing capacities of the domestic defense industry, which only recently began to turn its main focus away from traditional weapon types with a broad application.
A round-the-clock working regime was recently introduced at the Tactical Missiles corporation, which was created in 2002 through the merger of two dozen companies that produced components for high-precision missiles and bombs. The corporation's product range is broad and includes the aforementioned air-to-ground guided missiles, maneuverable missiles for close combat, guided aerial bombs and anti-ship missiles. The corporation has a particular focus on anti-submarine weapons, though this is of course of little relevance to Russia's Syria campaign.
To counter enemy submarines, the corporation has created unique weapons systems such as the Paket-E, which uses high-speed missiles to simultaneously neutralize approaching torpedoes and to fix and hit the vessels that launched them. The company's specialists have also developed unique pieces of Russian know-how, including an air-launched anti-submarine missile and an anti-submarine homing bomb. The corporation's annual turnover exceeds $1 billion, and its products are widely exported abroad.
All rights reserved by Rossiyskaya Gazeta.