Spy ship to track U.S. missile defense system in Arctic Circle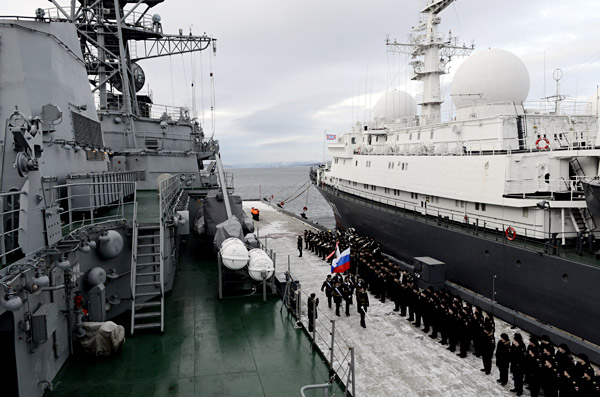 Naval servicemen giving a welcome to the state-of-the-art reconnaissance ship (Project 18280) "Yury Ivanov" on its arrival at its permanent base in Severomorsk.
Sergey Eshenko/RIA Novosti
Russia's largest intelligence-gathering ship, the Yury Ivanov, has moved from the Baltic to the Northern Fleet and is now preparing to serve in the Arctic. One of the main tasks of the Russian Navy's largest spy ship will be tracking the sea-based component of the U.S. missile defense system.
Russia has completed the transfer of its biggest intelligence-gathering ship from the Baltic to the Northern Fleet, where it will use its powerful instruments to collect secret information (including for breaking into the U.S. anti-missile system), the Northern Fleet's press service head, Captain First Rank Vadim Serga, told journalists on Nov. 17.
The Yury Ivanov (Project 18280) has successfully passed all seaworthiness tests and is now permanently stationed beyond the Arctic Circle, at the naval base in Severomorsk.
The ocean-going ship's technical capabilities allow it to expand the scope of the Northern Fleet, not only in different areas of the world's oceans, but also in the Arctic, according to the Ministry of Defense. This is evidenced by the permanent registration of the ship on the Kola Peninsula (in the Murmansk Region in Russia's northwest).
The intelligence collection ship is tasked with observing ballistic and cruise missile launches conducted by foreign states (including submarine launches). The Yury Ivanov is able to detect even hypersonic missiles and transmit this information to the military high command. The ship can also act as a relay for closed communication channels, and as a radio interceptor of sensitive enemy information.
However, its most important function is to penetrate the U.S. missile defense system (its sea-based component, the Aegis Combat System), and provide the possibility for Russian missiles to reach the enemy target and destroy it.
As of today, the Yury Ivanov is the Russian Navy's largest intelligence collection ship; it is 312 feet (95 meters) long and 53 feet (16 meters) wide, with a displacement of 4,000 tons.
Given U.S. plans to station a missile defense system near Russia's borders, it is planned to construct at least four ships of this type – according to the number of Russian fleets. The spy ships will join the Pacific, Baltic and Black Sea fleets.
A second Project 18280 ship – the Ivan Khurs – has been already laid down at the Severniye Verfi shipyard in St. Petersburg.
All rights reserved by Rossiyskaya Gazeta.