10 facts about the Sukhoi Su-24 bomber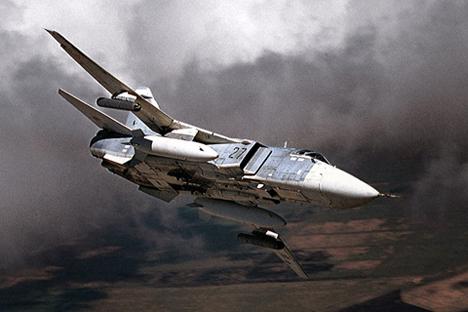 The Sukhoi Su-24, the type of plane that was shot down by the Turkish air force on Nov. 24, is playing an important role in the Russian operation against so-called terrorist targets in Syria. RBTH presents 10 facts about one of Russia's most widely-used military aircraft
1. The Sukhoi Su-24 is a supersonic, all-weather bomber aircraft developed in the Soviet Union during the late 1960s and early 1970s.
2. This twin-engined two-seater plane with a variable geometry wing is designed to perform ultra-low-level strike missions. It was the first Soviet-made plane to include an integrated digital navigation/attack system.
3. Although NATO applies the code name Fencer to the plane, Soviet crews quickly nicknamed it "Chemodan" (Suitcase) for its versatility and weaponry.
4. Its deployment in East Germany in 1979 and the apparent capabilities of the aircraft aroused the concern of the NATO intelligence services. Part of this initial fear of the West was based on the assumption that this Sukhoi used turbofan engines that would provide a greater attack range.
5. The Soviet air force used a number of Su-24s in Afghanistan in 1984, and the aircraft entered combat again in the conflict in Chechnya in the 1990s.
6. The Sukhoi Su-24 remains active in Algeria, Angola, Azerbaijan, Belarus, Iran, Kazakhstan, Libya, Syria, Ukraine and Uzbekistan and, of course, in Russia. It has also served in the Iraqi air force.
7. Russia operates 577 of the aircraft, with 447 serving with the Russian air force and 130 with the Russian navy.
8. On April 10, 2014, Su-24 planes "buzzed" the new American destroyer USS Donald Cook in the Black Sea, flying past several times at close range. The U.S. vessel was moving along the edge of Russian territorial waters.
9. The existing models of the Su-24M and Su-24MK are going through a program of improvement and extension of life, including GPS, multifunction displays, digital map generators and the latest weapons such as R-73 (AA-11 Archer) air-to-air missiles. The updated version is designated as the Su-24M2.
10. In December 2014, the British Ministry of Defense reviewed plans for the defense of the Falkland Islands following British media reports that Russia had offered to lease Argentina 12 Sukhoi Su-24s in return for foodstuffs such as beef and wheat. British daily tabloid The Sun reported that this was part of an alleged Argentine plan to recover the islands with Russian support. The Argentinian government responded that "it had never considered" the possibility of leasing the Russian aircraft.
All rights reserved by Rossiyskaya Gazeta.