How is Russia protecting its military in Syria, post-Su-24?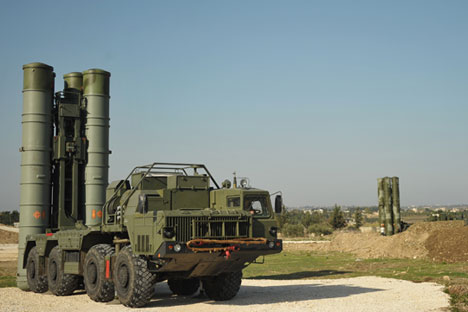 An S-400 air defence missile system is deployed for a combat duty at the Hmeymim airbase to provide security of the Russian air group's flights in Syria.
Ria Novosti/Dmitry Vinogradov
Following the recent incident in which Turkey shot down a Russian bomber, Russia has now deployed its Triumph S-400 anti-aircraft missile system in Syria. Now the Russian bases will be defended in a broad combination of height and distance.
The S-400 anti-aircraft missile system, deployed to the Russian airbase in Khmeimim, Syria, is the Russian government's response to the downing of the Su-24 Russian bomber by a Turkish F-16 fighter jet near the Turkey-Syria border on Nov. 24. In the course of rescuing the Su-24's navigator a Russian marine also died and the Russian air force lost a multi-purpose Mi-8 helicopter. On Nov. 25 Russian Defense Minister Sergei Shoigu stated that Russia's airbase in Syria would be strengthening its defenses and President Vladimir Putin ordered the S-400 anti-aircraft missile system to be deployed in the region to provide the Russian air force with better protection. Now Russian anti-aircraft weapons will be covering a distance of 12 to 250 miles (20-400 km) and an altitude of 10,000 to 98,000 feet.
All rights reserved by Rossiyskaya Gazeta.
Get the week's best stories straight to your inbox