Su-24 crew commander's body delivered from Ankara to Russia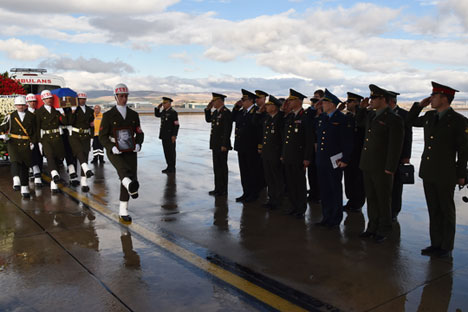 A handout picture provided by Turkish General Staff shows members of a Turkish honor guard carrying the coffin of the Russian pilot who killed in the downing of a fighter jet in Syria, at Ankara airport, Nov. 30, 2015.
EPA
The body of Oleg Peshkov delivered by a military transport aircraft
The body of the Russian Federation Hero Oleg Peshkov, who was the crew commander of the Sukhoi Su-24 shot down by a Turkish fighter jet in the sky over Syria on November 24, has been delivered by a military transport aircraft of the Russian Defense Ministry from Ankara to the Chkalovsky air base in Moscow region, a ministry spokesperson said on Nov. 30.
"The military aircraft carrying the body of the dead pilot, Lt. Col. Oleg Peshkov, was met at the Chkalovsky airfield by Russian Defense Minister Army Gen. Sergei Shoigu and the Russian Aerospace Forces Commander-in-chief Col. Gen. Viktor Bondarev," the spokesperson said.
An honor guard team paid tribute to Peshkov with military honors.
The pilot will be buried in Lipetsk at his family request, the ministry said.
During its flight in the Russian airspace, the plane was accompanied by a convoy of fighter aircraft.
"From day one to his last sortie, Lt. Col. Oleg Peshkov fulfilled his military duty - the duty of a citizen and officer of Russia - with honor and dignity," Bondarev said at the airfield.
"A treacherous shot in the back cut short the life of a wonderful person, an excellent pilot. To us, he will always be an example of the fulfillment of one's duty. And those who conceived and carried out this treachery will be brought to justice," Col. Gen. Viktor Bondarev said.
"He was and will remain an example for flying crews. We will fulfill our military duty to the end," said the commander-in-chief of the Russian Aerospace Force.
The Russian Su-24 bomber, which was taking part in the operation against the terrorist group Islamic State in Syria, was shot down by a Turkish F-16 fighter jet over Syria on November 24. The pilots ejected. Peshkov was killed by militants who fired from the ground when he was descending with the parachute. Peshkov was posthumously awarded the title of the Hero of Russia.
All rights reserved by Rossiyskaya Gazeta.