Russian Defense Ministry reveals 'evidence' linking Turkey and ISIS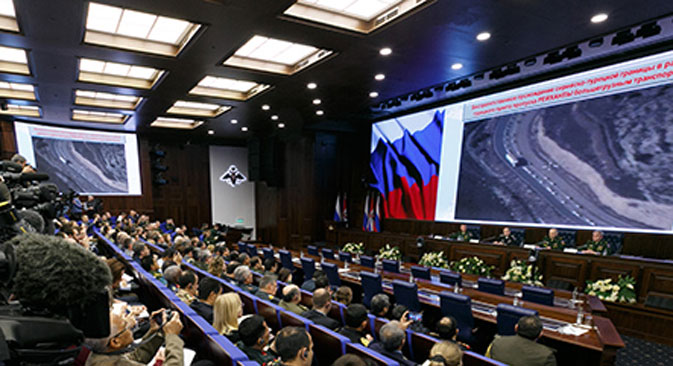 Mass media briefing "Russian Federation Armed Forces fighting against international terrorism".
Mil.ru
Photos allegedly picture trucks transporting ISIS oil to Turkey.
Turkey is the primary consumer of oil stolen by Islamic State from its lawful owners, i.e. Syria and Iraq, Russian Deputy Defense Minister Anatoly Antonov said.
"Based on information we possess, the country's top political leadership, President Erdogan and his family, are involved in this criminal business," Antonov said at a press conference in Moscow on Dec. 2, which is being broadcast by the Rossiya-24 news TV channel.
Ministry of Defense has also shown photos of trucks transporting ISIS oil to Turkey, made near the Turkey-Syria border.
The image taken on Nov. 16 shows up to 360 oil tanker trucks and heavy vehicles close to the Syrian border. Source: Mil.ru
Earlier Sergei Rudskoi, a deputy chief of staff of the Russian armed forces, said that they has uncovered three principal routes of oil transportation from Islamic State in Syria to Turkish territory.
"Some of the oil is loaded into vessels and is sent outside of Turkey for processing, and some is sold on the domestic market," Rudskoi told.
395 petrol tank vehicles were detected in Dörtyol, and 60 in Scanderoon. Source: Mil.ru
He said on average one fuel truck is loaded in sea ports daily.
The strikes delivered by Russian aviation have reduced the ISIS revenues from illegally extracted oil by 50 percent, from $3 million to $1.5 million, Rudskoi said.
The video shows vehicles, which are freely crossing of the border. Here the Syrian territory is controlled by the Jabhat al-Nusra illegal armed grouping, which allow the oil tanker trucks and heavy vehicles with oil to enter the territory of Turkey. These vehicles are not checked at the Turkish side of the border. There are hundreds of such vehicles. Source: YouTube / Mil.ru
According to the Defense Ministry, ISIS militants make some $2 billion a year, "spending these funds on hiring militants worldwide and providing them with weapons and equipment," Antonov said, adding that revenues from oil sales are among the most important resources of terrorist activities in Syria.
All rights reserved by Rossiyskaya Gazeta.