Before the divorce: 10 key moments of Russian-Turkish military cooperation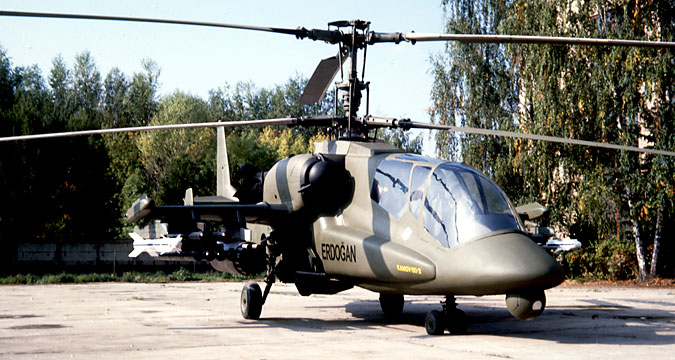 The 2-seater "Erdogan" helicopter developed jointly by Russian and Israeli specialists was displayed at a tender in Turkey, 1999.
TASS
Until the recent incident in which the Turkish air force shot down a Russian jet along the Syrian border, military-technical cooperation between Russia and Turkey had considerable potential despite the latter being a NATO member. However, now all military projects between the two countries will be wound down. RBTH looks at the key moments in Russian-Turkish military cooperation over the last -25 years.
1. Arms deal with Yeltsin
Present-day military-technical cooperation between Russia and Turkey started in 1992, when the then-president of Russia, Boris Yeltsin, and the head of the Turkish government, Süleyman Demirel, agreed on Russian military hardware and arms supplies to Turkey worth $300 million.
2. Military-technical bilateral agreement
In April 1994, the two countries signed an intergovernmental agreement on military-technical and defense industry cooperation.
3. $190-million arms deal
In the 1990s, Turkey purchased from Russia 23 BTR-60PB and 173 BTR-80 armored personnel carriers, 19 Mi-17 helicopters, four auxiliary vessels, as well as machine-guns, sniper rifles and ammunition, in a deal worth $190 million, $100 of which went towards repaying Russian debt to Turkey.
4. Cooperation commission
In May 2001, a joint Russia-Turkish commission on military-technical cooperation was set up, aimed at making cooperation more stable and long-term.
5. Helicopter offers
In a tender that was conducted by the Turkish Defense Ministry's defense industry directorate between 1997 and 2004, Russia offered to supply the Ka-50-2 Erdogan attack and scout helicopter. The tender was closed without a winner being announced. In a new tender, the Turkish Defense Industry Executive Committee selected Augusta Westland's А 129 Mangusta helicopter, which is currently being made in Turkey as the T 129 ATAK model.
6. Antitank missiles
Between 2008 and 2010, Rosoboronexport supplied Turkey with 80 Kornet-E antitank missile systems with 800 missiles. The plan was to later supply the upgraded Kornet-EM system too, however that prospect did not materialize because the Turkish company Roketsan subsequently offered the Turkish Defense Ministry domestically produced medium- and long-range antitank missile systems.
7. Joint air defense
Russia and Turkey jointly designed and manufactured a short-range air defense system which combined a launch system made by the Turkish company Aselsan with the Russian-made Igla surface-to-air missile system. The new air defense system is called PMADS-IGLA. Its tests have already been completed, confirming all of the system's projected technical characteristics.
8. Post-sale hardware maintenance
Until recently, post-sale maintenance of all military hardware supplied from Russia has been carried out by Russian companies.
9. Air defense proposal
At the IDEF-2013 exhibition in Istanbul, Rosoboronexport proposed to Turkey a joint development of an air defense system on the basis of the Antey-2500 (a modern modification of the S-300 air defense system).
The proposal was made as part of a tender for the supply of long-range air defense systems that had been conducted in Turkey since 2009. The tender was won by the Chinese HQ-9 air and missile defense system – however the contract has still not been implemented. Thus the issue of upgrading Turkey's generally obsolete air defense system remains unresolved still.
10. Integration of weapons systems
At the IDEF-2015 exhibition, Russia presented over 200 types of military products to Turkey. Speaking at the time, adviser to Rosoboronexport head Anatoly Aksyonov said that "the main area of cooperation for the next several years will be the integration of Russian weapons systems and combat modules to Turkish armored vehicles and warships." According to sources in the Russian defense industry, Turkey also showed an interest in the Zubr and Murena-E hovercraft as well as in a possible joint development of a vessel of that type.
All rights reserved by Rossiyskaya Gazeta.