Serbia plans to buy air defense systems, MiG-29 fighters from Russia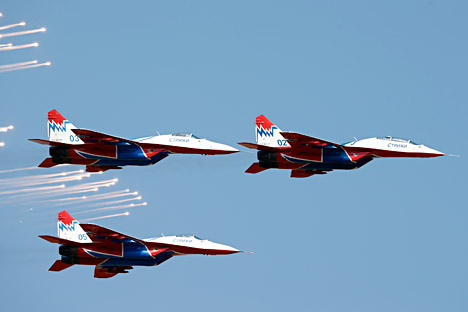 MiG-29 planes of the Strizhi (Swifts) aerobatic team perform during the international air show in Belgrade, Sept. 2, 2012.
Reuters
Serbian Defense Ministry wishes to buy several Mikoyan MiG-29 fighters
Serbia has taken an interest in Russia's Tor, Pantsir and Buk air defense systems and Mikoyan MiG-29 fighters, the newspaper Kommersant wrote on Jan. 15.
The Serbian request will be processed at the new Russian-Serbian commission for military-technical cooperation, it said.
Andrei Boitsov, First Deputy Director of the Federal Service for Military-Technical Cooperation (FSMTC), is the Russian co-chair of the commission, which will meet for the first time before the end of January, the newspaper wrote.
The Serbian army "is interested in intermediate-range [Buk and Tor] and short-range (Pantsir-S1) air defense systems," Kommersant said.
The supply of S-300 air defense missile systems was not discussed at a meeting held by Russian Deputy Prime Minister, Dmitry Rogozin, in Belgrade, because the Serbian defense budget could not afford such purchases, the newspaper said.
In addition, the Serbian Defense Ministry wishes to buy several Mikoyan MiG-29 fighters. Serbia operates nine MiG-29 jets at the moment, including six procured from Russia in 2013, as well as eleven Mikoyan MiG-21 jets, the service life of which will expire in 2018, and several dozens of J-22 Orao fighters.
Sources told the newspaper that if Russia and Serbia agreed on the number of required air defense systems and planes, the delivery would be made from the Russian Defense Ministry's stock and eventually modernized. That option would be quicker and cheaper for Serbia.
The sources said that Belgrade made its request to Moscow after Croatia had expressed the wish to arm itself with MGM-140 ATACMS operative-tactical missiles operating on a range of 300 kilometers.
"The Serbian army decided that the appearance of such weapons in the Balkans would alter the balance of regional forces but those who were urging them to join NATO did nothing to help. So, they had to turn to us," a source told the newspaper.
Russian Deputy Prime Minister Dmitry Rogozin said in Belgrade on Monday that Russia would process the Serbian request for the purchase of weapons as soon as possible.
"We will provide direct support to the ally in the Balkans. We will consider your request in the shortest amount of time," the Serbian radio B-92 quoted Rogozin as saying.
All rights reserved by Rossiyskaya Gazeta.