With new radar the PAK FA fighter can detect any stealth aircraft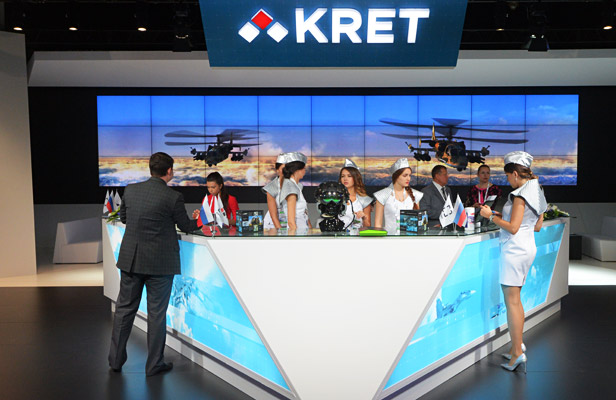 The exhibition stand of the Radio-Electronic Technologies Concern (KRET) at the opening of the MAKS 2015 International Aviation and Space Salon in Zhukovsky near Moscow.
Mikhail Voskresenskiy/RIA Novosti
In the early 2020s, Russia's fifth-generation PAK FA fighter jet could get a photonics-based radar system using active radio-optical phased array technology (known by its Russian acronym ROFAR). It would be capable of viewing stealth aircraft at distances beyond the range of air-to-air missiles.
A working model of the new radar, which is being developed by the Russian state-owned Radio-Electronic Technologies (KRET) firm, should be presented by the end of 2018.
The main advantage of ROFAR technology is its width of transmission frequency. Whereas the transmission frequency of a modern radar system is at most 10 GHz, with ROFAR it can reach 100 GHz.
How does ROFAR work?
"In practice, this means that ROFAR can produce a detailed 3D image of what is happening hundreds of kilometers away," said Vladimir Mikheyev, advisor to KRET's first deputy CEO. "For example, at 400 kilometers it can not only see a person, but even recognize their face."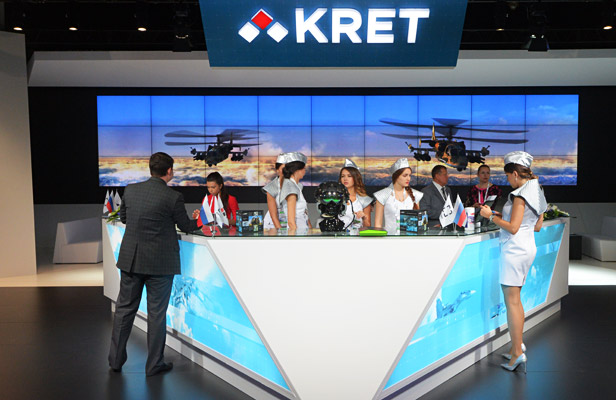 The exhibition stand of the KRET at the opening of the MAKS 2015. Source: Mikhail Voskresenskiy/RIA Novosti
According to KRET, the future radio-optical phased array antenna known as ROFAR will be half the weight of the conventional radar system currently being developed for the fifth-generation fighter. At the same time, its resolution will be 10 times better, making it possible to "virtually get a TV picture in the radar range."
Additional advantages
The use of radio-frequency photonic technology allows for a significant reduction of aircraft detectability within the infrared spectrum and of fuel consumption. This is possible due to the high efficiency of the future radar system, which will produce several times less heat, so developers will not have to include an additional powerful cooling system, which would significantly increase the mass of the product and require electricity generated by the aircraft's engines at the cost of burning fuel.
In addition, it will not be possible to block ROFAR through high-power jamming. For this, the range of the electronic warfare system must be greater than that of the radio receiver, which is physically impossible with photonics-based radar.
If the ROFAR project is successfully completed, the technology will not only be used for airborne radar systems. According to Mikheyev, equipping new or existing Russian naval ships with ROFAR would make it possible to reduce the weight and size of their onboard antenna systems by approximately 80-85 percent.
A fly in the ointment
The announcements from Russian manufacturers sound optimistic, but economic realities, shortcomings in organization and management and difficulties with training and recruiting personnel could hinder the implementation of their ideas. Russia still has difficulties mass-producing airborne active electronically scanned array (AESA) radar systems like those the U.S. already has not only on its fifth-generation F-22 and F-35 fighter aircraft, but also on its upgraded fourth-generation F-16 and F-15 fighters. The only Russian AESA radar system, Zhuk-A, created for the MiG-35, was first presented back in 2009, but as at the end of 2015 was still at the testing stage.
According to KRET, the Russian government has allocated 680 million rubles (about $8.4 million) to the entire ROFAR program. By comparison, the U.S. Department of Defense allocated $110 million dollars to photonics back in 2014, and plans to raise at least as much from private investors.
It is not just Russia and the U.S. who are involved in this technology race. For example, scientists from Italy presented a working model of a photonics-based radar system back in March 2013. And Jean-Loïc Galle, the executive vice president at France's Thales Group, has announced that it is stepping up its work in this area.
With such global competition, the announcements from Russia's KRET that working technology is to be created in the very near future sound almost like a challenge and represent a further test of the capabilities of Russia's defense industry.
All rights reserved by Rossiyskaya Gazeta.