New Russian database to monitor arms treaties with U.S. and other nations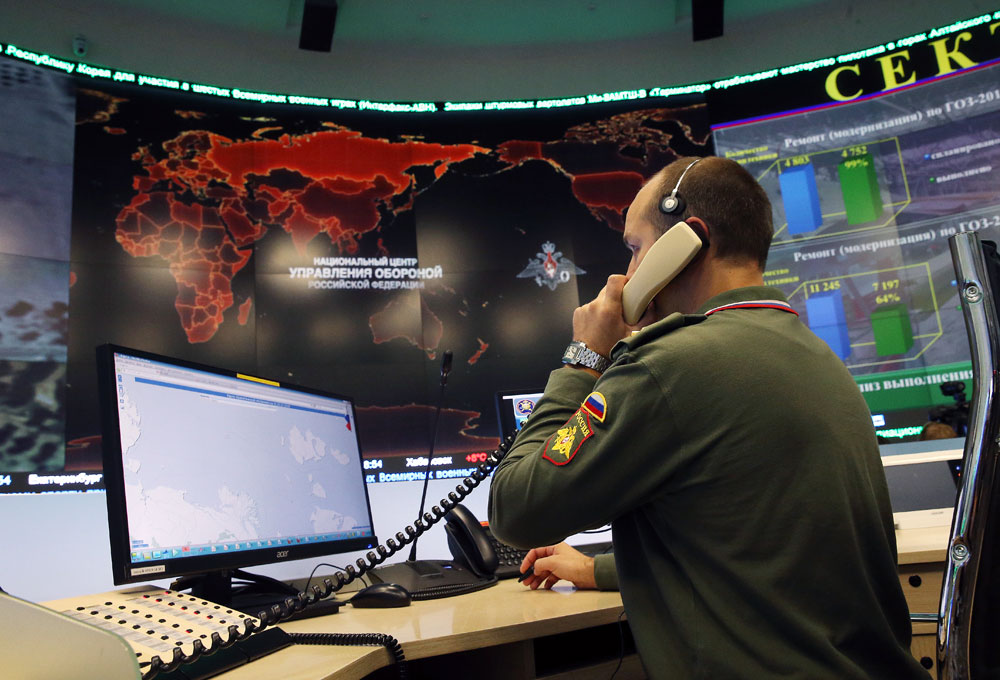 An employee of the National Defence Control Center.
Anton Novoderezhkin/TASS
A new data processing network being prepared by Russia is intended to collate information on adherence to international arms agreements by countries around the world, including nuclear treaties between Russia and the U.S.
Russia is beginning work on a new system of collecting and processing information on the implementation of international agreements in the armaments field, according to a proposal to conduct research in this direction posted on the site of State Acquisitions by the Russian Defense Ministry.
According to the military's plan, the system will become a sort of "world supervisor." Its aims are to collect and process information from technical control resources based at sea and in space, as well as from inspection groups that monitor the territories of countries participating in corresponding agreements, and bring the information "to all the interested Russian ministries."
The Defense Ministry is planning to create a local computer network based on a proprietary hardware and software system, including working internet stations, server operating systems and databases, as well as functional processing, transference, data display and resource monitoring software, for individual analysis at workstations and collective use," reads the ministry's proposal. This complicated system has been named the Single Information Analysis System.
In 2015 the United Instrument Manufacturing Corporation (UIMC) announced that it will create monitoring and analysis systems for the military-political situation in Russia and the world that will be used for counteraction in the event of an information war.
Automatic reconnaissance
In general, the system will be used to monitor the implementation of 20 international treaties and agreements, including the agreement between Russia and the U.S. "On Measures for the Further Reduction and Limitation of Strategic Offensive Arms," the 1987 Intermediate-Range Nuclear Forces Treaty, the Comprehensive Nuclear Test-Ban Treaty, as well as the Treaty on Open Skies.
The new system will also be able to significantly facilitate and accelerate communication with international partners. It will automatically recognize texts, transfer standard communication, display information on electronic maps and generate model documents.
The primary user of the new system will be the Defense Ministry's National Center for Reducing Nuclear Danger (NCRND), the main structure monitoring the implementation of international treaties and agreements on limiting armed forces and armaments.
The Russian NCRND collaborates with an equivalent center in the U.S., as well as corresponding organs in the OSCE (Organization for Co-operation and Security in Europe) countries and China.
"In about 15 years reconnaissance and data processing systems of all levels will become completely automatic and will be managed by a single control center," said independent expert Yury Gromov.
All rights reserved by Rossiyskaya Gazeta.