Russia and the U.S. remain world's main arms exporters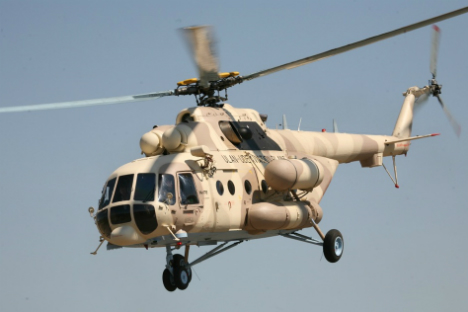 India remains the main Russian arms importer. India had placed an order for 151 Mi-17V-5 helicopters in 2013.
Russianhelicopters.aero/en
Moscow and Washington continue to lead the way in supplying the world with weapons, according to a study by the Stockholm International Peace Research Institute.
Russia and the U.S. have maintained their position as the two leaders in the list of major weapons exporters, says a study by the Stockholm International Peace Research Institute (SIPRI).
According to the SIPRI's report, during the last five years, the U.S. and Russia sold 33 percent and 25 percent of all arms sold in the world. China was third, a long way behind (5.9 percent).
Russian exports of major weapons increased by 28 per cent between 2006–10 and 2011–15, said the report. However, exports in the years 2014 and 2015 were substantially lower than in 2011, 2012 and 2013, and were more in line with the levels seen in 2006–10.
According to the study, Russia delivers weapons to 50 states and to rebels in eastern Ukraine. Three states accounted for a significant proportion of Russia's arms exports: India received 39 percent, while China and Vietnam each received 11 percent.
The U.S. delivered major weapons to at least 96 states in 2011–15, a significantly higher number of export destinations than any other supplier. The largest recipients were Saudi Arabia, accounting for 9.7 percent of U.S. arms exports, and the UAE with 9.1 percent.
First published in Russian in Interfax.
All rights reserved by Rossiyskaya Gazeta.