Uralvagonzavod testing stealth tanks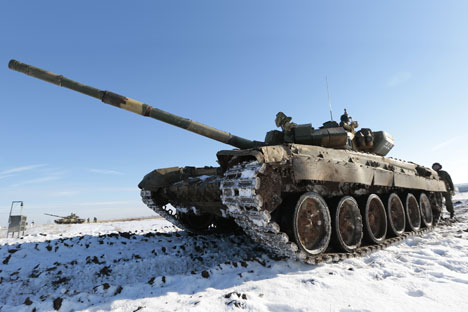 Russia is testing 20 new tanks.
Dmitry Rogulin / TASS
Russia is testing 20 new Armata tanks with unique features
Russia is testing 20 new Armata tanks with unique features, some of them invisible to the enemy, Uralvagonzavod Corporation Deputy General Director Vyacheslav Khalitov said in a program aired by the Russian News Service.
"As of today, there are practically no analogues of the Armata by the degree of protection; this is the first platform to provide a system with four levels of security. The first-level system prevents the vehicle's tracing by the enemy on the battlefield," Khalitov said.
He said they were using GALS technologies. The vehicles have a special coating, a light-reflecting surface, which make it impossible to identify the object in the radar frequency, infrared and optical bands.
"Another unique capacity of the models will be the destruction of shells hurled at the tanks," Khalitov said.
This is the so-called hard-kill active protection system, he said.
"We use it to destroy approaching munitions if the enemy detects our presence and, for example, fires an anti-tank missile or some other shell. So, we have a system tasked with destroying approaching missiles," Khalitov said.
There is also a third level of protection in which a shell which penetrates the two lower levels will be destroyed. The fourth level provides survivability of the vehicle and its crew, the Uralvagonzavod representative said.
The tests engage T-14 and T-15 models, which will be put into service in 2016-2017, he said.
"European countries concerned about the might of the Armata will be unable to create its analogues quickly," Khalitov said.
"We are eight or ten years ahead of them, by means of the Armata project. Hence, the development of a vehicle of the Armata type will be a replication, while we will advance much further over that time," Khalitov said.
All rights reserved by Rossiyskaya Gazeta.