Russian Defense Ministry publishes video of demining operations in Palmyra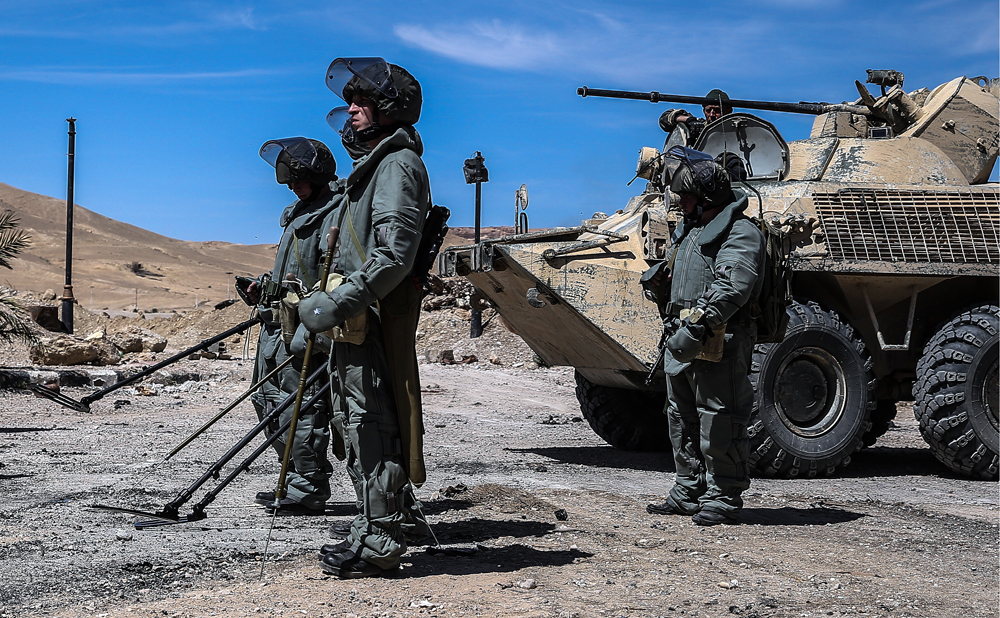 Russian mine clearance specialists clear approach routes to the ancient city of Palmyra of mines, April 2, 2016.
Valery Sharifulin/TASS
Russian sappers have defused more than 120 devices in ancient Syrian town.
On April 5, 2016 the Russian Ministry of Defense published its first video showing Russian and international sapper units carrying out engineering reconnaissance and demining work on roads leading to the historical part of Palmyra, Syria.
In the course of operations servicemen discovered and extracted improvised explosive devices (IEDs) that had been placed on asphalt roads, crossroads, at roadside buildings and in and around critical infrastructure facilities including power substations, pumping stations for the water supply system, bakeries and hospitals. They also found parts of water pipes containing bombs, as well as homemade high-explosive anti-tank warheads and anti-tank mines equipped with electric detonators.
Video by Ministry of Defense / YouTube
Objects that could not be removed from the ground were destroyed on the spot with the use of special external charges.
Mine-detecting dogs also assisted the engineers. All operations are being conducted using OVR-2 military demining units.
On March 27, with the help of Russian Air Force units, Syrian Army detachments liberated the city of Palmyra, a UNESCO World Heritage Site. The Russian president then ordered a group of Russian sappers into the region to demine the city and the surrounding area. Operations are still underway.
All rights reserved by Rossiyskaya Gazeta.