Russian sappers finish demining historical part of Palmyra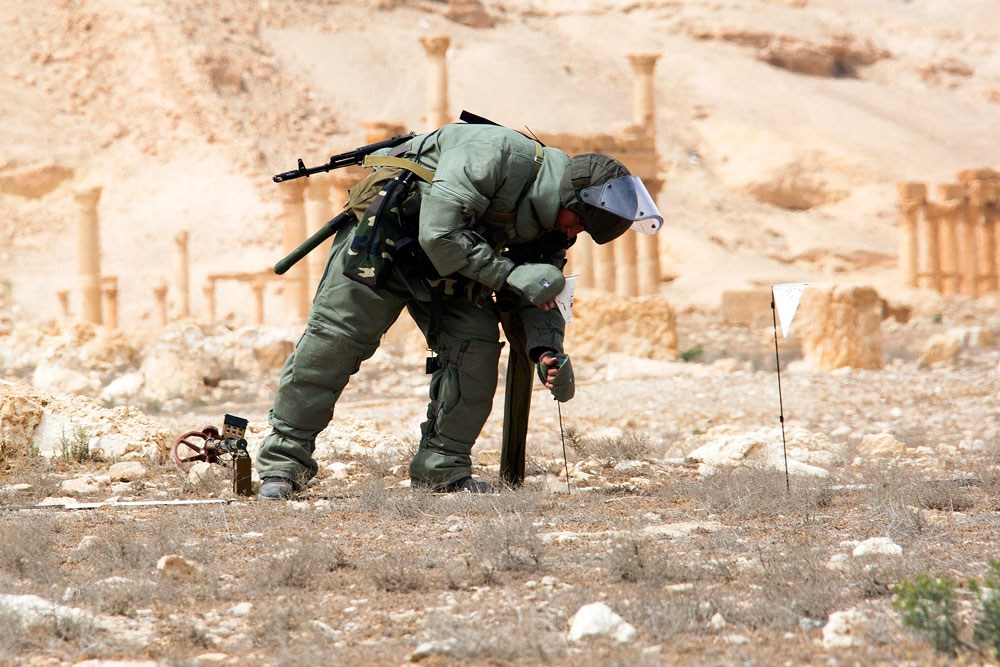 A combat engineer of the Russian Armed Forces' International Mine Action Center clearing mines from the ancient town of Palmyra. Islamic State militants have not only destroyed many of Palmyra's heritage sites but they have also laid mines in historic and residential parts of the town
Konstantin Leyfer / TASS
UNESCO World Heritage Site in Syria now free of terrorist ordnance.
Russian forces and foreign sappers have concluded their work on clearing the historical part of the ancient city of Palmyra from mines
Yury Stavitsky, commander of the Russian Armed Forces Engineer Corps, announced on April 21 that the UNESCO World Heritage Site in Syria had been fully demined.
"A great deal of work has been done to clear mines, bombs and other explosive devices in the historical part, but work still has to be carried out to demine engineering structures and the residential areas of the city," the TASS news agency cited Russian President Vladimir Putin as saying.
The engineering corps has now begun demining the city's residential neighborhoods, as well as the airports in its environs. The servicemen still have to demine another 180 hectares of land.
Russian sappers are using the most modern Russian-developed technology in Palmyra: Uran-6 demining robots, armored vehicles with suppressors of radio-controlled fuses, and radio-controlled explosive devices.
At the end of March 2016 the Syrian army, with the help of the Russian air force, liberated Palmyra from Islamic State militants.
n the following day Putin ordered the Russian engineering corps to help international specialists demine Palmyra from terrorist ordnance.
All rights reserved by Rossiyskaya Gazeta.