Video: Russia's top aerobatics teams perform at show outside Moscow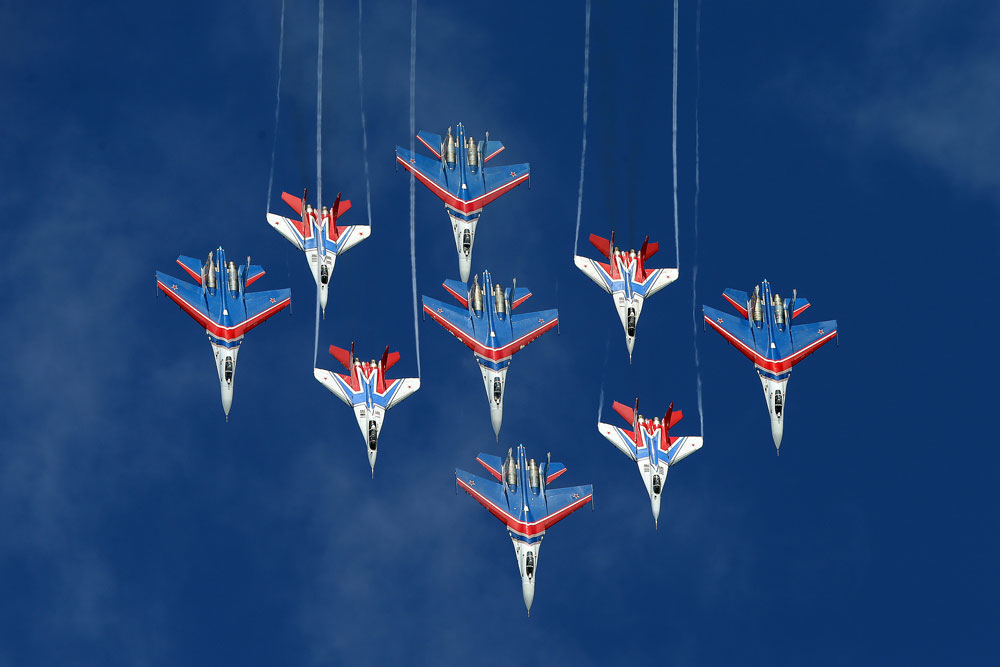 Mikoyan MiG-29 fighter jets of the Strizhi [Swifts] and Sukhoi Su-27 fighter jets of the Russkiye Vityazi [Russian Knights] aerobatic teams perform during an event marking the 25th anniversary of the Strizhi [Swifts] and Russkiye Vityazi [Russian Knights] aerobatic teams, at Kubinka air base in the Moscow Region, Russia
Marina Lystseva / TASS
Russia's Swifts and Russian Knights aerobatics teams marked their 25th anniversary with a spectacular aerial display.
Video by YouTube
The Russian aerobatics teams Swifts ('Strizhi') and Russian Knights celebrated their 25th anniversary with a spectacular aerial display outside Moscow on May 21.
The aces performed both individual and formation stunts, including the famous Kubinka Diamond formation of nine Su-27 and MiG-29 fighter jets. The pilots demonstrated synchronized aerobatic maneuvers, from the barrel roll to the inside loop.
The display also featured Russia's first ever joint performance of a Su-27 fighter with four Mi-28N Night Hunter helicopters from the Berkuty (Rus: golden eagles) aerobatic team.
It was the technical aspects of the show that made it complex and unique: The Su-27 pilot had to perform maneuvers and keep the aircraft at its minimum speed of 220 kilometers per hour (136 mph), making it possible to work jointly with the helicopters, for which speeds of 200 kph and more are the top end of the possible range.
Commenting on the show, Russian Aerospace Forces Commander Col-Gen Viktor Bondarev said that even the weather was in the pilots' favor.
"The Russian Knights are preparing to replace their Su-27 jets with new supermaneuverable Su-30SM aircraft," he added.
The pilots have already started practicing joint aerobatic maneuvers and will soon be ready to perform on the international arena, said Bondarev.
All rights reserved by Rossiyskaya Gazeta.