Russian special-purpose forces get new 'underwater' assault rifle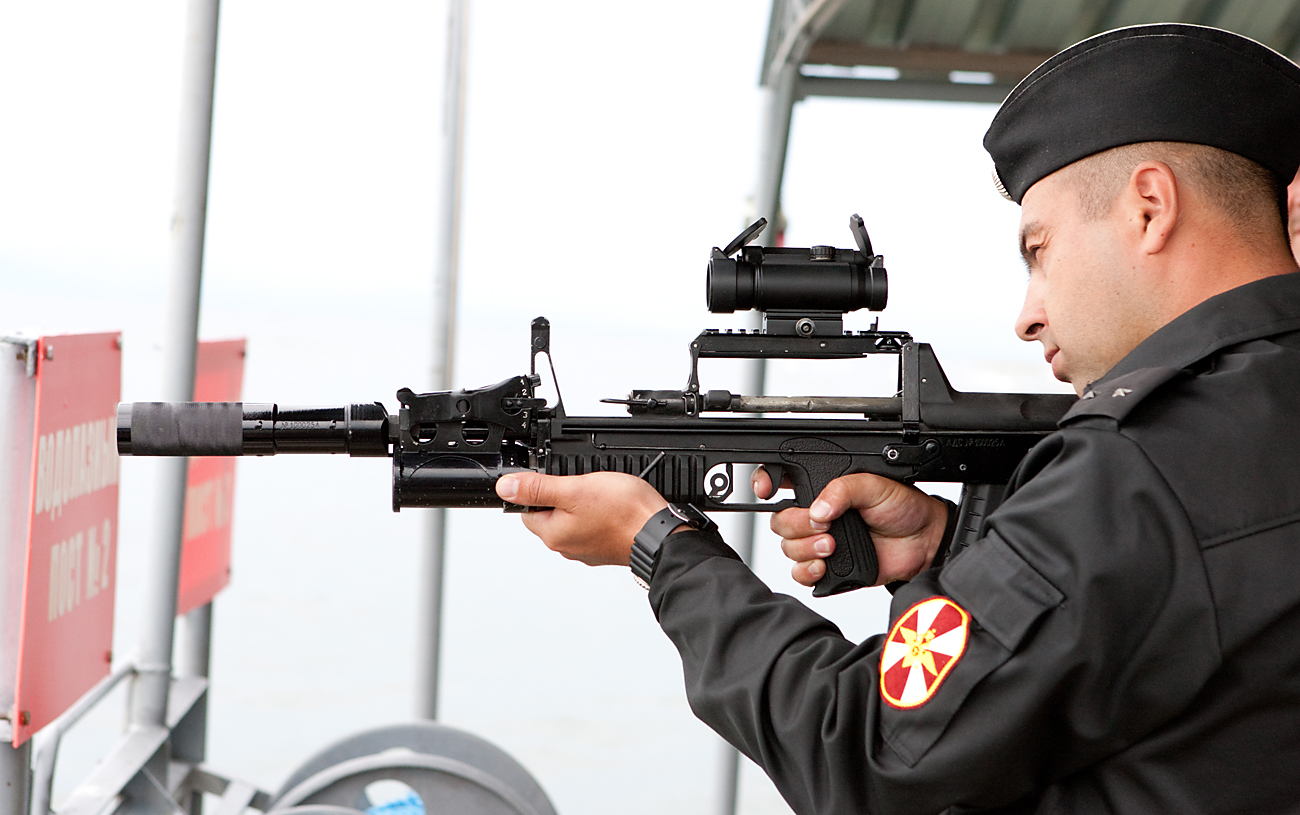 Testing the ADS underwater assault rifle. Russian Interior Ministry's internal troops divers hold a training session at the Severobaikalsk marine training center.
Anton Denisov/RIA Novosti
Russian special-purpose units have been provided with a weapon that can effectively operate both underwater and on land.
The Russian Defense Ministry has armed its divers with a new ADS (automatic dual-medium special) assault rifle.
Unlike the firearms previously used by Russian military divers, the ADS has been specifically developed for a cartridge that is equally effective when fired either underwater or on land.
"The [previously used] APS assault rifle and SPP-1 pistol were created for a 5.6-mm flechette cartridge several centimeters long. Underwater, it acts like a harpoon: It shoots out on a straight trajectory and loses speed under the pressure of the water. However, on land, several meters into the flight it begins to spin and diverts from its trajectory," a defense industry source told RBTH.
New ammunition and special features
The new PSP cartridge for the ADS assault rifle has a caliber of 5.45 mm and weighs 16 grams. On land, it has a muzzle velocity of up to 330 meters (1,100 feet) per second.
By Alena Repkina
According to the RBTH source, the designers have created a special "platform" at the tip of the cartridge, which – when the bullet is fired underwater – creates an air bubble filled with vapor (technically this is known as "cavitation"). Thanks to this feature, the bullet flies with high speed and precision along a set trajectory.
At the same time, this ammunition has retained its combat characteristics when used on land and, in terms of its weight and size, is identical to the ammunition used by the newest Russian AK-12 assault rifle, which may come into service as early as the end of 2016.
ADS assault rifle
The length of the new rifle is 60 cm and its weight is 4.6 kg. The magazine is located behind the trigger in a configuration known as "bullpup."
On land, the assault rifle has a range of about 600 meters (2,000 feet), while when five meters underwater it has an effective range of 25 meters (80 feet).
Tasks facing underwater commandos
Marine commandos perform a wide range of tasks: from reconnaissance to disposal of man-made obstacles and underwater mines to penetration of guarded bases and ships to eliminate the enemy.
They can also plant mines on the hulls of ships and submarines in order to destroy them.
Subscribe to get the hand picked best stories every week
All rights reserved by Rossiyskaya Gazeta.