U.S. missiles in Europe can hit Russian ICBMs at long range, claims Russia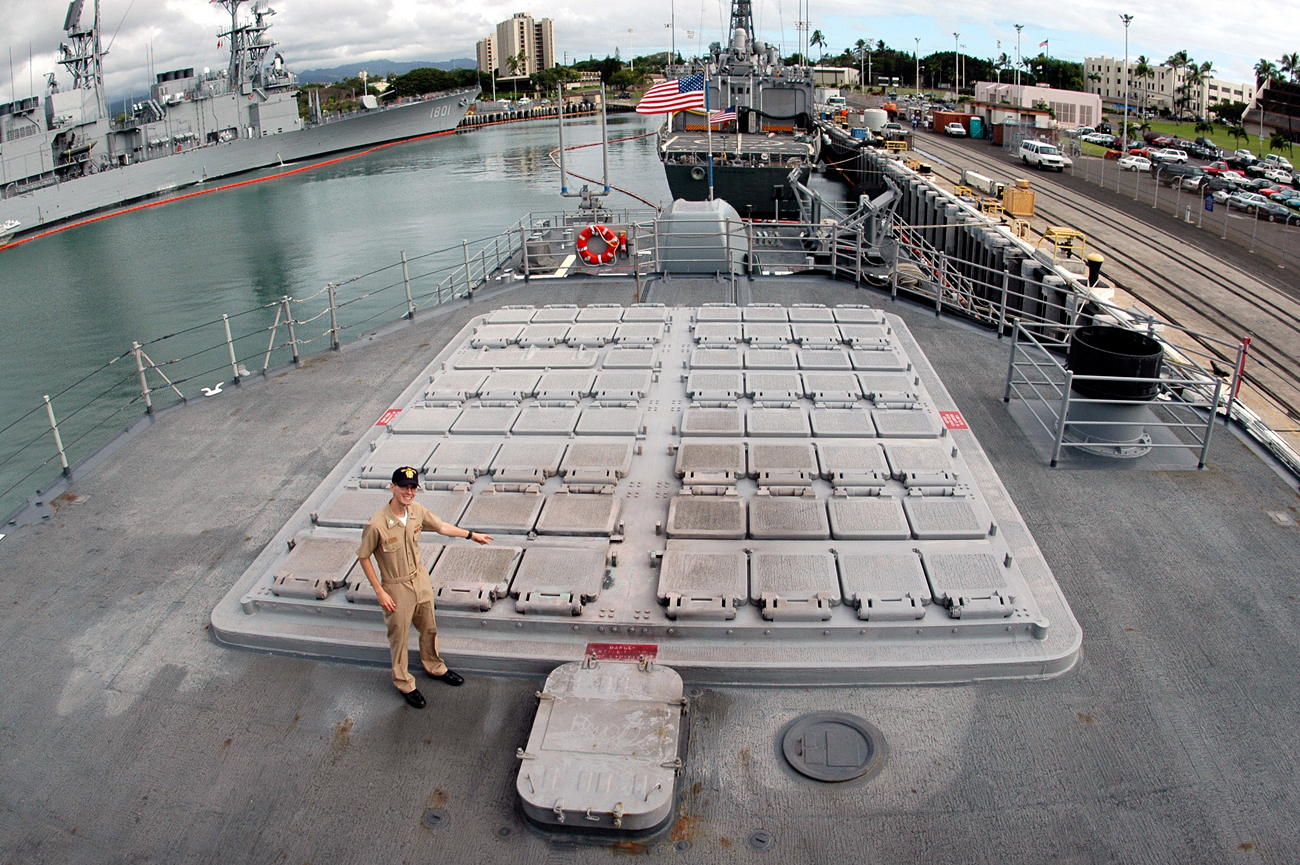 Lt. Daniel McFadden, fire control officer of the USS Lake Erie, points to a missile cell aboard his ship in Pearl Harbor, Hawaii.
AP
The Russian Defense Ministry has claimed that the U.S. missile defense systems in Europe are capable of shooting down Russian ballistic missiles in the initial stages of their flight.
The U.S. anti-missile defense shields in Poland and Romania are capable of intercepting intercontinental ballistic missiles (ICBM) and submarine ballistic missiles not only at medium range, as Washington has previously stated, but also in the early stages of their flight, according to representatives of the Russian Defense Ministry's General Staff.
Russia made the statement on Oct. 11 after allegedly remodeling the combat possibilities of the U.S. missile defense system's European component.
The Chinese military have reached the same conclusion concerning the U.S. Standard Missile-3 defense systems. Major General Cai Jun, deputy director of the Joint Staff Department of China's Central Military Commission, said that America's missile defense system in Europe is a direct threat to Russia's security.
According to Russia and China's defense ministries, the possibilities and potential of the globally deployed U.S. missile defense system and its European component exceed Washington's defense needs.
Lieutenant General Victor Poznikhir, first deputy director of central operations at the Russian General Staff, said that North Korea is only beginning to create a ballistic missile while Iran, against whom, according to Washington, the U.S. missile defense system in Europe is aimed, is no longer a threat to America after the agreements recently made concerning Tehran's nuclear program.
"With the pretext of countering North Korean and Iranian 'missile threats,' America is deploying a system that is primarily meant to engage Russian and Chinese missiles," said Poznikhir.
An exchange of accusations
However, some Russian military experts do not share the Russian Defense Ministry's concerns. Alexei Arbatov, director of the Center for International Security at the Russian Academy of Sciences, believes that the "remodeling process" simply did not take place.
"This is yet another exchange of political accusations between Russia and the West," he told RBTH. In his view, the U.S. missile defense systems in Poland and Romania do not limit Russia's nuclear potential.
"The most advanced missile defense systems are not deployed at the bases. In the event of a conflict they will not be able to intercept our ICBMs, which fly over the North Pole – neither with their interception speed nor their range," added Arbatov.
Dmitri Litovkin , a military expert from the Izvestiya daily newspaper, agrees with Arbatov, arguing that at this technological stage the American missile defense system in Europe is "not a particular threat for Russian nuclear forces."
"The active [initial] phase of the Topol-M and Yars missiles' flight is less than five minutes. Today it is impossible to hit the closest target – an ICBM base in the Saratov Region [520 miles south of Moscow –RBTH] – with an anti-missile missile from Poland in this amount of time," explained Litovkin.
The comments by the Russian military came several days after NATO's Oct. 9 accusation that Moscow was increasing tensions with the alliance, in particular by deploying Iskander-M missile systems, which can launch nuclear warheads, to the Kaliningrad Region. Alexei Arbatov believes that the Russian General Staff's statement is a political response to NATO's criticism.
What is Russia afraid of?
The SM-3 missile defense systems are positioned in the shafts of universal launching stations, in which it is possible to install the U.S. Tomahawk guided missiles with the usual warheads.
"A basic agreement to inspect the stations at a short notice would solve all our disagreements. You just need to open the shaft and look inside. You don't need to be an expert to distinguish the SM-3 from the Tomahawk," said a source from Russia's defense industry.
Subscribe to get the hand picked best stories every week
All rights reserved by Rossiyskaya Gazeta.