Zver module to protect Russian armored units from enemy radar – with foam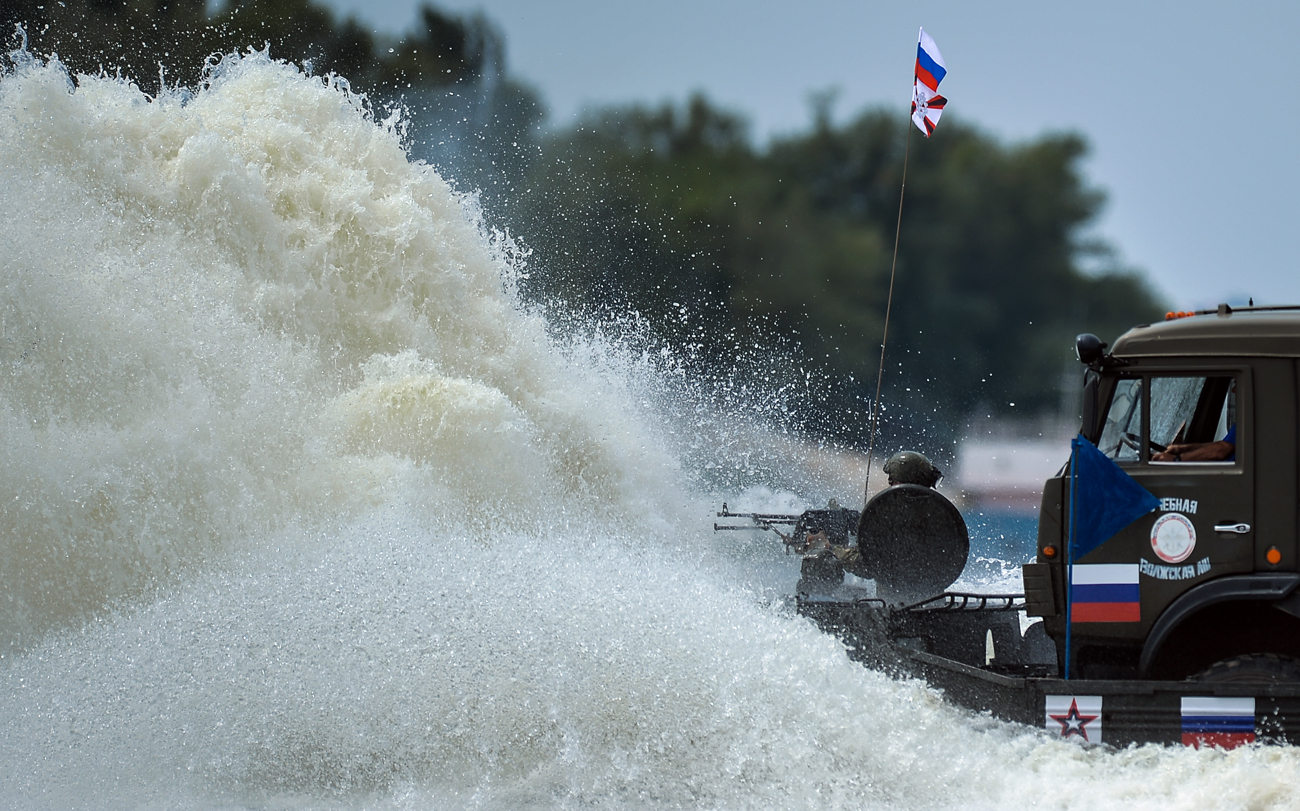 The Zver mobile system of chemical protection and camouflage looks like an ordinary 20-foot shipping container that can be transported by any army truck.
Vladimir Astapkovich/RIA Novosti
A new system designed by Russian engineers will be able to camouflage military hardware and safely put out fires, including at nuclear facilities.
A unique mobile chemical protection and camouflage system called Zver ("Beast") will soon be made available to the Russian Defense Ministry's fire safety units and so-called rescue regiments.
These new systems, developed by the St. Petersburg-based research and production association Modern Fire Safety Technologies (SOPOT), can put out a fire at a nuclear ammunition depot, preventing any emission of radioactive materials, and in a matter of seconds camouflage military hardware, making it invisible to enemy radars and satellites.
The Zver mobile system of chemical protection and camouflage looks like an ordinary 20-foot shipping container that can be transported by any army truck, tracked vehicle or a PTS-2 amphibious assault troop carrier.
Inside the module, there is a powerful pumping station and several containers with a special fire-extinguishing mixture based on silicon dioxide. In its liquid form, this substance quickly covers the whole area on fire, filling every crack. Several seconds later, it solidifies, instantly cooling the place and putting the fire out.
"Zver has undergone a series of tests at the Defense Ministry's specialized institutes," SOPOT general director Gennady Kuprin told the Russian daily Izvestiya. "It is planned that our system will be supplied to fire safety units at ammunition and fuel depots. Zver will also be made available to rescue regiments being set up in military districts to deal with the aftermath of man-made and natural disasters, the evacuation of people, and restoring the social infrastructure."
Ideal for nuclear clean-ups
Each Zver system has five tons of silicon dioxide in its tanks. In the course of one "application" lasting a minute, this substance, released through a special firefighting monitor, can cover an area of several thousand square meters. Furthermore, Zver can be located at a safe distance of 100 meters from the fire, farther than any ordinary fire engine. This safe distance is double the distance that the systems currently used by the Defense Ministry can operate from.
Another unique feature of silicon dioxide is that the foam it forms prevents the spread of radiation and reduces the concentration of chemical emissions and hazardous gases that are released into the atmosphere during a fire. This makes it possible to safely tackle fires at nuclear ammunition depots and contain radioactive emissions in the event of accidents at nuclear power plants or submarines.
Water cannot be used to tackle these fires because it will only make things worse, since water contaminated by radiation will get into the soil. Whereas silicon dioxide foam not only blocks the spread of hazardous substances but also remains on the surface and is easy to remove.
The use of this unique firefighting foam also makes it possible to camouflage military hardware. Silicon dioxide absorbs radar emissions of enemy radar stations and satellites. Furthermore, Kuprin explained, if the foam is left untouched, it will continue to protect the hardware for several months. And if it needs to be removed, all it will take is to rinse the tanks, armored personnel carriers and vehicles with warm water.
Keeping humans away from danger
According to Viktor Murakhovsky, a military expert and editor of the Arsenal Otechestva (Arsenal of the Fatherland) magazine, several years ago, when the Defense Ministry was urgently disposing of old ammunition, there were several deadly fires at army depots.
As a result, the Defense Ministry adopted a program aimed at a comprehensive modernization of ammunition depots and providing them with modern firefighting equipment. The implementation of this program is scheduled to be completed in 2018. As part of this work, a special fire engine based on the T-72 and T-80 tanks was developed. However, it is inferior in effectiveness to Zver.
"Unfortunately, in the majority of cases, fires have to be tacked by service personnel, hence so many casualties among them," said Murakhovsky. "Clearly, in order to eliminate, as much as possible, the presence of humans in a danger zone, it is necessary to develop automated vehicles and highly-effective fire-extinguishing compositions.
"In that sense, the system created by SOPOT is unique in that it offers a comprehensive solution to the problem. This mobile system has high firefighting productivity and rules out direct human contact with fire when operating in a danger zone."
First published in Russian by Izvestia
Subscribe to get the hand picked best stories every week
All rights reserved by Rossiyskaya Gazeta.