Arizona police to be armed with Russian-made rubber-bullet guns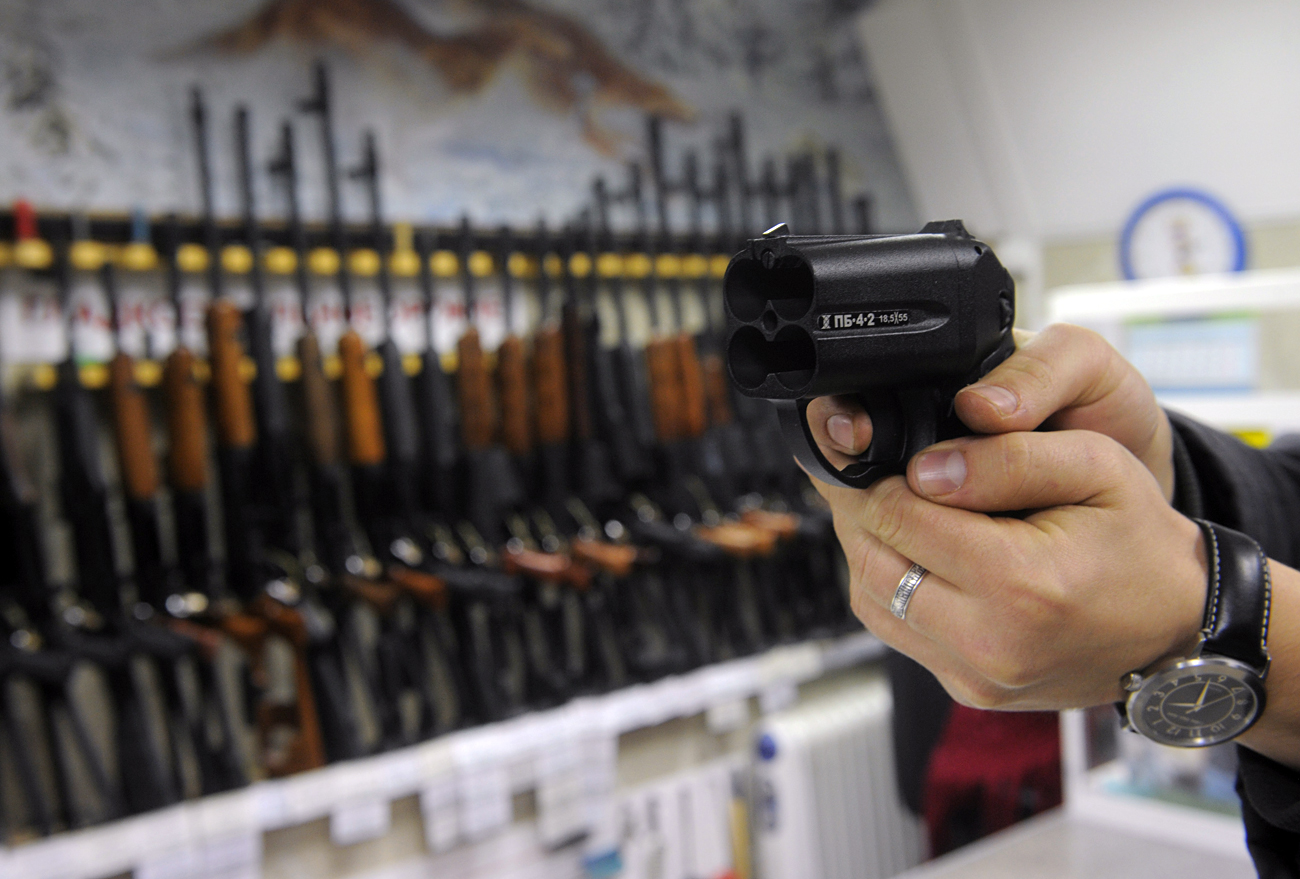 A buyer examining Osa traumatic pistol in one of the Moscow arms shops
Sergey Sysoyev/RIA Novosti
A sheriff's office in the U.S. state has purchased a shipment of Osa pistols, which were highly commended by American police after testing. A sheriff's office in the U.S. state has purchased a shipment of Osa pistols
A sheriff's office in Arizona has become the first police agency in the United States to use a Russian-designed gun that fires rubber bullets after purchasing a shipment of more than 60 Osa guns and 10,000 shells for use in its law-enforcement activities.
The Pinal County Sheriff's Office is already using the pistols, reports the press-service of the Tekhmash group, which produces the weapon.
"This is the first case in history when American security forces have officially purchased a Russian non-lethal arm, which means that it is designed not to defeat an enemy but to neutralize them. The primary goal of the so-called 'humane' handgun is to achieve a restraining and psychological impact," said Tekhmash's press-service in a statement.
Following preliminary testing, the Osa handgun, designed by Russian engineers in Sergiev Posad in the Moscow Region, was reportedly highly commended by U.S. police forces. According to Tekhmash, sheriffs from other states are also now planning to buy the arms.
The main feature of the Osa, named after the Russian word for "wasp," is its "smart" electrical firing mechanism – a chip that, when activated, tests the loaded cartridges. This way shooting becomes easier because every press of the trigger results in firing until there are no cartridges left.
"The electrical firing mechanism increases the reliability of the gun because there are no reciprocating moving parts that can get jammed due to dirt or a defective cartridge. If a misfire happens, the gun will automatically shoot the next operable shell, there is no need to fix the weapon and to reload the gun as is the case with usual guns," said Tekhmash.
The original firing mechanism also enhances the gun's safety because until the trigger is pulled the percussion cap does not detonate and no physical impact can cause the weapon to fire.
First published in Russian by Rossiyskaya Gazeta.
Subscribe to get the hand picked best stories every week
All rights reserved by Rossiyskaya Gazeta.