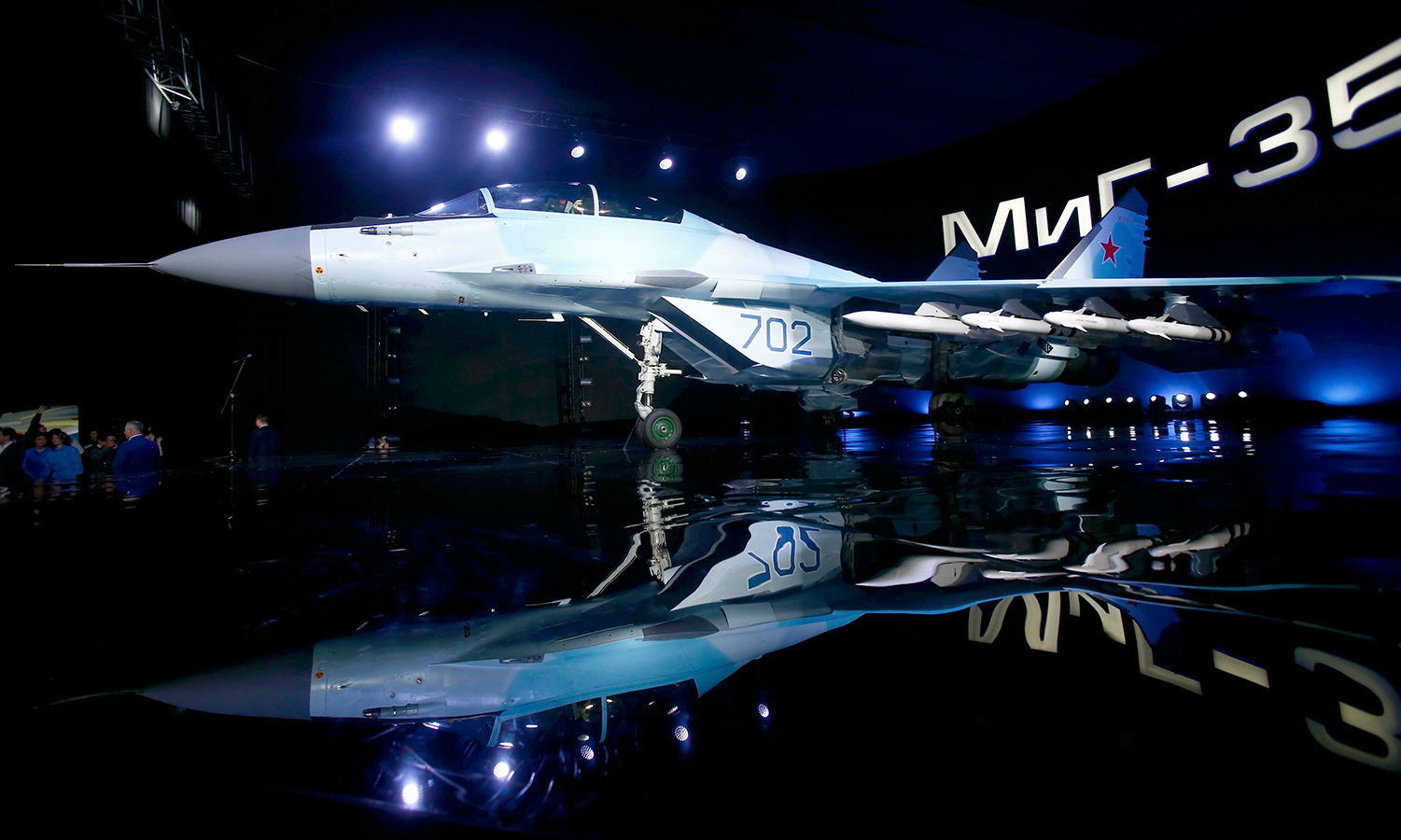 A new multi-role Russian MiG-35 fighter is displayed during its international presentation at the MiG plant in Lukhovitsy outside Moscow, Russia. Source: Reuters
Russia's new jet fighter, the MiG-35 is undergoing flight tests outside Moscow, reported (in Russian) Yury Slyusar, head of the United Aircraft Corporation (UAC), to President Vladimir Putin.
The fighter will provide air support for ground operations and aerial protection for bombers, including Su-34s, which helped Russia succeed against the Islamic State in Syria.
Experts emphasize the MiG-35's export potential, particularly in the Middle East.
Upgrades
The MiG-35 is a profoundly upgraded version of the MiG-29 fighter.
"The MiG-35 can deliver all types of existing and future munitions, including laser-guided weapons," said Pavel Bulat, head of the Mechanics and Energy Systems International Laboratory at the University of Information Technologies, Mechanics, and Optics. "The aircraft is designed to operate in heavily contested environments, under enemy aerial and ground attacks."
The fighter features upgraded avionics, more advanced radar, and a radar signature much lower than those of fighters currently in operation.
The MiG-35's maximum payload capacity is 6.5 tons, and it can simultaneously track between 10 and 30 aerial or ground targets at distances of up to 100 miles. Also, it can engage up to six of them.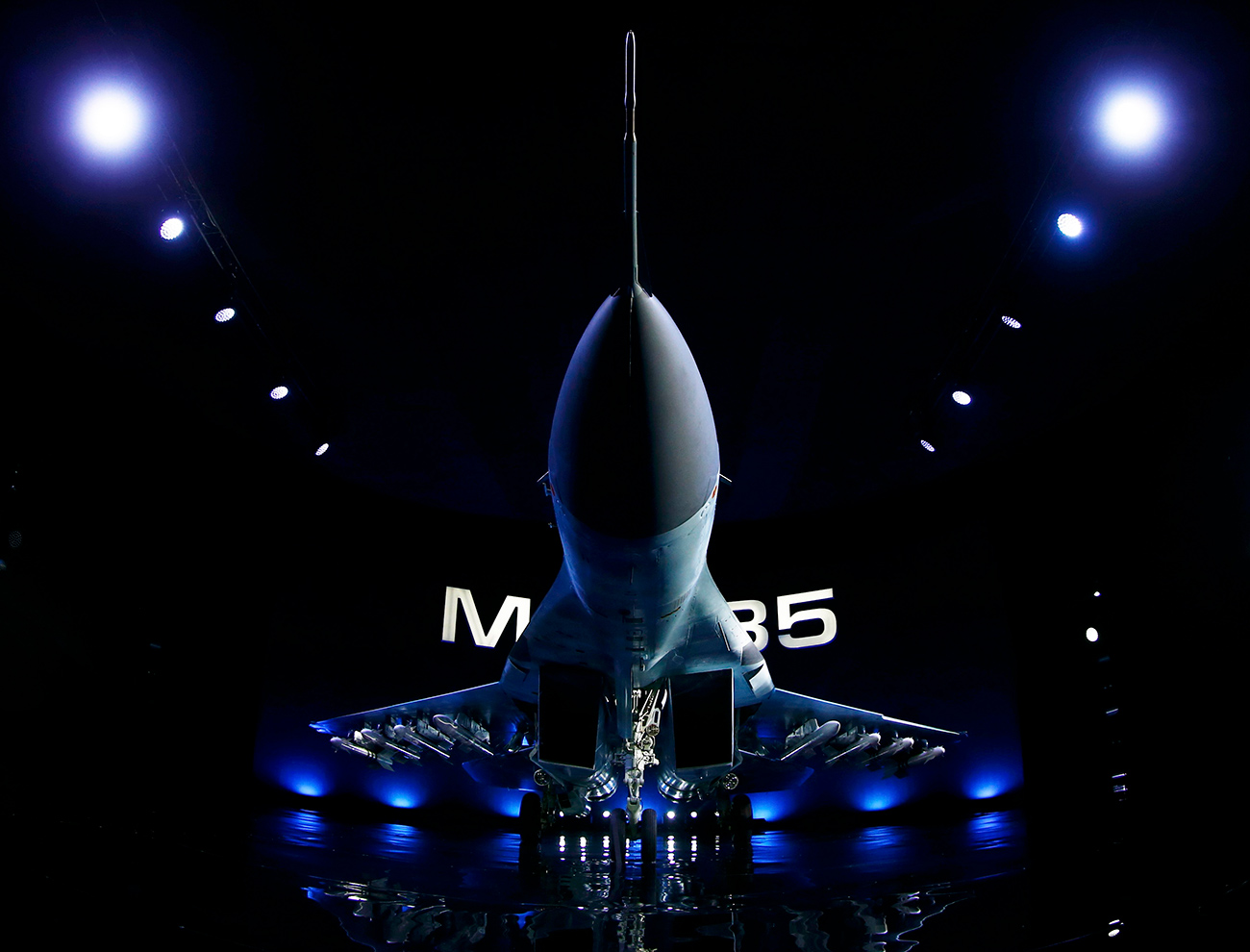 The MiG-35 was designed with export in mind, and there are hopes it will find a huge market in those countries that currently fly its predecessor, the MiG-29. Source: Reuters
Half the price
The new fighter has a price tag of around $16.8 million. Experts surveyed by RBTH said a much lower price is one of the MiG-35's main advantages compared to international rivals. France's Dassault Rafale, for example, is twice the price.
"The aircraft's design partially resembles that of the F/A-18, which is the mainstay of the U.S. Naval Air Forces," Bulat said. "Both have phenomenal aerodynamics and maneuverability. The MiG-35's engines, however, are a little underpowered as compared to those of France's Rafale and the Eurofighter Typhoon."
Bulat added that the MiG-35 can compete on par with U.S. fifth-generation fighters.
"If pitted against the F-35 Lightning II, which is a behemoth that has the maneuverability of a ground-attack aircraft, the MiG-35 will certainly finish on top," said Bulat. "However, taking out one of the F-22 Raptors would require three MiG-35s."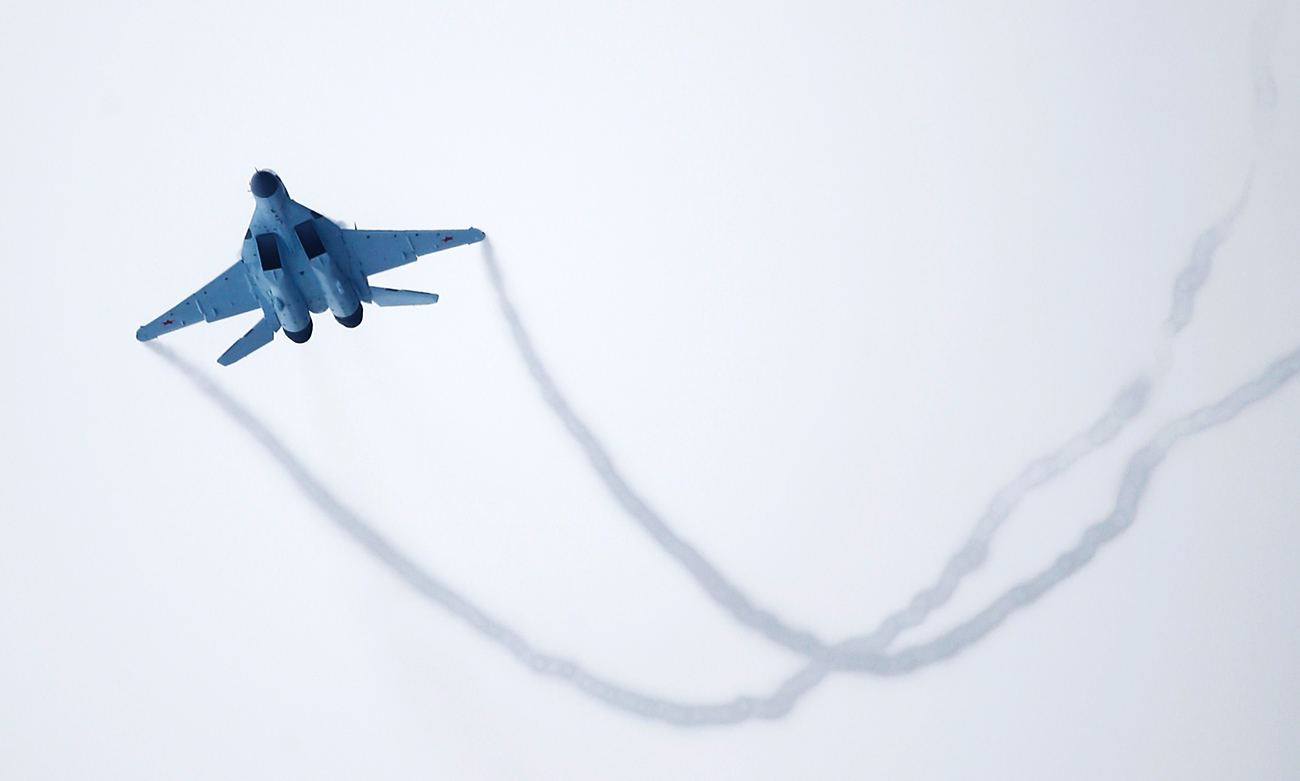 Expert: A new Russian MiG-35 fighter may be of particular interest to Middle Eastern countries. Source: Reuters
An eye on exports
The MiG-35 was designed with export in mind, and there are hopes it will find a huge market in those countries that currently fly its predecessor, the MiG-29, said Victor Murakhovsky, editor-in-chief of Arsenal Otechestva magazine.
"This aircraft will be of particular interest to Middle Eastern countries," Murakhovsky noted. "It will also be offered to India. Russia was actually in MiG-35 negotiations with New Delhi back in 2011, but eventually lost the $10 billion contract to France's Rafale."
Small factory
"The MiG-35 will eventually replace the MiG-29 in the Russian Air Force," Bulat said. "Around 80 to 100 such aircraft could be supplied to the fighter-bomber units, and between 120 and 150 more to the fighter units."
Not all experts share Bulat's optimism. Colonel (Retired) Viktor Litovkin, currently a military expert for the TASS news agency, said the MiG-35 is several years behind its time.
"I think this PR campaign for the MiG-35, including the official report to the president, is an attempt to show the world that RSK MiG [the company that designed the fighter] is alive and well, and that it has not lost the battle to its main domestic competitor, Sukhoi Design Bureau," said Litovkin. "They needed a way to tell people that the [RSK MiG] factory in Lukhovitsy outside Moscow is not dead, that it still has customers."
Litovkin is very skeptical as to the chances of the MiG-35 replacing the MiG-29.
"RSK MiG's small factory will be unable to organize full-scale production on its own, and significant investment will be required, both from the government and from foreign customers, to breathe new life into the company," said Litovkin.
If using any of Russia Beyond's content, partly or in full, always provide an active hyperlink to the original material.