New U.S. laser weapons threaten to radically change the nature of warfare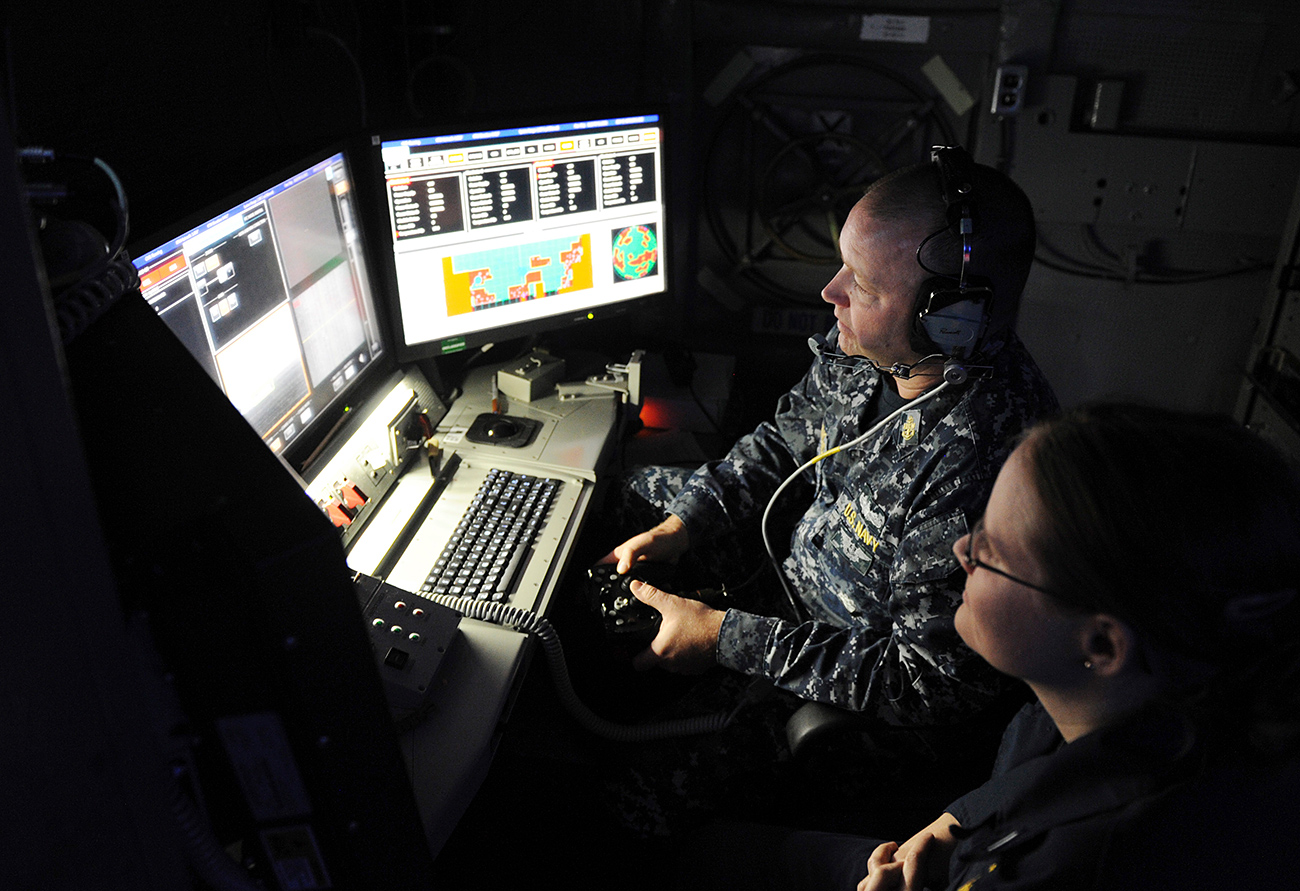 Chief Fire Controlman Brett Richmond (left) and Lt. j.g. Katie Woodard operate the Laser Weapon System (LaWS) installed aboard the USS Ponce during an operational demonstration in the Gulf in Nov. 16, 2014
Reuters
Over the past year the U.S. Navy has been testing laser weapons that are five times more powerful than previous prototypes. Russian military experts, however, believe these systems are not yet effective because they require ideal weather conditions to operate properly.
The U.S. Navy is preparing to test a 150-kilowatt laser weapon. Equipped with a powerful energy storage unit, American ships will be able to hit enemy drones and eventually to destroy enemy aviation, cruise missiles and even ships.
"The previous laser prototype was tested in the Persian Gulf three years ago aboard an amphibious transport dock, the USS Ponce, but Navy commanders were not satisfied with the results of the tests of a 30-kilowatt gun and the project was transferred to another company," said Colonel (retired) Mikhail Khodarenok, a former chief editor of the magazine, Military-Industrial Courier.
This new work on developing a laser is yielding fruit, and in a year's time this weapon might be deployed onboard a U.S. aircraft carrier or destroyer.
"Laser weapons require a lot of energy, and a generator with a capacity from 450 kilowatt and more is required for a single shot; but power generators like that are a rarity," said Khodarenok.
A battery must last long enough to sustain a lengthy battle against numerous opponents, both on sea and in the air. A laser weapon generator requires either backup accumulators or an energy storage unit that will be recharged during firing.
Donald Klick, director for business development at DRS Power and Control Technologies, told Warrior magazine that laser gun batteries for U.S. ships have enough power for 100 shots before they need to be recharged. Russian experts, however, are skeptical about the new American weapons, and they have several reasons why.
Shortcomings
"At the moment laser systems cannot be considered a full-fledged weapon,'' said an anonymous source in the military-industrial complex. "They do not yet present a threat to personnel and hardware because they do not have sufficient penetrative power."
He also questioned Klick's claim that U.S. laser weapons can make 100 shots without recharging.
"The Soviet Union tested the first laser weapon at the Sary-Shagan range (in Kazakhstan), and while it could hit cruise missiles and aircraft the energy resources of a nearby nuclear power plant had to be used for it to function," the anonymous source added. "So far, there are no batteries that could provide laser weapons with sufficient energy."
Laser weapons in modern Russia
Russia is also developing laser systems, but there is little information about them in open sources since these projects are classified.
"Russian laser systems are integrated in other weapon systems, and are used for target assignment and other combat support functions," said TASS military analyst Colonel (retired) Viktor Litovkin. "The Russian systems have not yet developed full-fledged combat independence as demonstrated by their American equivalents."
He went on to say that laser weapons have one fundamental flaw – so far they can be used only in ideal weather conditions.
"At the moment, American laser weapons can operate only in clear sunny weather, when there is no rain, fog or dust," Litovkin added. "And then add to this the chaos of real combat conditions when the earth is exploding on every side."
If using any of Russia Beyond's content, partly or in full, always provide an active hyperlink to the original material.