New Russian military drone launches directly from missiles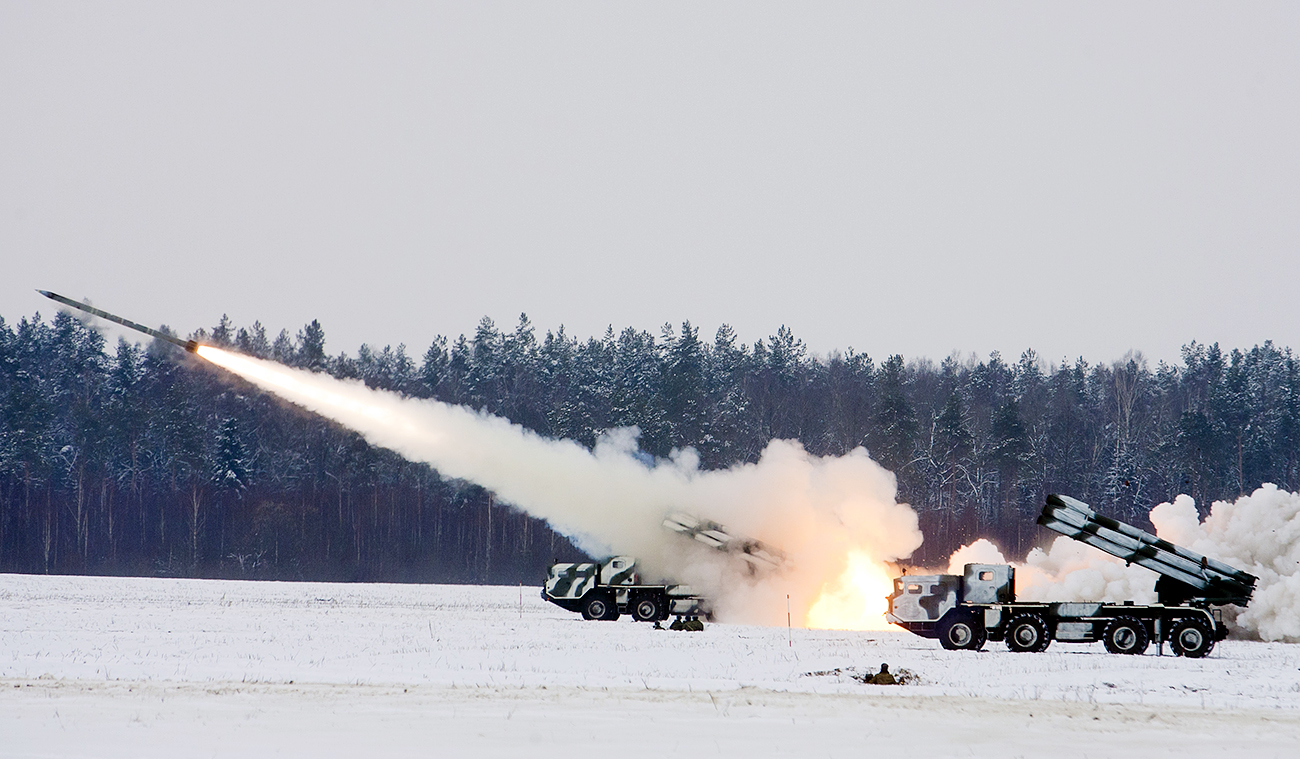 Live firing of Smerch multiple-launch rocket systems at a shooting range near Baranovichi during combat exercises.
Andrei Aleksandrov/RIA Novosti
The developer of the Grad, Uragan and Smerch systems has designed an unmanned aerial vehicle (UAV) to be launched from the front section of the Smerch multiple launch rocket system. The drone is aimed at foreign markets and won't go into service in the Russian military.
Tula-based Splav Research and Manufacturing Association (SRMA), which is Russia's leading manufacturer of multiple launch rocket systems, designed a drone that launches from the Smerch system. SRMA seeks customers abroad for the drone because Russia already has a number of companies providing drones to the army, said Nikolai Makarovets, the company's general director and chief designer.
"The drone is based on an interesting and innovative idea - using a device to adjust the fire of the multiple launch rocket system, which can quickly and with minimal risk of being hit, be delivered to the target while making maximum use of the full array of weapons," said Denis Fedutinov, chief editor of Bespilotnaya Aviatsiya [Unmanned Aviation] magazine, reported (in Russian) Gazeta.ru.
Slow start
Work in this area was discussed 10 years ago, however, only the first of two planned UAVs, the one with a lower speed, was ever realized. The plan was to use the technology to develop a drone to interact with artillery, and launched from a catapult system, Fedutinov told (in Russian) Gazeta.ru. Tipchak, as the UAV is called, does all this and finds objects within a radius of 24 miles from the command point.
"This started at a time when unmanned systems were not even of secondary importance but rather tertiary priority, and thus, work proceeded slowly and was never completed," said Fedutinov, reported (in Russian) Gazeta.ru.
Smerch
The Smerch system, which designers plan to use to deliver the drone to the site of operations, is designed for attacks on enemy forces at large distances. According to the manufacturer, Smerch has a special feature - an automated system for correcting rocket flight trajectory.
Smerch fires 300-mm rockets with shaped-charge fragmentation, self-homing, high-explosive fragmentation and thermobaric warheads at distances of up to 55 miles. Its 12 launch pipes are loaded automatically within 20 minutes. The entire system requires a crew of three, not counting the two operators of the accompanying transport and loading vehicle.
If using any of Russia Beyond's content, partly or in full, always provide an active hyperlink to the original material.