First Russian-made combat drone being tested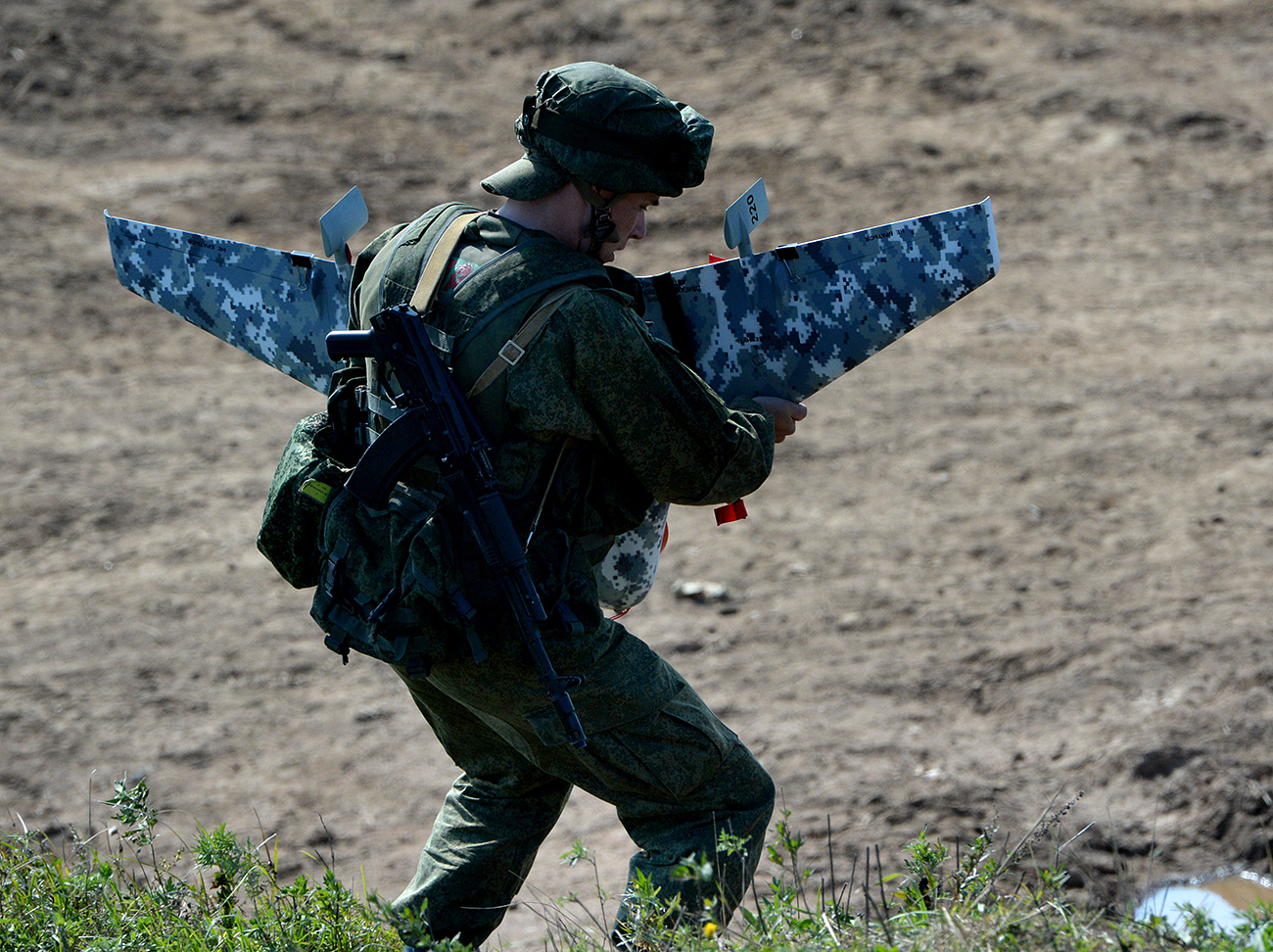 A Russian serviceman prepares to launch a drone during the Indra 2016 joint Russian-Indian military exercise at Sergeyevsky base.
Vitaliy Ankov/RIA Novosti
The small T-16 vehicle was developed by Kazan-based Eniks Design Bureau and is able to carry 6 kg of mission payload on its underwing.
Russia is testing the T-16, its first weaponized unmanned aerial vehicle (UAV) made on home soil, Interfax-AVN news agency has reported, citing a source from the defense sector.
"The UAV can carry up to 6 kg of mission payload," the source said. "This may include air-delivered munitions on underwing pylons." He provided no details on the technical characteristics of the weaponry, which is understood to be sourced from third-party suppliers.
According to the source, the T-16 has a take-off weight of around 20 kg. The airframe is a twin-tail canard configuration (meaning a small forewing sits in front of the main wing), and the backswept wing is fitted with leading-edge strake (which control air flow) and downward-facing winglets. A single propeller is driven by a low-noise accumulator, or fuel cell-powered electric motor.
The new UAV is under development at the Kazan-based Eniks Design Bureau, which specializes in small-sized UAVs and aerial targets. The company's previous projects include the Tipchak-RN unmanned aerial system, with the UAV delivered to the reconnaissance area inside a projectile fired from a Smerch multiple-launch rocket system, as well as various modifications of the Eleron 3 and Eleron 10 UAVs for Russian security agencies.
The Eleron-10 served as the platform for the Valdai UAV, used by the Federal Security Service to patrol the grounds of the 2014 Olympics in Sochi.
It says on the company's website that Eniks has its own UAV testing ground.
What the T-16 looks like
The T-16 is not listed in Eniks's product catalog. However, last year photographs of a T-16 mock-up taken at the first Military Scientific Conference Robotization of the Russian Armed Forces emerged on the Internet.
The resource highlighted the T-16's outward similarity to the Israeli-made Aeronautics Defense Systems Orbiter 3b UAV, which were rolled out in 2014.
Some ten to 15 years ago, only MALE-class (Medium Altitude Long Endurance) UAVs were capable of carrying weapons, says Denis Fedutinov, a Russian expert on unmanned systems and editor-in-chief of the UAV.ru website. Back then, only America and Israel were building such vehicles. Israel never reveals the combat characteristics of its UAVs, so the U.S. General Atomics MQ-1 Predator and MQ-9 Reaper are the most obvious examples of unmanned aerial strike vehicles in operational environments.
The smaller of the two, the Predator, carries AGM-114 Hellfire anti-armor, air-to-surface missiles. The bigger Reaper can additionally carry GBU 12 Paveway II and GBU-38 JDAM laser-guided bombs. Both types have been repeatedly used for precision strikes by the U.S. Armed Forces, including in Iraq, Afghanistan, and Yemen.
Getting smaller
"Successful application of these systems in reconnaissance and strike roles did not go unnoticed by other countries," Fedutinov says. "Some of these, including China, India, South Africa, and Russia have been developing their own UAVs, with varying degrees of success. Other countries are being forced to either purchase third-party systems available on the market or develop smaller vehicles."
Fedutinov says technological advances lead to ever smaller-size UAV subsystems, and are considerably improving the technical parameters of such vehicles in the process.
The T-16, Fedutinov estimates, will have decent endurance (maximum sortie duration). This, in combination with the vehicle's low acoustics and fairly high mobility, could result in the development of a highly effective system for counter-terrorist, reconnaissance, and sabotage applications. Fedutinov says the fact that a Russian company has developed a weaponized small UAV indicates that more Russian-made tactical and MALE-class unmanned systems may follow.
First published in Russian by Gazeta.ru
If using any of Russia Beyond's content, partly or in full, always provide an active hyperlink to the original material.