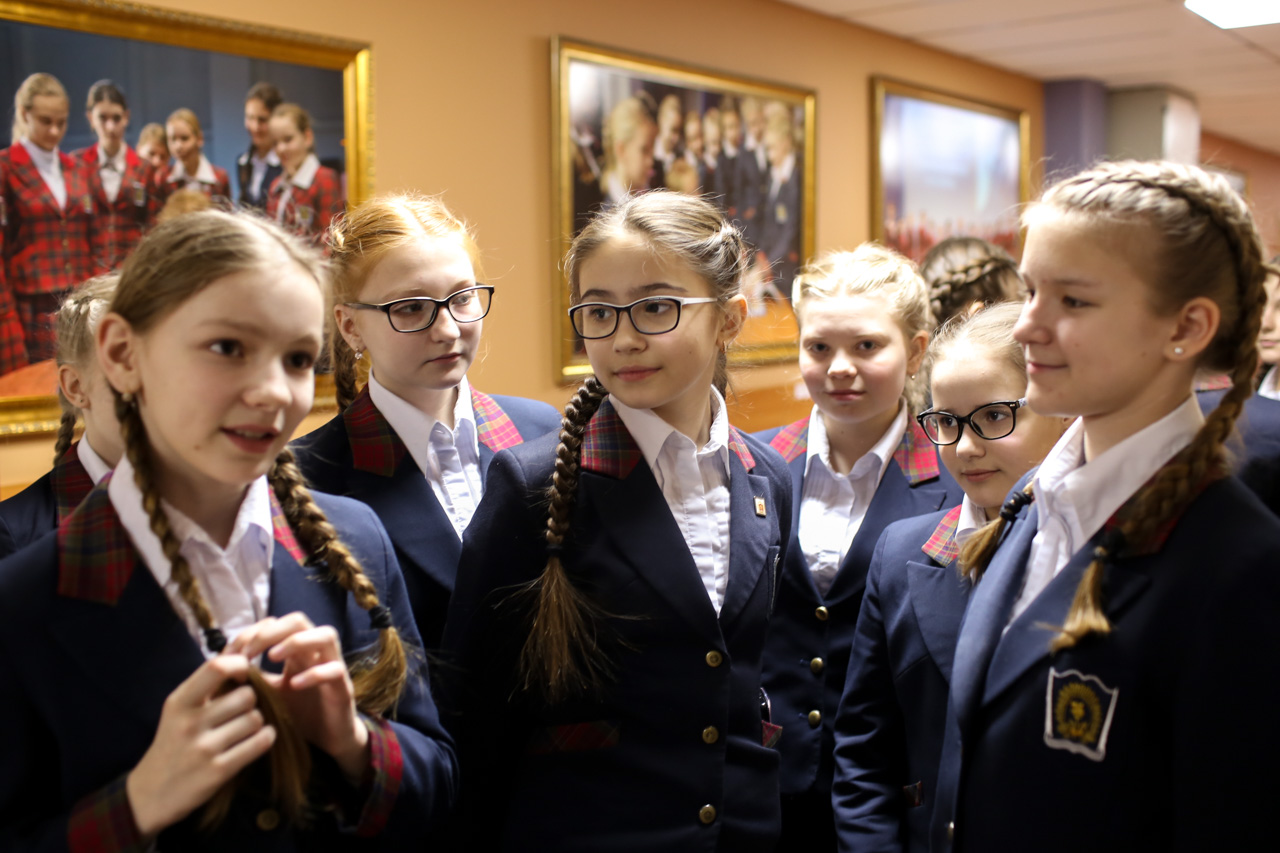 Sixth-grade pupils of the Russian Defense Ministry Boarding School for Girls. On the far left is Stasya Starozhuk. / Photo: Olga Ivanova
Can your boarding school be described as an elite educational establishment?
"If you have in mind that our girls don't drink, don't smoke and don't swear - then yes. But, in general, we regard good manners as the norm. We are a normal 'Soviet' school."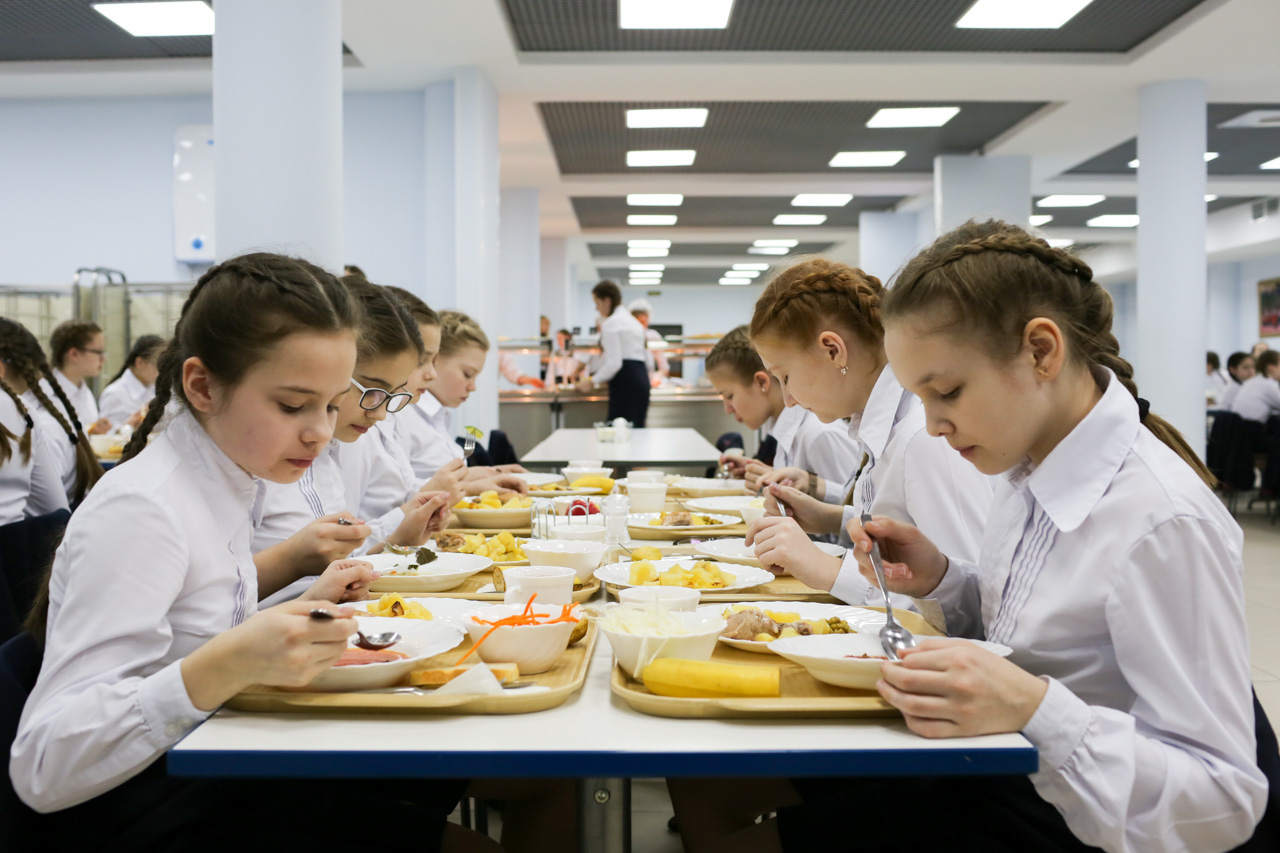 The school canteen operates a buffet system. At lunch, there is a choice of two kinds of soup, a meat or fish dish with a side, vegetables from the salad bar, a drink and a mandatory piece of fruit. / Photo: Olga Ivanova
The boarding school's press officer who accompanies us has a fairly rare name by today's standards - Taisya. In fact, the name was common among teachers in Soviet schools. Our Taisya is simultaneously welcoming yet stern. Everything here is like that: aesthetics and discipline coexist and complement each other. Taisya pronounces the words "normal Soviet school" with a barely concealed nostalgia.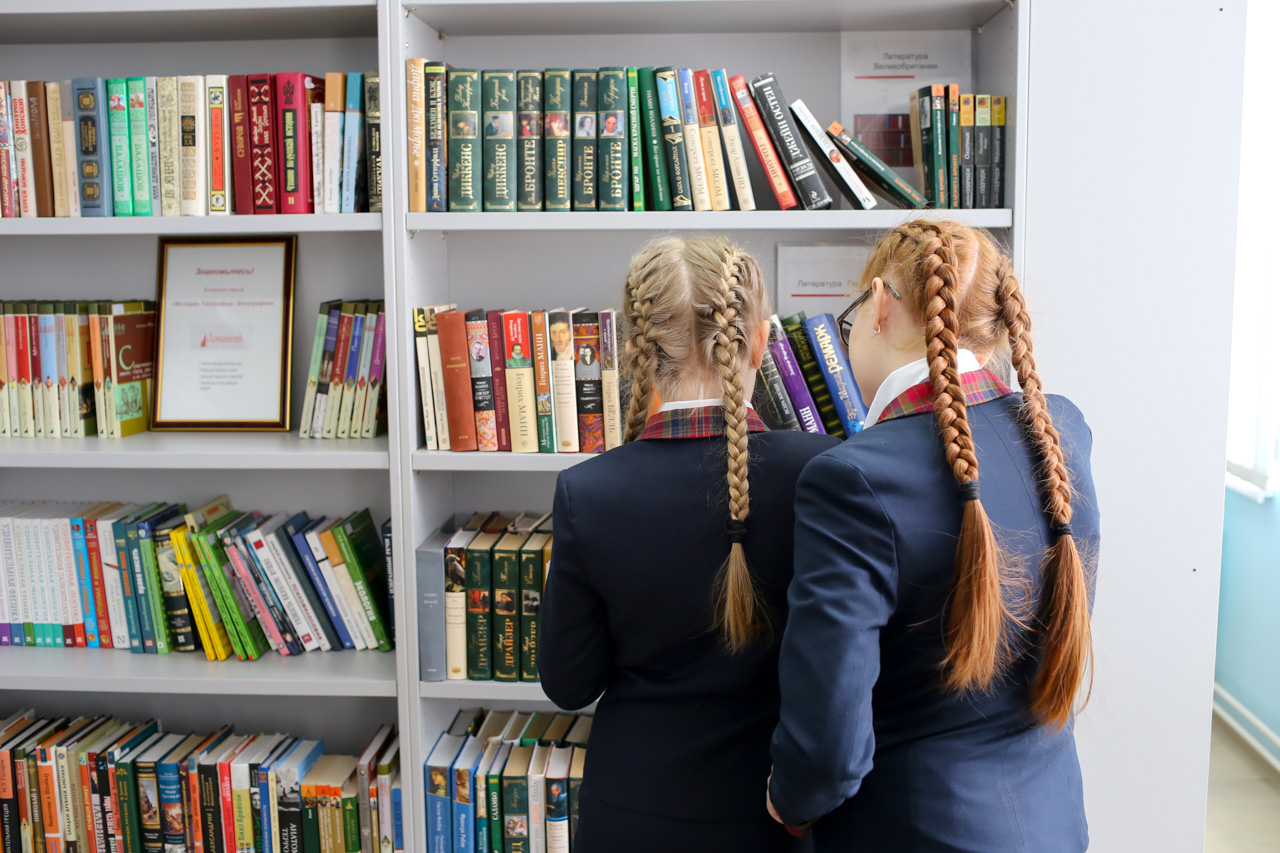 The school library lets pupils download e-books or leaf through an old-fashioned paper tome. / Photo: Olga Ivanova
An oasis behind the wall
This "normal Soviet school" is situated in impressive grounds three miles northwest of the Kremlin. Were it not for a high brick wall, the security gates and a ban on leaving school grounds unaccompanied by an adult, it'd be a classic campus (which, by the way, was not a typical school premises in the Soviet period). There's a new classroom facility, several dorms, a music center, athletic facilities, a large indoor equestrian arena, a swimming pool and a splendid English-style park. This is a real sanctuary in the middle of a metropolis of 12 million people.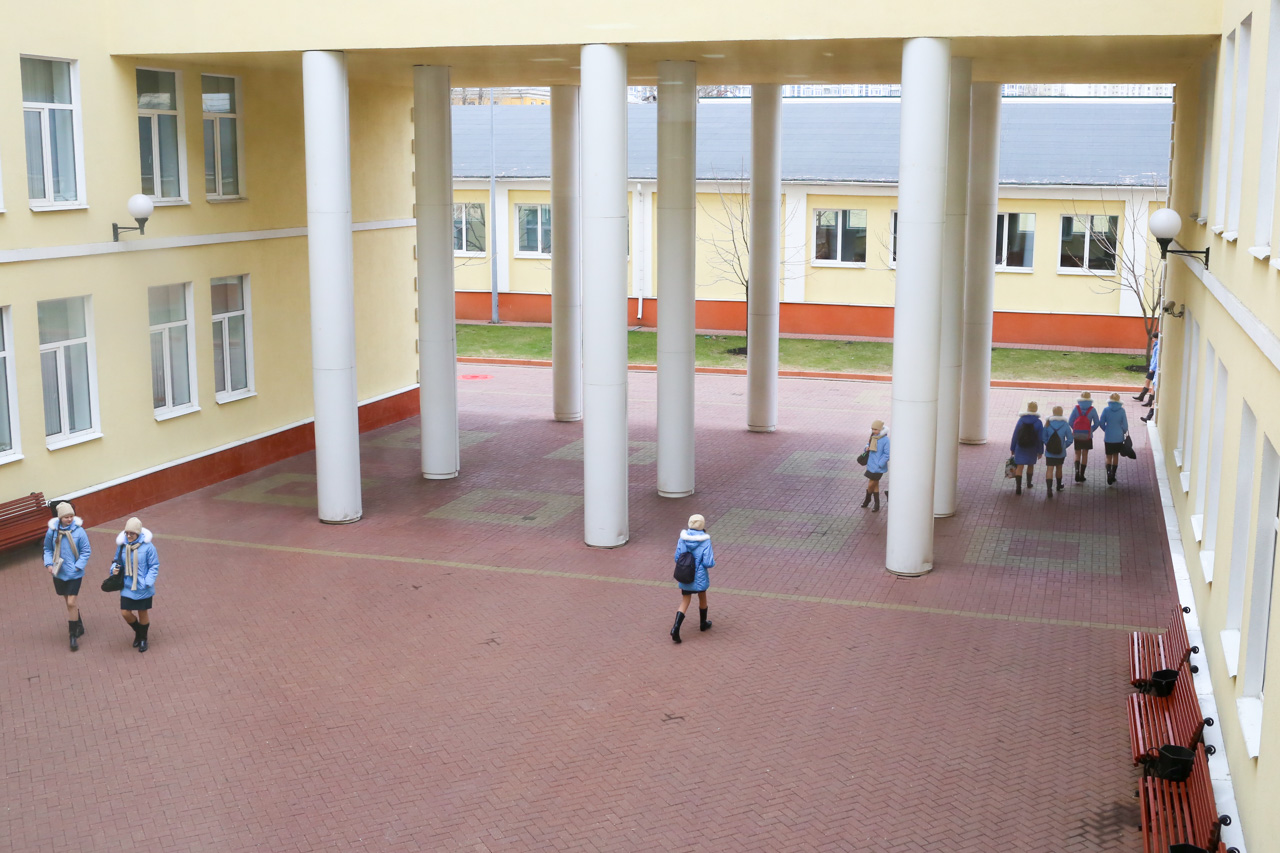 The inner courtyard of the main teaching block. / Photo: Olga Ivanova
This Defense Ministry's boarding school for girls has the status of a cadet corps, but it seems to continue the traditions of the institutes for girls that existed in Imperial Russia and which were shut after 1917. At any rate, the goal of "giving the state educated women, good mothers and useful members of the family and society" that Catherine the Great set before the 18th century Imperial Society for the Training of Well-Born Girls dovetails with the goals of teachers and educators at this post-Soviet "school for well-bred girls."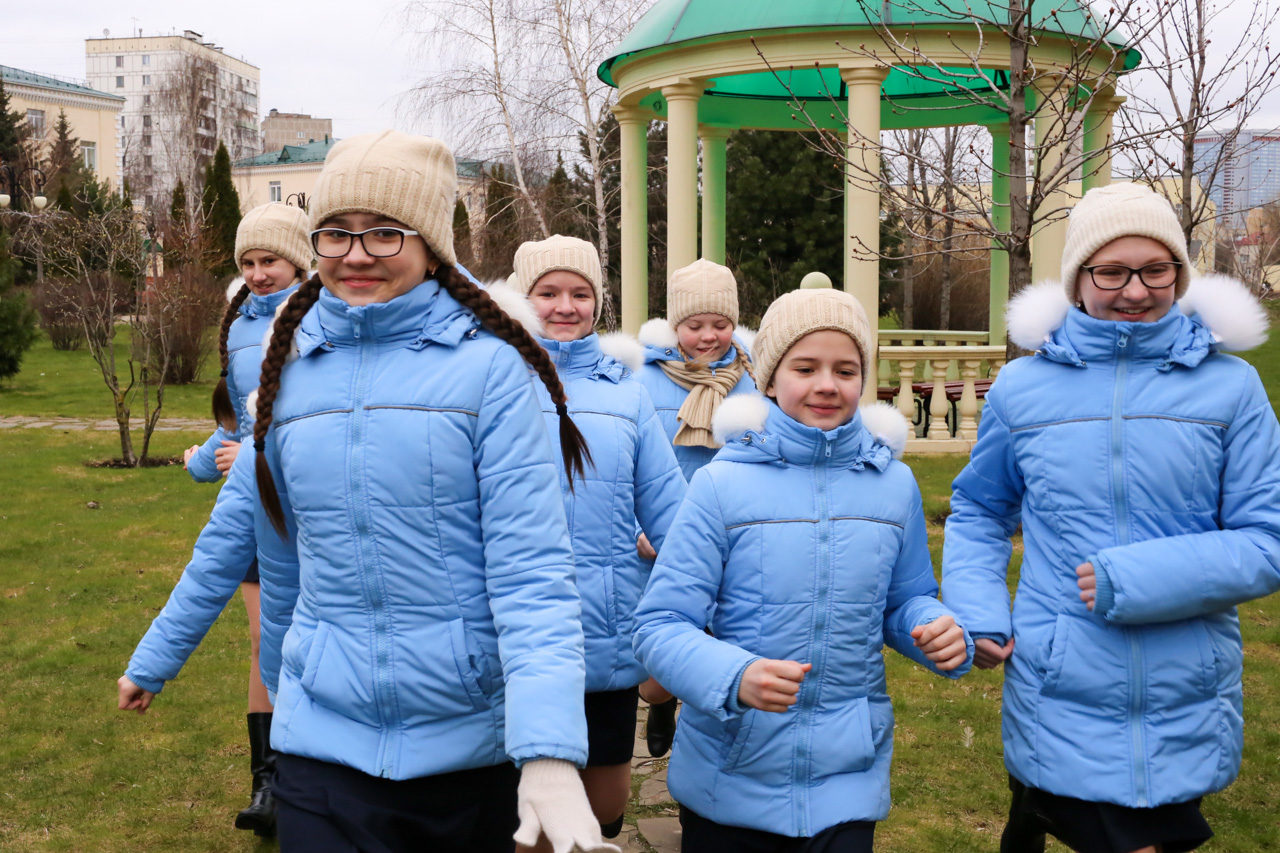 The daily hour-long walk through the English Park after school is almost impossible to shirk. / Photo: Olga Ivanova
A stroke of luck
The childhood backgrounds of the majority of girls are similar: life in a military compound somewhere in this vast country, lessons in the garrison, and uncertain prospects. Then there's an unexpected turn of events: someone happens to see a report on the news, or father, returning from duty one day, who announces at the front door an offer that can't be refused.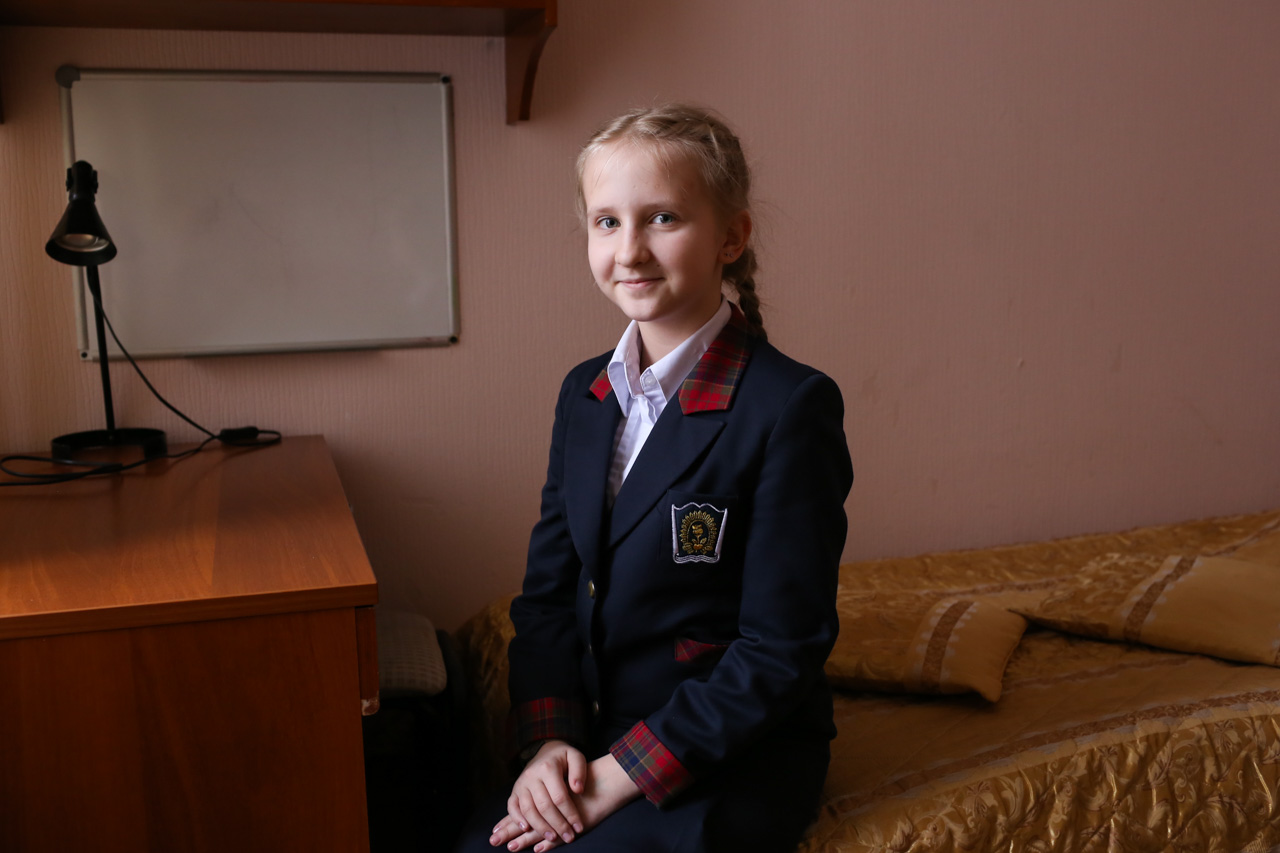 A dormitory room. / Photo: Olga Ivanova
Katya Filatova, an imposing girl of 16, sees me going up to the window and trying in vain to get a mobile phone signal. She gets out her smartphone.
"Do you need Wi-Fi? You can use mine."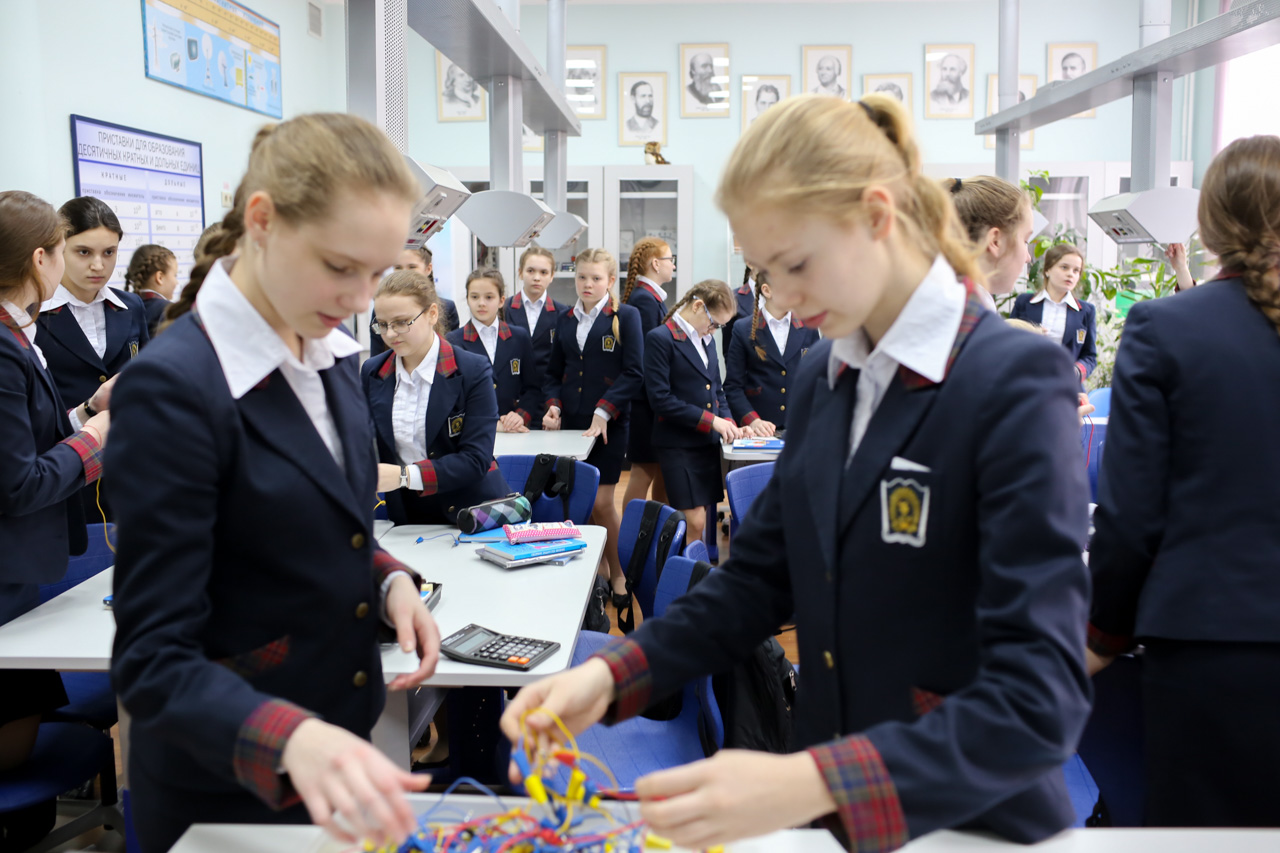 The physics lesson may be over, but there's still work to be done. / Photo: Olga Ivanova
Katya is in tenth grade. Another year and she's a free. "I'm going to study journalism." Katya looks me up and down perfunctorily as if trying to convince herself once again that she's made the right choice. Tenth grade at the boarding school is when choices about further education begin to be pondered. We're standing in the corridor, on the first floor of the classroom facility, next to an enormous portrait of Emperor Alexander II.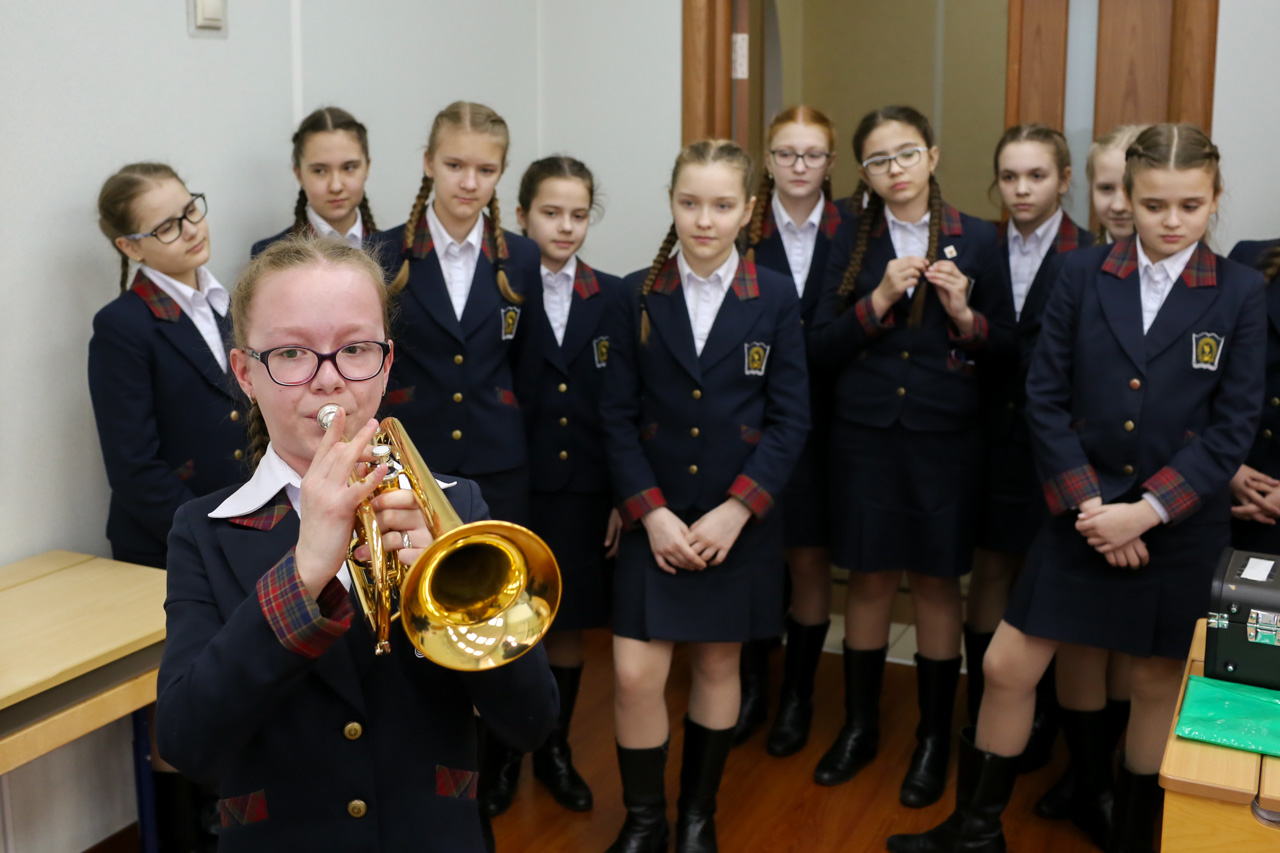 Playing the trumpet isn't easy, but neither is falling flat on your face in front of your classmates. A wind instrument class at the music school. / Photo: Olga Ivanova
"A little autocratic for a 'Soviet' school," I quip, turning in Taisya's direction. She stares at me disapprovingly.
"These are the science rooms - biology, physics and chemistry," Katya says, coming to Taisya's rescue. "Girls who study humanities like me are on the second floor."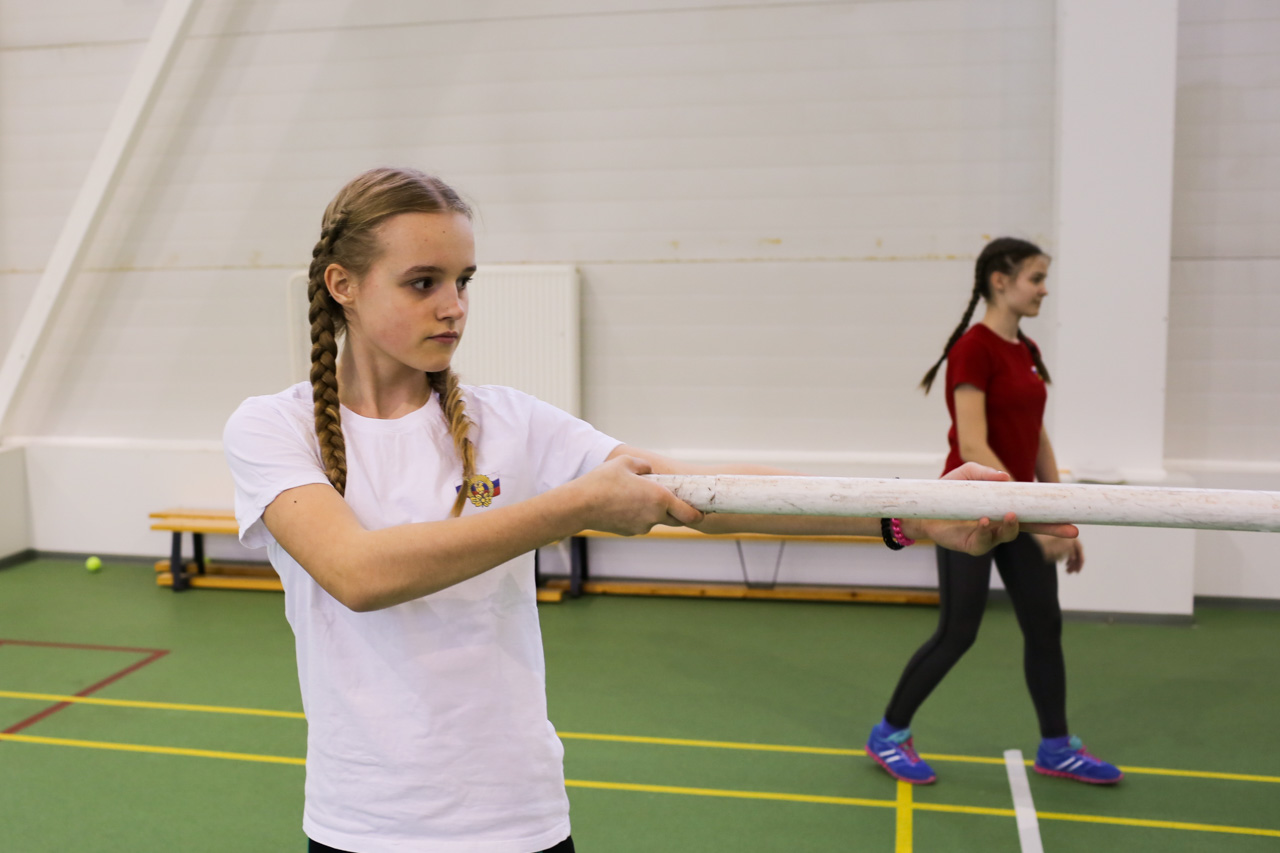 'Gorodki' is a Russian national sport, similar to skittles. Training takes place inside a special arena. / Photo: Olga Ivanova
Katya was born in the Kola Peninsula - in Olenegorsk, a small town in the Arctic Circle about 1,100 miles north of Moscow. Apart from a military unit, it has a mining and industrial complex for the extraction and processing of iron ore. Career prospects for young people in the North are limited.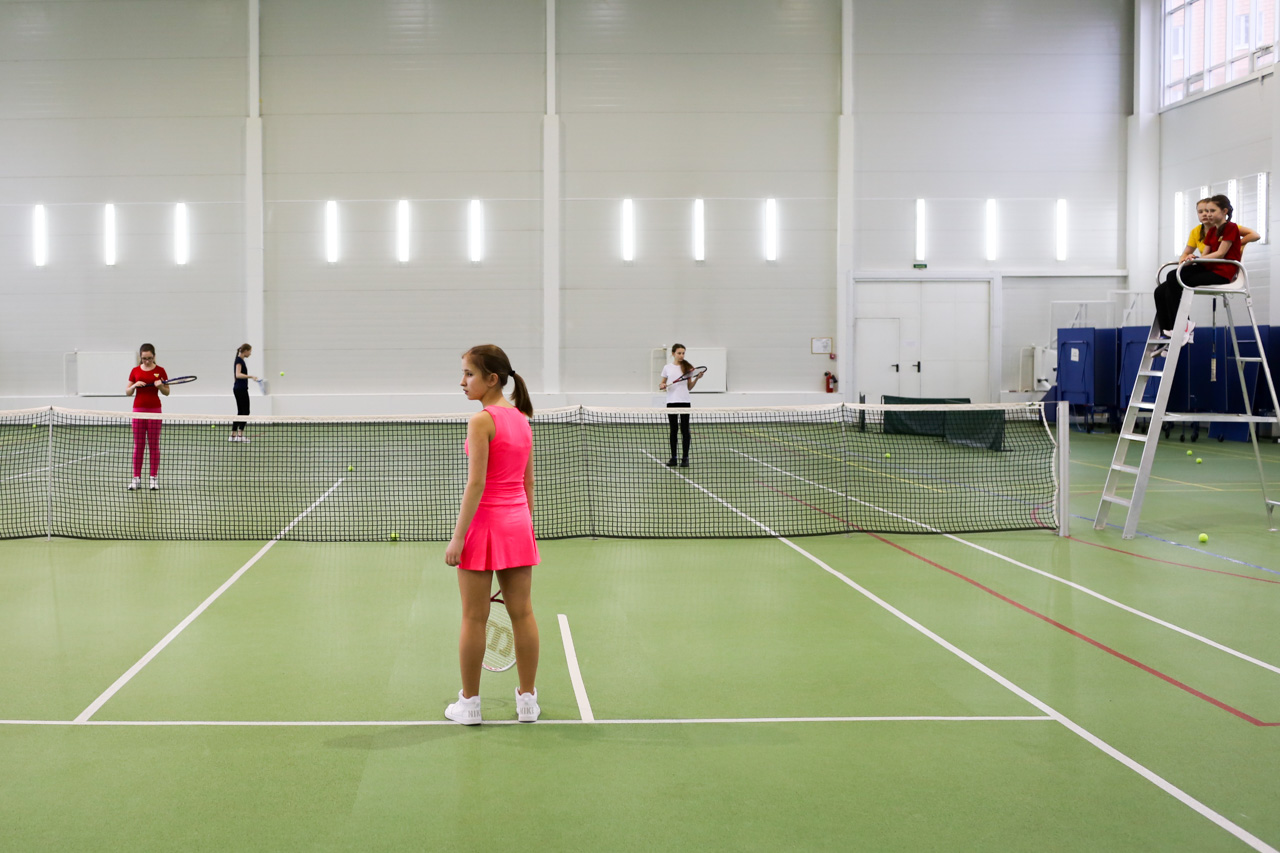 Out, your serve. The school's indoor tennis court. / Photo: Olga Ivanova
In 2014, Olenegorsk was put on a government list of so-called "monotowns," where people's lives are completely dependent on the fortunes of a single enterprise and, in the words of a government edict, "there are risks of a deterioration of the socio-economic situation." The news that a Defense Ministry boarding school for girls had opened in Moscow came as a stroke of luck for Katya.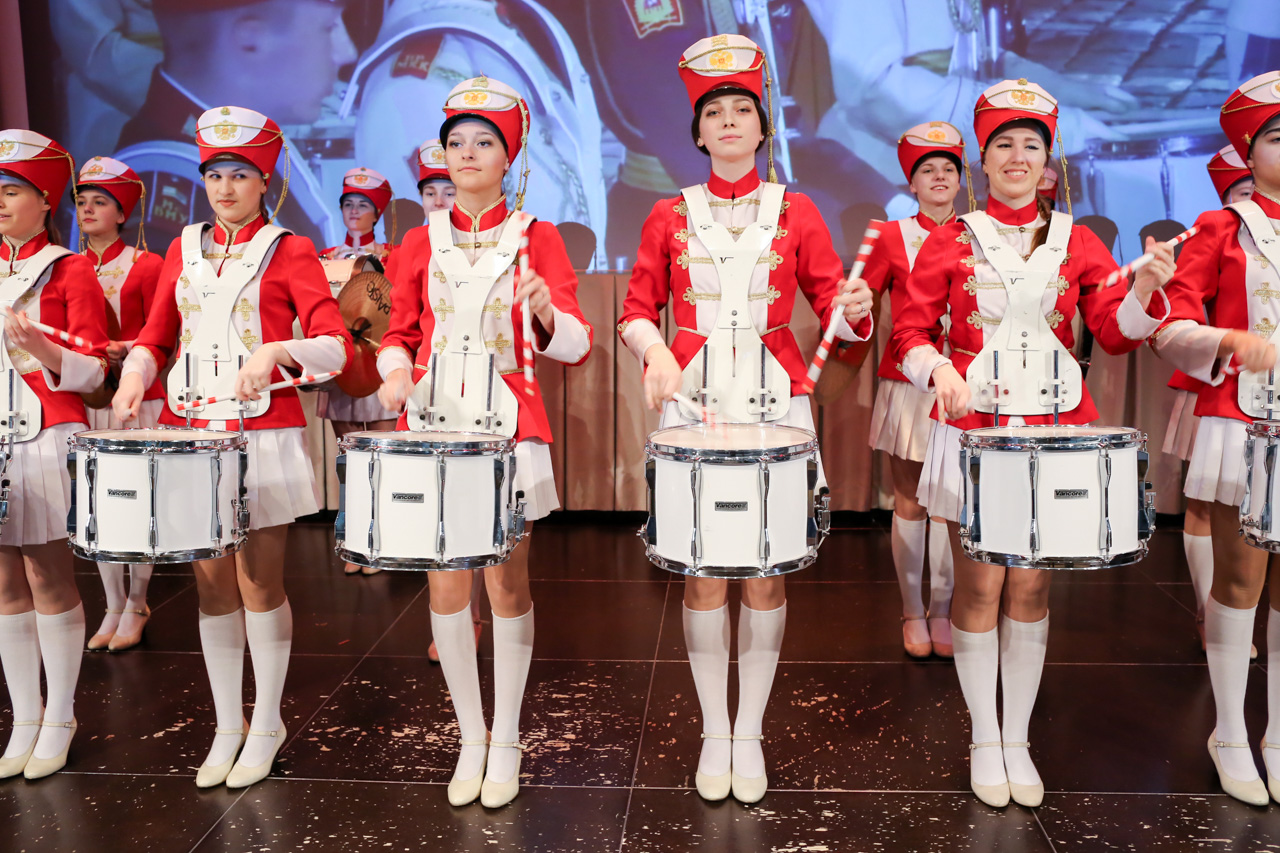 The drumming ensemble is a regular participant in the annual Spasskaya Tower International Military Music Festival on Red Square. / Photo: Olga Ivanova
Seven years, day in day out
The boarding school admits girls, aged 10-11, who have finished primary school, and their place is fully funded by the state. There's very stiff competition for places, and Taisya refuses to say how many girls apply each year (the numbers are not made public), but when I mention I've heard from the girls that 20 applicants compete for each place she nods her head in agreement.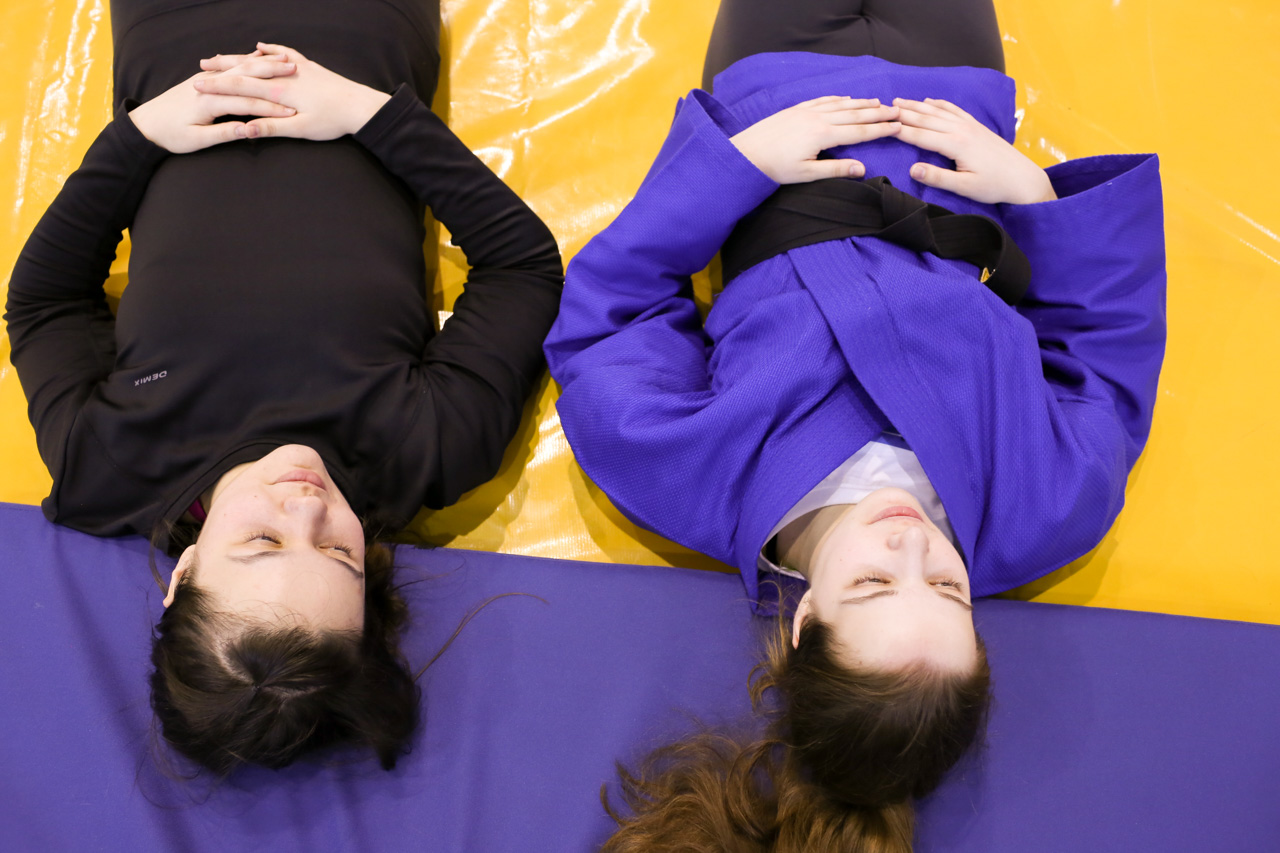 The lull before battle. The school offers many sports: martial arts such as sambo, sumo, and taekwondo are particularly popular. Training takes place in the combat hall. / Photo: Olga Ivanova
Formally, the girls continue to study in fifth grade according to the secondary school curriculum, but in practice they find themselves following the syllabus of a specialized school, as it was known in the Soviet period. The difference is that there's "in-depth" teaching not just of one subject - languages or math (or physics or biology), but of all subjects simultaneously until tenth grade, when a choice about specialization can be made.
Every day for seven years, with breaks for holidays, the girls are fully occupied. The day begins at 7 a.m. with group exercises. After lessons, which include two foreign languages, piano, swimming and figure skating, there are optional courses: a third foreign language, music, painting, sculpture, choreography (Irish dancing is particularly popular), rehearsals in the drama studio, the robotics club, or filming for the school's TV channel.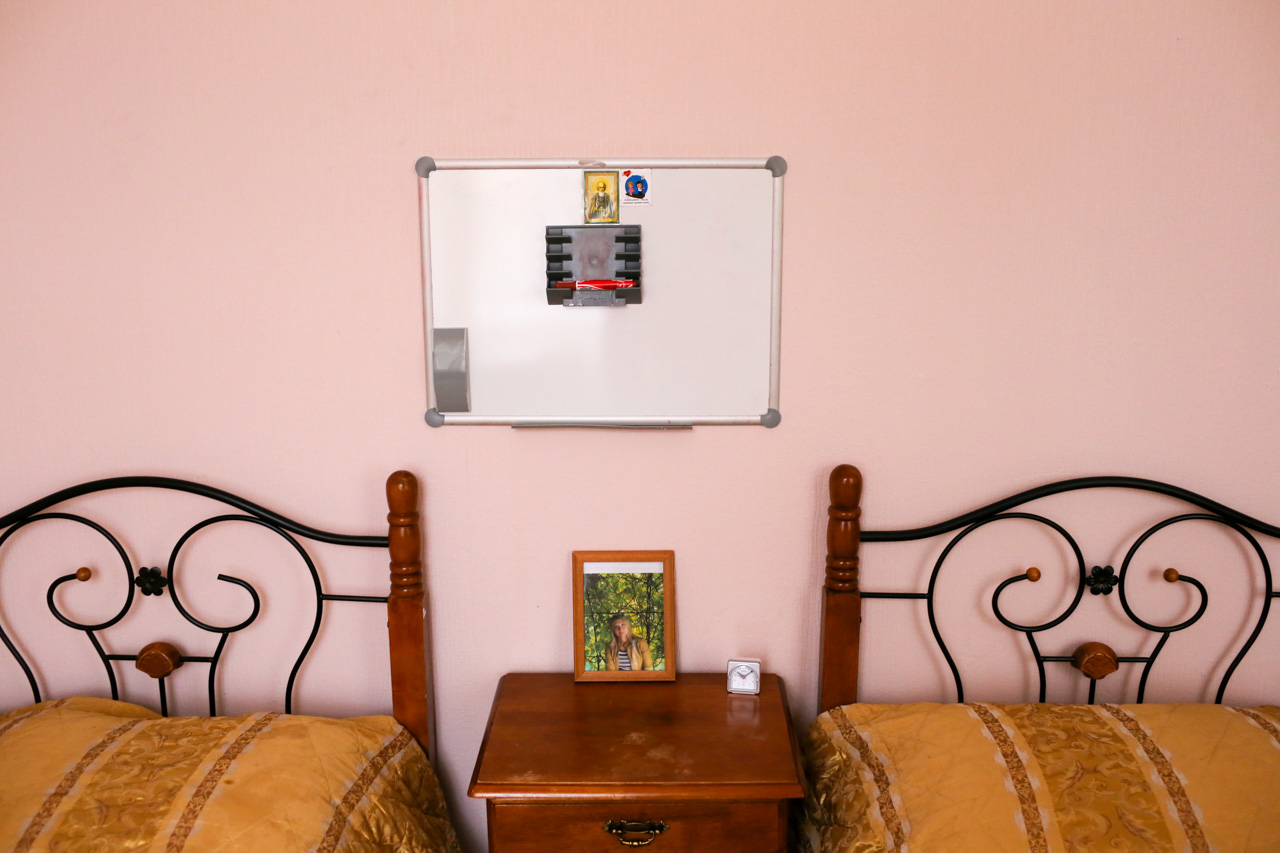 For seven years, the boarding hostel is the girls' home in everything but name. Each residential block has two double rooms, a bathroom and a cloakroom. / Photo: Olga Ivanova
And of course sport - lots of sports. In the corridors you can bump into the European sumo wrestling youth champion Nastya Nikitina. It's the same in the riding arena, where you can come across the winner of the Russian National School Physics Olympiad. Sometimes they are one and the same person.
The girls return "home" to their double rooms in the dorm by 8 p.m. Before sleep, they have 30 minutes of "private time."
The price of freedom
Once a month, the girls are allowed to go into town accompanied by relatives or an authorized chaperone. Every three months a Birthday Celebration Day is held to fete those girls whose birthdays fell in the relevant period. The disco is a much awaited treat, especially because it's a rare occasion when the girls have boy visitors - from the Cadet Corpus, Army Music Academy, and Emergencies Ministry Academy.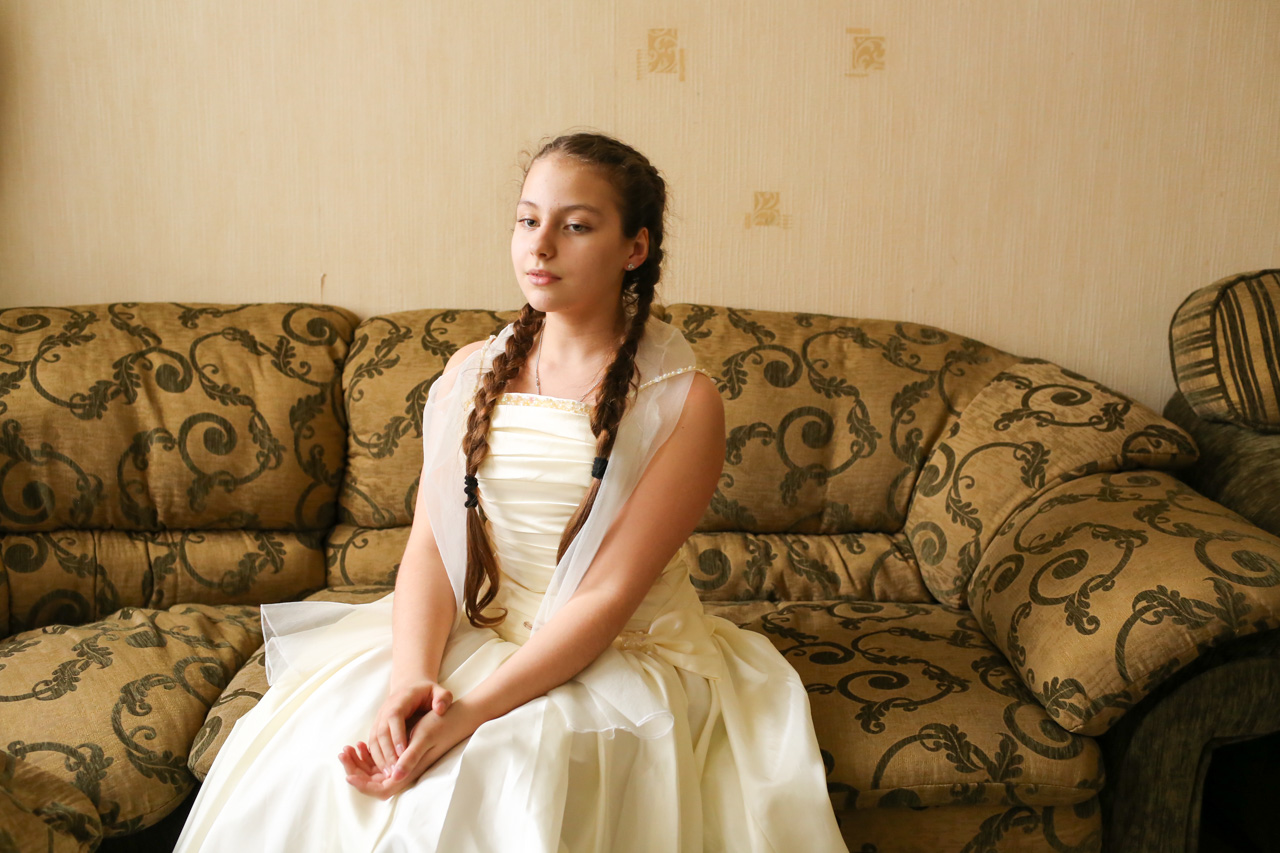 A ball gown is an indispensable part of the boarding school wardrobe. Sixth-grader Masha Samatkina. / Photo: Olga Ivanova
"It's the only day we can allow ourselves a manicure," says Katya Filatova.
Girls in grades 5-9 have even fewer "civilian" privileges. While seniors are allowed to have a mobile phone all the time, juniors are only given their devices for an hour each evening. The hour is fully devoted to phone calls with parents.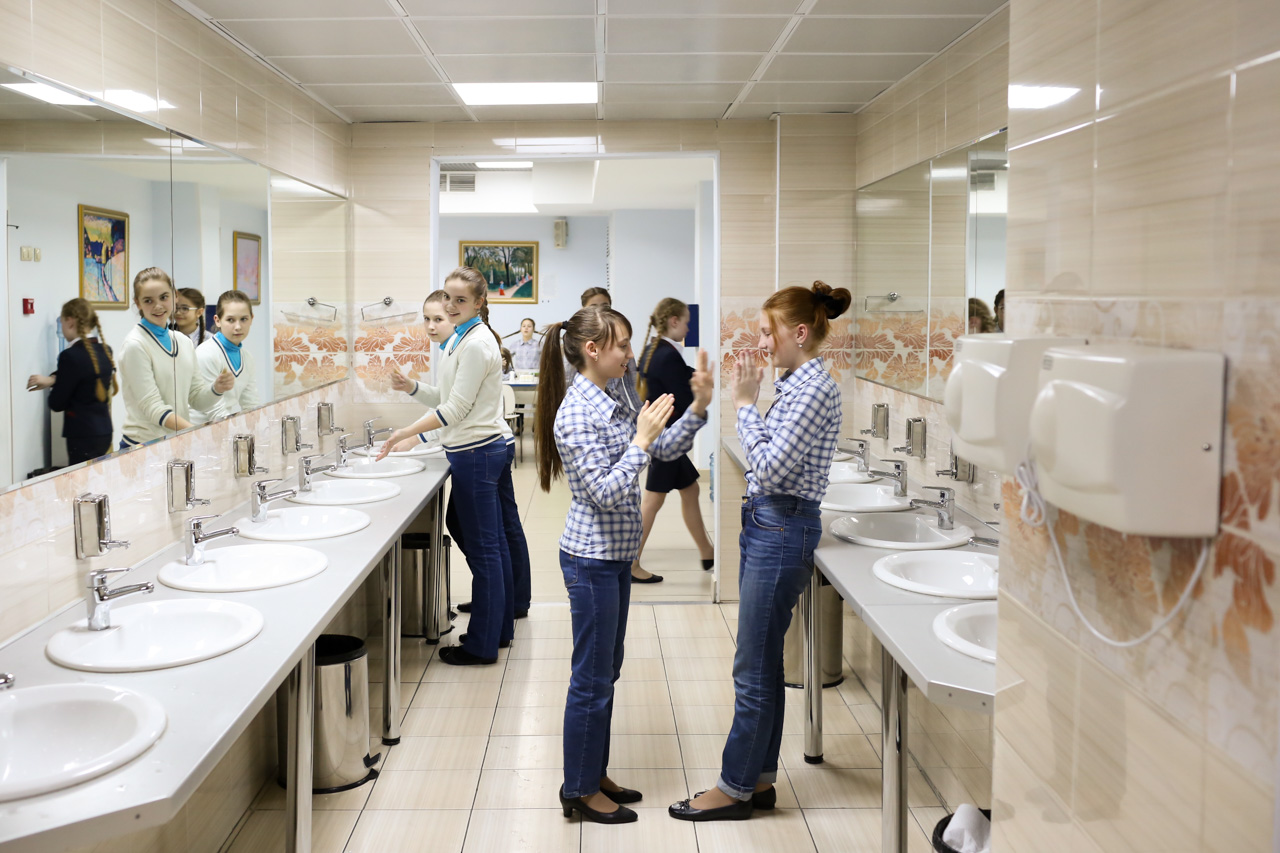 There's always time for a game of pat-a-cake. Before lunch in the canteen washroom. / Photo: Olga Ivanova
"Have you seen our cockerel yet?" It's not so much a question as a demand for an answer from a charming young girl with large grey eyes and braided pigtails. "It was hatched by our girls in biology."
"What do you mean 'hatched'?"
"Quite simple - from an egg."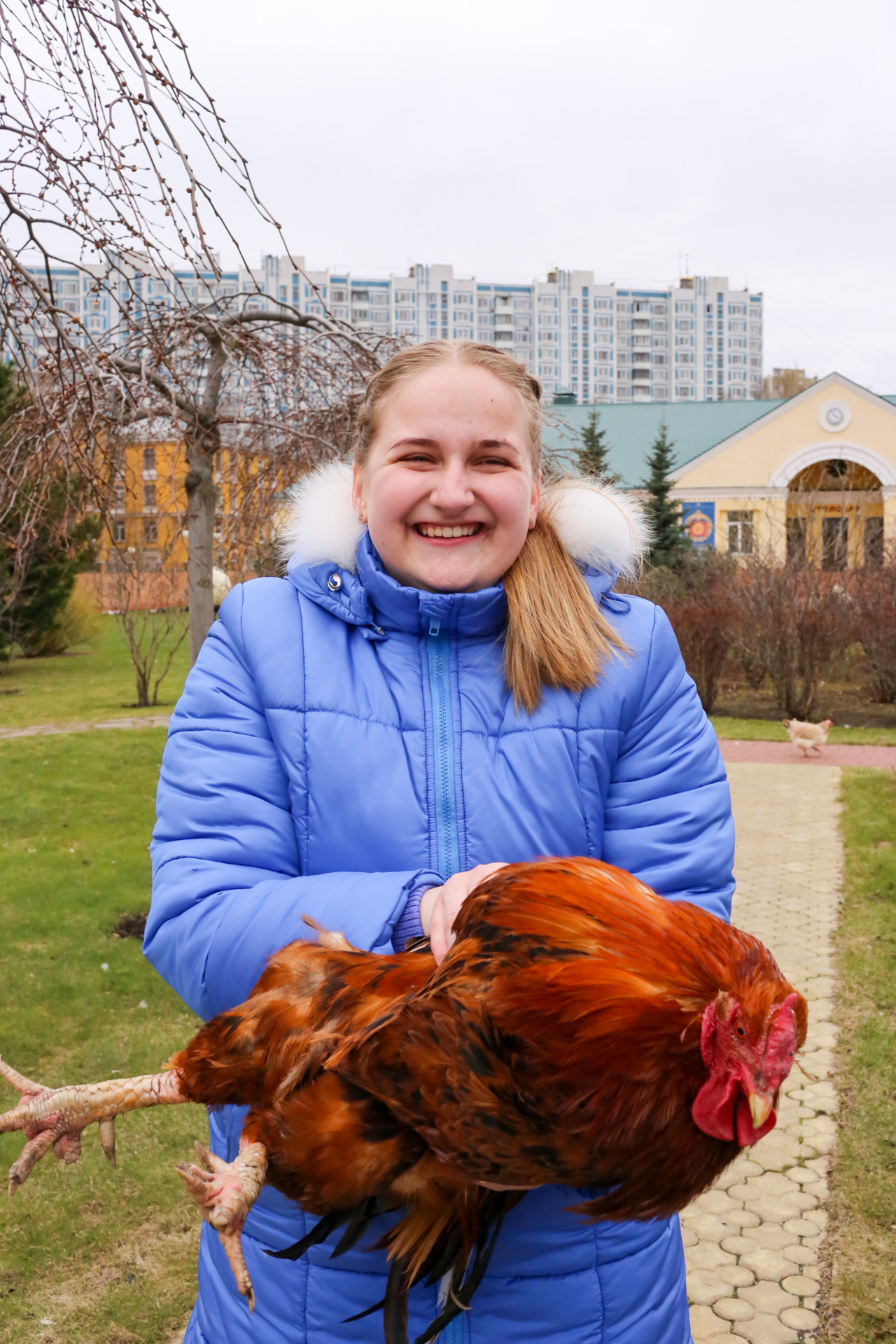 Only senior pupils are allowed to hold the rooster—the star of biology class. Katya Filatova of class 10A. / Photo: Olga Ivanova
Stasya Starozhuk is in sixth grade. Her mother is in the army - she is a specialist in a radio battalion in the North Caucasus town of Nevinomyssk, 900 miles south of the Russian capital. The girl joined the school a year and a half ago.
Stasya and several of her peers put on identical light blue padded jackets and take us on a trip around the school grounds. Somewhere deep in the English park lives the cockerel hatched in the biology lesson. Taisya goes with us, naturally, to keep an eye on the girls and the visitors. We understand perfectly: the Defense Ministry must protect its military secrets.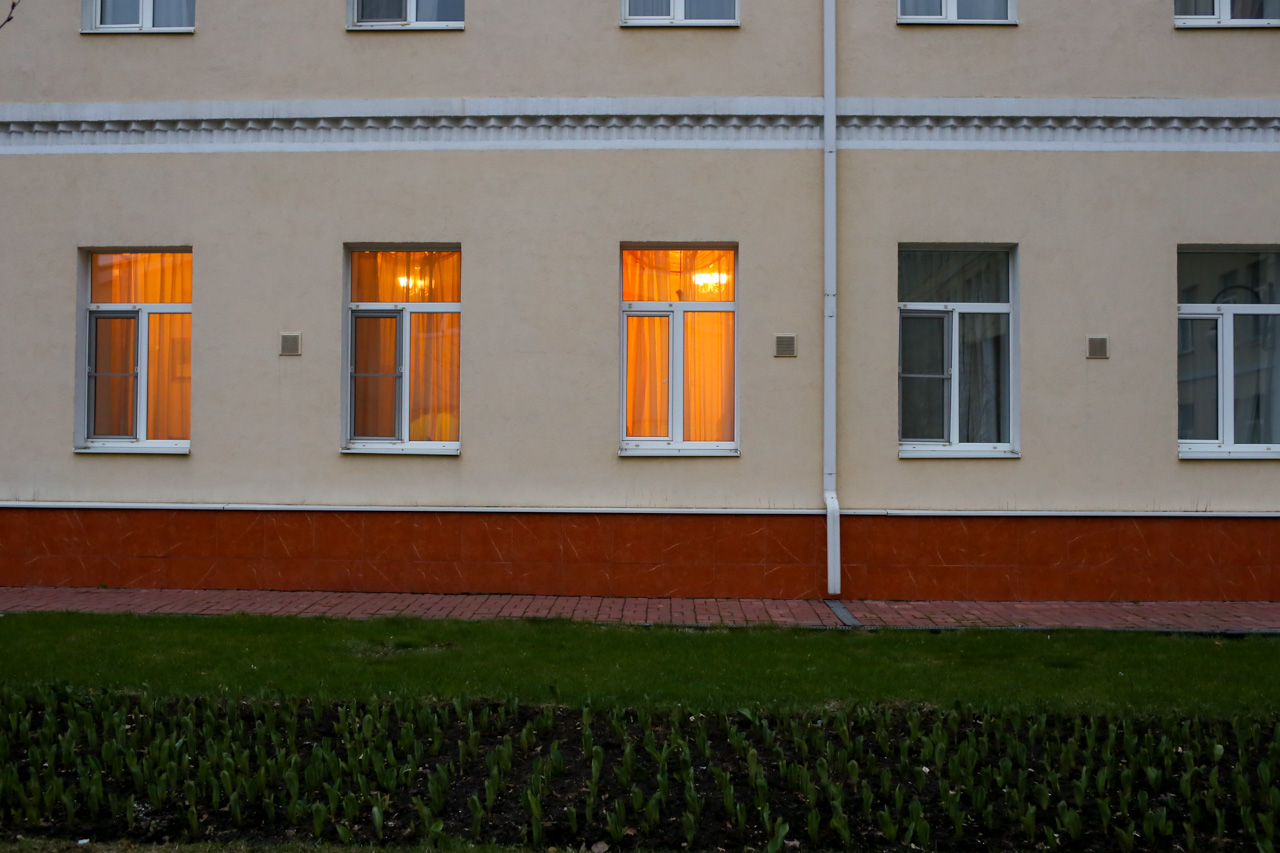 Lights out soon. The dormitory building. / Photo: Olga Ivanova
If using any of Russia Beyond's content, partly or in full, always provide an active hyperlink to the original material.