Pair of advanced Russian recon planes deployed in Syria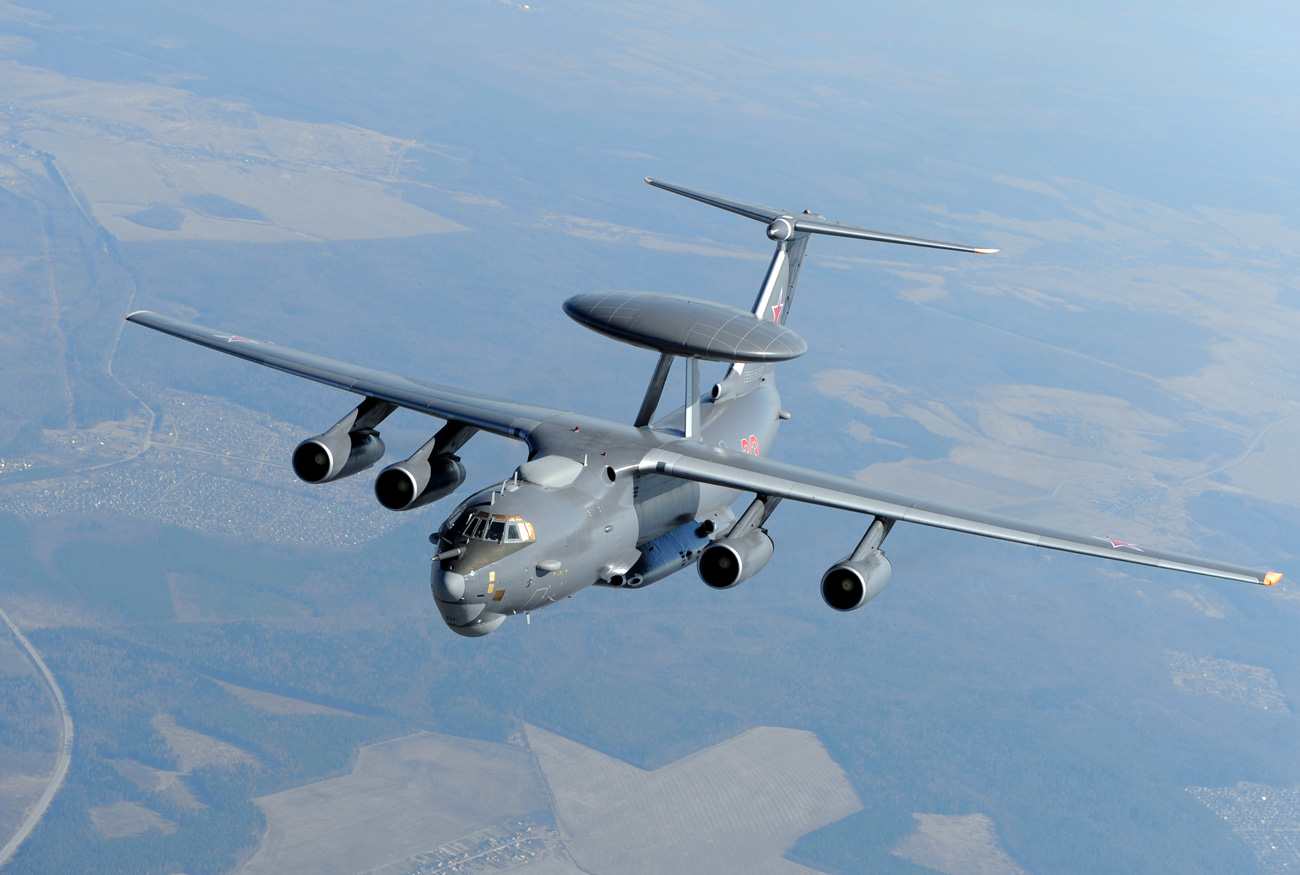 The Beriev A-50U 'Mainstay' airborne warning and control system (AWACS) aircraft of Russian Air Force in the air
Sergey Krivchikov/Global Look Press
An A-50U, the latest Russian version of the "early warning and control" (an airborne radar picket system) Soviet plane A-50, was spotted in footage from the Victory Day parade at Russia's Khmeimim airbase in Syria. Experts say the aircraft is likely used to spot targets for Russian bombers in Syria's remote regions and to monitor all military aircraft over Turkey, Iraq, and neighboring countries.
Footage from the Victory Day Parade at Khmeimim airbase
Russia's most advanced early warning and control plane (the country's answer to the American AWACS system) emerges behind the Su-35S fighter at the 7:13 point in the video.
The A-50U can be recognized by the distinctive "mushroom' above its fuselage, which is in fact an antenna capable of detecting everything that happens on the ground and in the air.
According to Russian media, the plane was deployed in Syria on April 2017. Before that, a Tu-214R — another Russian reconnaissance plane — was reportedly seen in the skies above the Middle-Eastern country.
Why are a A-50U and a Tu-214R involved in Russia's campaign in Syria?
Vadim Kozyulin, a professor at Russia's Academy of Military Science, says the two aircraft belong to two separate types of reconnaissance: Signals intelligence for the A-50U and electro-optical intelligence for the Tu-214R.
"The former was deployed to surveil the airspace of the neighboring countries: The range of the A-50U's radar is 800 km, and it's capable of tracking up to 300 targets simultaneously. As for the Tu-214R, this aircraft is supposed to locate the positions of ISIS militants and report them to the command headquarters," Kozyulin told RBTH.
However, he believes the Russian radar reconnaissance assets located at Khmeimim airbase and along Syria's Mediterranean coast, are not sufficient to fully track the movement of the terrorist forces."
"In order to obtain such data, Russia uses all its intelligence assets, including aircraft (represented by the A-50U and the Tu-214R) and spacecraft (military satellites operated by the country's ministry of defense)," he added.
Secondary goals
Some experts think the two reconnaissance planes were not sent to Syria just to carry out combat missions.
"One has to bear in mind that, in case of a full-fledged war, all crews of every military branch out there have to be prepared to accomplish their missions as well as they can. And the best way to hone one's skills is practicing on real targets under combat conditions," Dmitry Safonov, a military analyst with the Izvestia newspaper, told RBTH.
According to Safonov, over the course of Russia's campaign in Syria, the country's military aspires to check the combat readiness of its troops and to test all its advanced weapon systems in field conditions.
If using any of Russia Beyond's content, partly or in full, always provide an active hyperlink to the original material.