Dog fights, car races and presidential ice cream: Top moments at MAKS 2017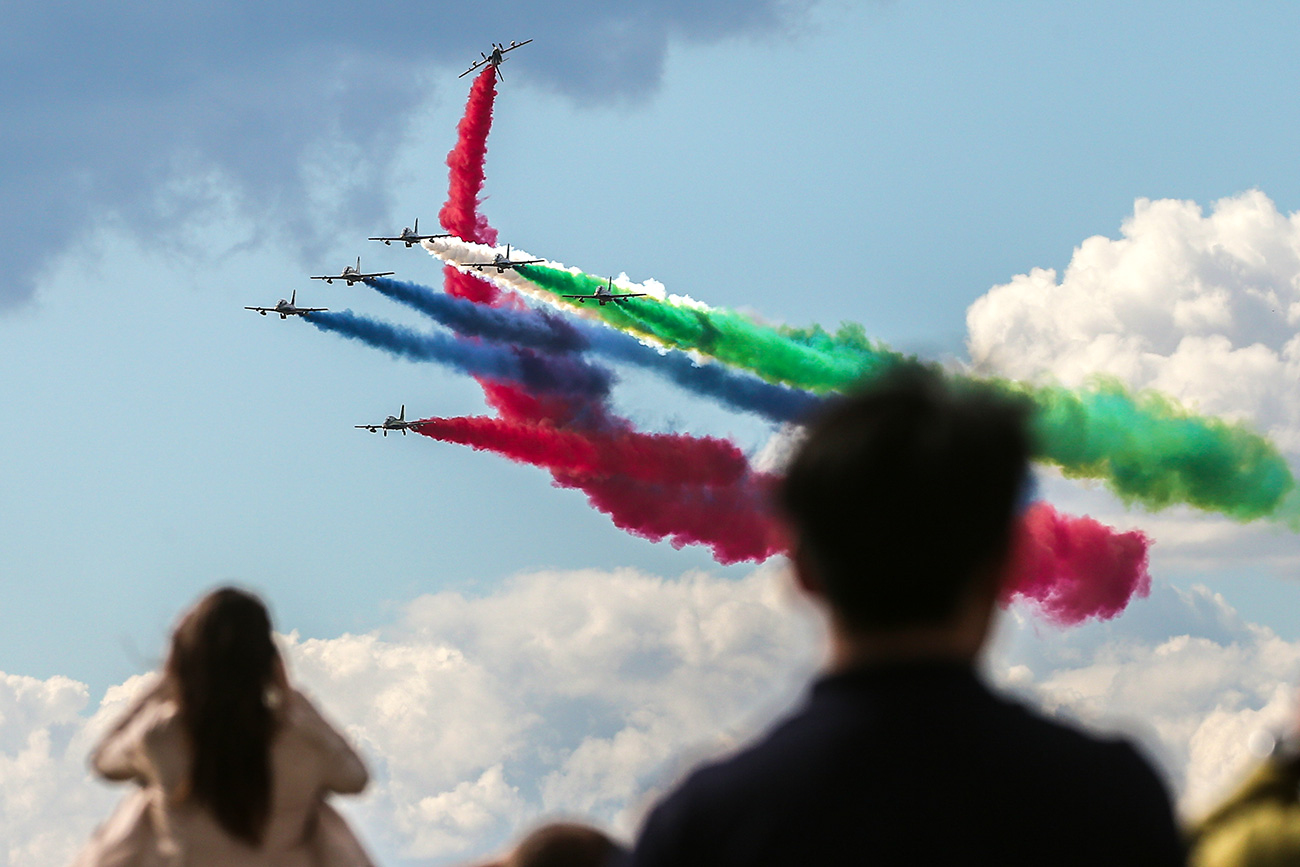 Visitors enjoy an air show at the MAKS-2017 International Aviation and Space Salon in Zhukovsky, Moscow Region.
Sergei Bobylev/TASS
History was made at the latest edition of Russia's leading airshow, MAKS-2017. Audiences saw a dog fight between two fifth-generation fighters, a MiG competing against a Formula 1 race car, and even Russian President Vladimir Putin buying ice cream for top business executives.
They roared, they swooped, they shined bright in the sun, and even dueled with each other.
On July 18-23 in the suburbs of Moscow, 84 military and civilian aircraft performed at the International Aviation and Space Salon, MAKS-2017.
The airshow, however, won't be remembered for planes only.
Vladimir Putin's visit
The Russian president arrived on the very first day of the airshow and took aside top company executives to discuss the future of military and civil aviation. The president decided to smooth upcoming negotiations by buying ice cream for everyone.
Maybe that helped to cement lucrative contracts, and there were many.
Big money and the SSJ-100
During the airshow, Russian companies signed contracts worth 400 billion rubles ($6.8 billion).
The largest was between Aeroflot and the Sukhoi Corporation for 20 of the Sukhoi Superjet 100 planes. This 'bird' grabbed headlines and the attention of both domestic customers and foreign ones. However, no contracts with foreign clients were signed this year.
In addition, there was a contract for the lease of 16 MC-21 liners with the airlines, Red Wings.
The other part of MAKS was mostly about military hardware.
MiG-35
No. 1 on a list of show stealers was the brand new MiG-35, a multi-purpose generation 4++ fighter jet that will replace the MiG-29s not just in Russia, but internationally.
The MiG-35 soared high, reaching speeds of 2,700 km per hour (which is 300 km higher than the original), and its modified thrust-vectoring engines allowed pilots to perform high-skill aerobatics.
Upgrades also reduce the plane's visibility on enemy radar and allow it to utilize all modern Russian air-to-air and air-to-surface missiles. These features combine to make the MiG-35 one of the best fighters in the world, said MiG corporation's leading test-pilot, Mikhail Belyaev, adding that the plane is in the final testing stages and will join Russia's Air Forces in a few years.
Russian Knights dazzle the crowd
This year audiences enjoyed the view from the cabins of the Russian Knights aerobatic team. What a chance to have a front seat to watch breathtaking stunts pilots during MAKS-2017!
MiG-29 vs AUDI R8
Sure, it sounds crazy to pit a MiG-29 flying at 2,000 km per hour against an Audi race car. But the finish might surprise you.
If using any of Russia Beyond's content, partly or in full, always provide an active hyperlink to the original material.