The most prominent Russian businessmen of 2012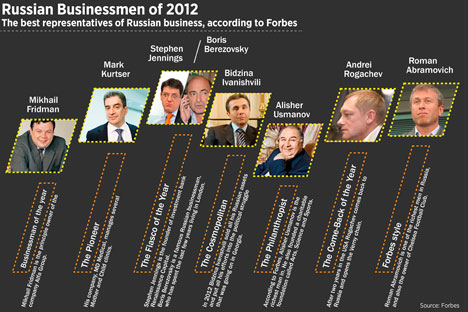 Source: Natalia Mikhaylenko. Click to enlarge the image
Forbes Magazine has compiled a list of the Russian Businessmen of 2012. The list of superlatives included the best and brightest representatives of the Russian business class.
1) Businessman of the Year: Mikhail Fridman
Mikhail Fridman is the principle owner of the company Alfa Group. The Alfa umbrella includes Alfa Bank, Alfa Insurance and X5 Retail Group (a holding made up of several retail chains). Last year, Fridman's main achievement has been closing a deal for selling a stake in TNK-BP to Rosneft for $28 billion – a new record for the Russian market.
2) The Pioneer: Mark Kurtser
Until recently, Mark Kurtser was a little-known obstetrician and gynecologist. However, in 2012 he made his mark in the field (and the business world, as well) by floating a medical services chain on the stock market for the first time in Russian history. His company, MD Medical, currently manages several Mother and Child clinics.
3) The Fiasco of the Year: Jointly won by Stephen Jennings and Boris Berezovsky
Stephen Jennings is the founder of investment bank Renaissance Capital. Renaissance was never able to bounce back after the 2008 crisis. As a result, part of the company was signed over to the businessman Mikhail Prokhorov. In 2012, Jennings left Renaissance, and the corporation was transferred entirely to outfits owned by Prokhorov.
Boris Berezovsky is a famous Russian businessman who has spent the last few years living in London. In the early 2000s, Berezovsky became heavily involved in politics. In 2012, he lost a court case against another Russian businessman, Roman Abramovich. The case was built around a claim he himself had filed for $5.6 billion that was allegedly due to him after the privatization of Sibneft and Rusal.
4) The Cosmopolitan: Bidzina Ivanishvili
In 2012, Bidzina Ivanishvili sold all his Russian assets and put all his efforts into the political struggle that was going on in Georgia. Now, as a result, he is the country's prime minister.
5) The Philanthropist: Alisher Usmanov
According to Forbes, Alisher Usmanov is the richest man in Russia. Usmanov founded a charitable foundation called Arts, Science and Sports, and he is the first Russian businessman to be included in the Sunday Times list of the world's most generous philanthropists. The sum of his charitable donations to date comes to $126 million.
6) The Comeback of the Year: Andrei Rogachev
Andrei Rogachev founded the Karusel and Pyaterochka retail chains, though he later went on to sell his assets and leave the world of big business. After two years spent abroad in the United States, Rogachev returned to Russia and opened the Verny chain in 2012.
7) Forbes Style: Roman Abramovich
Roman Abramovich is one of the richest men in Russia, as well as the owner of Chelsea Football Club. His team won the prestigious Champions' League in 2012.
All rights reserved by Rossiyskaya Gazeta.