Indo-Russian lunar mission still on, but delayed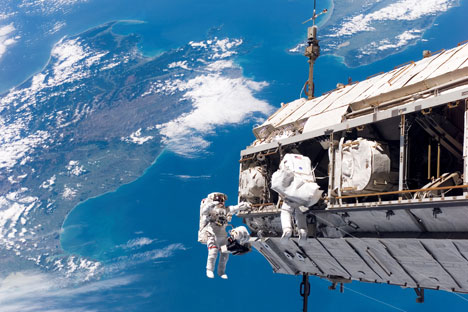 India and Russia will continue to cooperate in space. Source: NASA
Senior ISRO lab official tells news agency that plans are on for Chandrayaan-2 with Russian participation, but delays are inevitable.
Chandrayaan 2, India's second mission to the moon will be undertaken with Russian participation, although there are delays, a senior official of the Indian Space Research Organisation (ISRO) lab in Ahmedabad told PTI.
"The Indo-Russian mission is going ahead. The project has got delayed. Currently, we are whole-heartedly working for the Mars project scheduled for November. The moon mission, for the time being, has got delayed," Physical Research Laboratory (PRL) Director J.N. Goswami was quoted by the news agency as saying. PRL is part of ISRO.
The plan for Chandrayaan-2 (or Luna-Resource, as it is known at the Russian Federal Space Agency, Roscosmos) foresees India's GSLV taking an orbital module to the Moon, with a Russian-made lander (designed by the Lavochkin Science & Production Association) carrying a small Indian rover on board.
The mission is aimed at exploring lunar soil at as far a distance away from the landing site as possible, and confirming the presence of water there.
"The failure of Roscosmos Phobos-Grunt mission (in December 2011) has, for the time-being, delayed the moon mission," Goswami told PTI, adding the construction of lander for the combined mission has been delayed.
Mission in 2016?
Russian scientists have said that Chandrayaan-2 may be delayed till 2016.
Academician Lev Zelyony, head of the Russian Space Research Institute, said in February 2012 that the Luna-Resource lander may not be ready till 2016. "There were plans to launch the Luna-Glob and Luna-Resource missions in 2015," Zelyony had said. "But the dates may have to be moved, as the technical solutions that were used with NPO Lavochkin's Phobos-Grunt were also used in the lunar projects and they clearly need to be reviewed."
The Phobos-Grunt spacecraft, launched in November 2011 to retrieve soil samples from the Martian moon Phobos, became stuck in Earth's orbit after its engines failed to fire and crashed back to Earth in January. A Russian government commission set up to investigate the probe failure blamed it on a burst of heavy charged space radiation that caused the onboard computers to reboot and go into standby mode.
All rights reserved by Rossiyskaya Gazeta.