INS Sindhurakshak to leave for India next week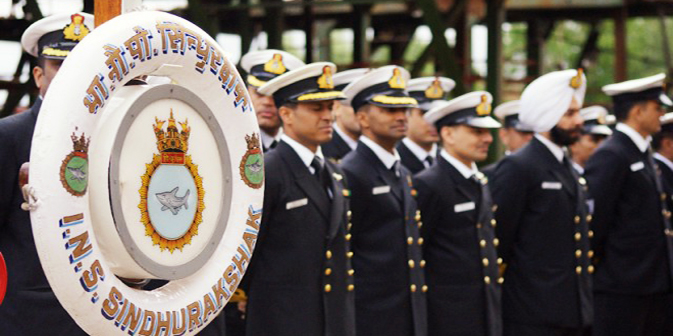 The INS Sindhurakshak is the fifth Indian submarine to be repaired and modernised at Zvyozdochka. Source: Oleg Kuleshov
After a retrofit at the Zvyozdochka shipyard, the kilo class submarine is ready to rejoin the Indian Navy.
The fully modernised INS Sindhurakshak diesel-electric submarine will leave for India on January 29, Itar-Tass said.
The kilo class submarine was retrofitted in the Zvyozdochka shipyard in Severodvinsk, north-west Russia. In the course of refit it was armed with modern Club-S cruise missiles, Porpoise radar and its cooling system was modernised.
The contract for intermediate overhaul and modernisation of the large diesel-electric submarine (project Type 877EKM Kilo) was signed between the Zvyozdochka ship repair centre and the Indian Ministry of Defence in June 2010. The submarine arrived in Severodvinsk and was accepted for repairs in August of that year.
The INS Sindhurakshak is the fifth Indian submarine to be repaired and modernised at Zvyozdochka. The first vessel, INS Sindhuvir, was handed over to the Indian Navy after repairs and modernisation in 1999.
A typical kilo-class submarine has a displacement of 2,300 tonnes, length of 72.6 metres, a submerged speed of 19 knots (about 35 kilometres an hour), a test depth of 300 metres, a crew of 52 and endurance of 45 days. These submarines are armed with six 533 mm torpedo tubes.
The modernisation arms the submarines with additional state-of-the-art Russian Club S anti-ship missiles (designed by the Novator bureau) with a range of about 200 kilometres. Supplementary Indian-made equipment includes a USHUS hydro-acoustic unit and CCS-MK communications system.
INS Sindhurakshak was built in 1997 by the Admiralteiskie verfi shipyard in St Petersburg for the Indian Navy.
Zvyozdochka has become a leading partner of the Indian Navy in maintaining the combat readiness of the kilo class submarines, experts in Moscow and Delhi say. Zvyozdochka provides its services not only at its Severodvinsk shipyard, but also at the home station of the Indian submarines. The shipyard has two covered ship-houses with seven building berths designed for repairing and building vessels weighing up to 18,000 tonnes. United Shipbuilding Corporation controls 100 percent minus one share in the shipyard through its subsidiary OAO Northern Centre for Shipbuilding and Ship Repair.
All rights reserved by Rossiyskaya Gazeta.