Russian arms exports grow; India still top destination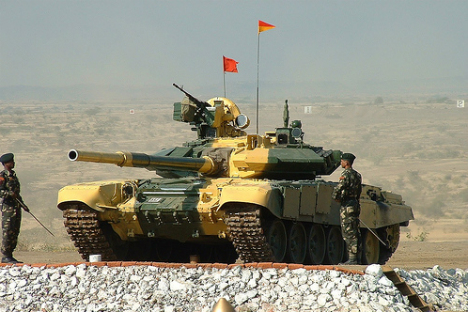 India has already bought 350 T-90C tanks and plans to purchase 1,500 more such tanks in the future. Source: Flickr/cell105
Last year 80 percent of India's defence import requirements were met by Russian suppliers, in a sign that Russian arms are still the weaponry of choice with Moscow's long-time ally.
In the past ten years, Russia's arms exports have increased threefold with India continuing to be the biggest market for the Russian Defence Industry.
In 2012, Russia sold arms worth more than $15 billion, Alexander Fomin, head of the Federal Service for Military and Technical Cooperation, said on Wednesday. He added that in 2011, Russia's arms sales stood at $13.2 billion.
India remains Russia's main arms customer. In 2012, Russian arms deliveries to India totalled 80 percent of Indian imports. Victor Litovkin, editor of the Independent Military Review newspaper, says that the Russian arms remain weaponry of choice for the Indian Army.
"It is worth recalling," Litovkin says, "that India has already bought 350 T-90C tanks and plans to purchase 1,500 more such tanks in the future. Additionally, India bought 150 Su-30MKI multi-purpose fighter jets, and 48 more such planes will be supplied to India in the coming years in accordance with a relevant agreement, signed by Russian President Vladimir Putin. Also, Russia and India agreed to jointly produce a fifth-generation fighter jet and the BrahMos supersonic cruise missile. Meanwhile, Russia is completing the modernization of the Vikramaditya aircraft carrier, due to be delivered to the Indian Navy."
Russia remains the world's second-largest arms exporter after the United States thanks to a spate of factors, according to Igor Korotchenko, editor-in-chief of the National Defence magazine. "First and foremost, one should mention a system of military and technical cooperation headed by the president, Korotchenko says. "This helps concentrate all necessary resources, including intellectual, managerial and political ones, in order to obtain the looked-for result. Second, Russia becoming more assertive on global stage adds to strengthening trust in Russia, something that prompts a whole array of countries to buy Russian arms. A reliable arms supplier, Russia refrains from putting forward any political or any other preconditions in exchange for its arms supplies."
Korotchenko adds that foreign customers are also interested in buying Russia's anti-aircraft missile systems. Russia currently holds leading positions in this sector, he says.
"Russia's Almaz-Antey company deals with exports of a wide range of sophisticated anti-aircraft systems, such as the S-300 long-range surface-to-air missile systems," Korotchenko says. "A decision was recently made to start exports of the S-400 systems shortly after they will be supplied to the Russian Army."
At present, Russia exports weaponry to 88 countries, of which 57 are regular customers. Experts say that an ever-increasing portfolio of orders may help Russia to strengthen its leading position in terms of the volume of arms exports.
First published in the Voice of Russia.
All rights reserved by Rossiyskaya Gazeta.