Vladivostok once again in APEC limelight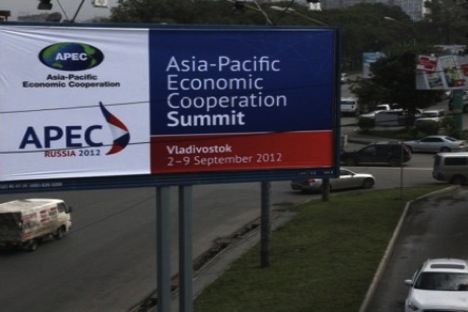 Vladivostok once again in APEC limelight. Source: RIA Novosti
Deputies and senators from the Asia-Pacific will legalise the decisions taken by their heads of state at last year's APEC forum held in Vladivostok. India sends observers.
The capital of Russia's Maritime region, Vladivostok will again become the political centreof the Asia-Pacific region, with the city hosting the Asia-Pacific Parliamentary Forum onJanuary 27-30.
The deputies and senators from the countries in the region will legalise the decisions taken bytheir heads of state at last year's APEC forum held in Vladivostok.
The forum's programme provides for the presentation of investment projects in Siberia andthe Russian Far East as well as the Russian initiative on joint scientific and educationalprogrammes. "It's very important for us to establish good business relations with thecountries in the Asia-Pacific region also through parliaments, says Speaker of the UpperHouse of the Russian parliament Valentina Matvienko, who is the chairperson of the forum.
Deputies and senators from 28 countries with different political structures and economicdevelopment have arrived in Vladivostok. All these countries represent the region where40 percent of the world's population lives. In the past decades, the region has witnessed aneconomic boom. The region's share in the volume of world-wide trade is 50 percent.
"I will name some of the serious innovations which are peculiar to the Vladivostok forum,says deputy speaker of the Upper House, Ilyas Umakhanov. "For the first time, we willintroduce the institution of observers. In view of this, apart from the members of the Asia-Pacific Parliamentary Forum, delegations from Afghanistan, Kazakhstan, Myanmar andIndia will take part in it. Moreover, other participants of the forum will be officials from10 international organisations, including the UN Deputy Secretary General, delegationsof the European Parliament, the Parliamentary Assembly of the Council of Europe, theParliamentary Assembly of the Black Sea Economic Cooperation and the ShanghaiCooperation Organization that will be represented by its Secretary General."
The issue of drug trafficking will be a special topic and the Afghan delegation will take part inthe discussions. Reportedly, Russia will propose to set up an Asia-Pacific inter-parliamentarystructure to fight against an Afghan drug threat. Other new topics on the forum's agendaare meeting of young parliamentarians and discussion on prospects for cooperation betweenthe countries in the Asia-Pacific region and European countries with the participation of therepresentatives of the CIS Inter-parliamentary Assembly.
First published in the Voice of Russia.
All rights reserved by Rossiyskaya Gazeta.