Google hands over user information to Russian authorities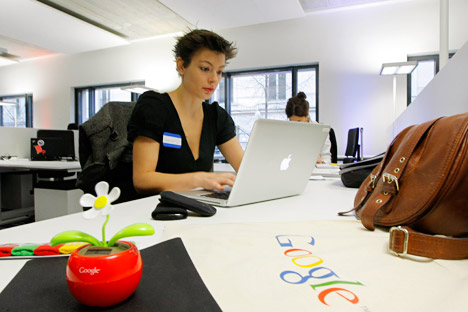 Russian law enforcement agencies' interest in Google user data has increased markedly since 2011. Source: Reuters
For the first time ever, Google cooperated with the Russian authorities by complying with a user data request. The number of such requests has tripled over the past two years and some fear that the Russian government's interest in controlling Internet freedom is rising.
Google Russia has disclosed user data to a government agency for the first time by complying with 1 percent of agency requests from July-December 2012. According to a Google Transparency report, the company received 97 requests from Russian government agencies, which concerned 123 users or accounts from the last half of 2012. Google's press service refused to comment on what types of cases were involved: "We cannot comment beyond what is reported on our website."
Since starting publication of Russia statistics in January 2011, Google had received a total of 158 requests on 170 users and had complied with none.
Russian law enforcement agencies' interest in Google user data has increased markedly since 2011. Whereas Russia sent 42 data requests in the first half of 2011, the second half of 2011 and the first half of 2012 saw 58 requests each; 97 requests were received in the second half of last year. The number of users of interest to law enforcement has tripled as well; in the first half of 2011, data requests on 47 Google users were received.
"Disclosing data to government agencies is standard practice for Google; in certain countries, up to one-fifth of data deletion requests are satisfied. In Russia, however, the legitimacy of such requests by the government is highly doubtful," Damir Gainutdinov, an analyst with the human rights organization Agora told Gazeta.ru.
"On the one hand, Google positions itself as an advocate of Internet freedom (by actively lobbying the U.S. Senate for a bill making it difficult for law enforcement agencies to track personal data and correspondence online). On the other hand, business is business, and cooperating with the government is an integral part of it," he added.
Google Russia, like the Internet giant's other country divisions, refused to cooperate with the authorities for many years. Among the countries on which Google provides statistics, it has only failed to comply with requests from Hungary and Turkey. In the United States however, Google does not act that independently. According to the company's statistics, from July through December of 2012, the U.S. authorities filed 8,438 user data disclosure requests with Google, which complied with an average of 89 percent of such requests.
Gazeta.ru has learned that the Presidential Executive Office is drafting a bill on regulation of the Russian Internet. The bill proposes obliging ISPs and domain name registrars to cooperate with law enforcement agencies to facilitate the prosecution of crime, a source close to the office told Gazeta.ru. In particular, this involves disclosure of data on users suspected of committing crimes. The legislation's sponsors are not ruling out an introduction of blanket rules regulating domain names and their registration.
"Even in this version, the repressive nature of the bill is still evident. If passed as is, it would establish users' liability (for uploaded content) and regulate the procedure for assigning domain names – a function now performed by the international organization ICANN," said Gainutdinov. "The Internet is a self-regulating system, and users are unlikely to benefit from the government getting the right to allocate and select domain names."
Attempts to make major Internet market players cooperate with Russian law enforcement agencies have been made before. In December 2011, at the peak of protest rallies against election fraud, the Federal Security Service (Russia's domestic security and intelligence agency) asked Pavel Durov, head of Russia's largest social network VKontakte, to block some of its groups that supported the opposition rallies. Durov turned the request down and posted a scanned image of it online.
Furthermore, Russian special services have a particular interest in what foreign companies are up to. "The FSB is increasingly concerned about the problem of cryptographic tools — primarily foreign-developed — being used in general-purpose networks. Various software intended for ciphering traffic is being distributed. This includes such services as Gmail, Hotmail, and Skype," said Alexander Andreechkin, head of the FSB's center for special communications and information protection. He added that, while the special services are worried about data transmission using foreign-made data scrabbling algorithms, they have yet to take any practical steps to address this.
The FSB has been more successful in negotiating directly with companies, however. FSB Director Alexander Bortnikov announced in July 2011 that his service had established "working contacts" with Google, Skype, and "other representatives of the online community." At the time, Google — whose products were long considered to be the best in guaranteeing user privacy — said that it would only cooperate with the FSB and other law enforcement agencies within the framework of a strict legal procedure.
First published in Russian in Gazeta.ru.
All rights reserved by Rossiyskaya Gazeta.