Russia keen to make most of Aero India 2013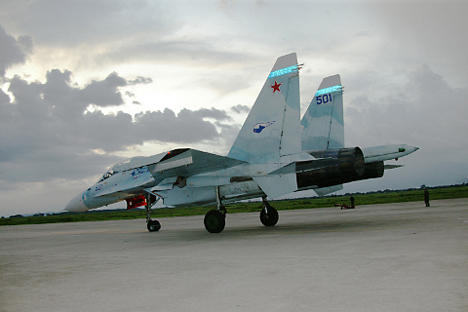 Russia faces stiff competition in the India aerospace sector from America and Israel. Source: sukhoi.org
The Bangalore air show, to be inaugurated by Indian defence minister AK Antony, is a major platform for foreign vendors. Russia faces stiff competition from the US, Israel, France, UK and Germany.
Russia will have an opportunity to showcase and market its metal birds at the 9th edition of Aero India in Bangalore from February 6 to 10. The Russian Knights-Russian Air Force Aerobatic team will be showcasing its skills at the event, along with Flying Bulls from Czech Republic and Indian Air Force's Sarang Aerobatic team.
The timing of the biennial event is crucial. It comes at a time when the Indian government is set to spend $100 billion in the defence sector within the next five years. Thus events like these are seen as a major trade opportunity for foreign vendors to take advantage of the Indian defence splurges. Russians would logically eye this event with a glint in their eyes as they are the traditional bulk suppliers of hardware and technology in this sector. Last year alone, as much as 80 percent of Indian defence acquisitions came from Russia.
The Bangalore event, to be inaugurated by Indian defence minister AK Antony, is a major platform for foreign vendors. The Russians are in for a fierce competition as close to thirty countries are going to participate in the Aero India show with the United States, Israel and Russia are set to send the three largest delegations, in that order.
Significantly, till the time of writing this China had not confirmed its participation in the Bangalore event.
Stiff Challenge for Russia
Apart from the US and Israel (the two countries that have of late beaten Russian bids in lucrative Indian defence deals in past couple of years), the Russians would also be facing stiff competition from such major powers as France, UK and Germany. Besides, the five-day Aero India is also set to have participation from Belgium, Bulgaria, Italy, Ukraine, Australia, Belarus, Czech Republic, Japan, Norway, South Africa, Spain, Switzerland, Austria, Brazil, Canada, The Netherlands, Romania, Sweden, UAE and Singapore.
The Russian delegation is to be led by A.V. Fomin, Director of the Federal Service for Military-Techincal Cooperation (FSMTC), Russia's supreme policy-making body in the defence arena. The main areas of FSMTC's responsibilities are: to perform control and supervision functions in the area of military-technical cooperation in compliance with laws of the Russian Federation; to participate jointly with other federal government authorities in elaboration of state policy in the area of military-technical cooperation; to ensure jointly with other federal government authorities implementation of key state policy guidelines in these areas; and to implement state regulations.
About Aero India
Aero India is much more than an air show; it is a trade show. Given the size of the proposed massive expansion in the Indian defence sector, events like Aero India are vital instruments for bringing mega bucks to foreign vendors.
The upcoming Aero India event will provide a significant platform in bolstering business opportunities in the international aviation sector. A rapidly growing economy, defence preparedness challenges and opening up of defence production to private sector, have given a major fillip to the defence industry in India. It has also become a hub centre for defence business in the Asia region.
The Indian government has undertaken several initiatives to energize the Indian defence industrial base particularly aerospace sector. The Indian aerospace and defence industry is one of the fastest-growing aerospace defence markets in the world. All segments in the aerospace industry, including civil and military aviation and space, are showing impressive growth.
One of the main attractions of the 9th Aero India show is an international seminar on Indian aerospace industry, entitled "Rising with Collaborative Opportunities", to be held on February 7-8. The seminar will provide a platform to policy makers, industry captains, investors, SMEs and advisory groups to discuss and deliberate on opportunities and issues pertaining to the aerospace industry.
The writer is a New Delhi-based journalist-author and a strategic analyst.
All rights reserved by Rossiyskaya Gazeta.