India to use Russian avionics for future fighter – UAC head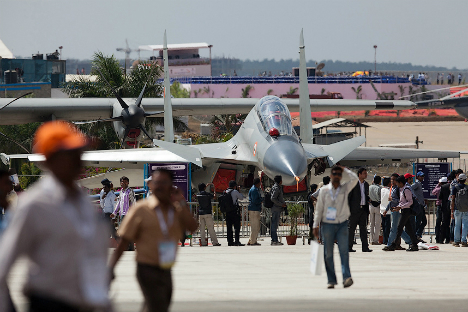 Aero India 2013. Source: Marina Lystseva
Indian fifth generation fighter aircraft will be equipped with avionics similar to the Russian version of the plane. Analysts say India's choice of Russian avionics is a logical step and in line with previous joint programmes.
India is to equip its Perspective Multirole Fighter (PMF) variant of the Russian T-50 fifth-generation combat aircraft with avionics similar to Russia's version of the plane, United Aircraft Corporation President Mikhail Pogosyan said on Wednesday.
"The future plane (PMF) will have not only the same airframe, but also an integrated system of onboard equipment," Pogosyan said, stressing this was a requirement of the Indian Air Force.
Details of the PMF design will be specified after the relevant contracts with India are signed, he said.
The PMF will have such advanced features as stealth, supersonic cruise speed, high manoeuvrability, an integrated set of avionics, and an advanced threat-warning system, according to Sukhoi.
The fighter is being developed on the basis of the Russian perspective aviation complex (PAK FA), of which T-50 is a prototype, to India's stringent technical requirements. Further development of the program envisages design and development of a two-seat variant and integration of an advanced engine with increased thrust. The two sides are supposed to cooperate in joint marketing of the aircraft in other countries.
Analysts say India's choice of Russian avionics is a logical step and in line with previous joint programmes.
"It would be reasonable to assume that the model adopted for India's Su-30MKI [fighter jet purchase from Russia] would be continued with regard to its purchase of Russia's fifth-generation fighter, based on the Sukhoi T-50 prototype," said Douglas Barrie, air warfare analyst at the London-based International Institute for Strategic Studies.
"The Indian Su-30MKI has some non Russian-standard avionics systems, but the baseline platform, propulsion and sensors are very much Russian, with final assembly of the aircraft in India. The PMF will, I suspect, be to all intents the production standard of the T-50, again perhaps with some non-Russian avionics and systems," he added.
The PMF project began following a Russian-Indian agreement on cooperation in the development and production of perspective multirole fighter, signed on October 18, 2007. In December 2010 Russian arms sales agency Rosoboronexport, India's Hindustan Aeronautics Limited and aircraft maker Sukhoi Company signed a preliminary design development contract for the new aircraft.
In mid-January, Russia's prototype Sukhoi T-50 made out its first long-range flight from a manufacturing plant in Russia's Far East to an airfield near Moscow. The plane flew 7,000 kilometres (4,350 miles), making two landings on the way.
The plane joined three other T-50 prototype models at the Zhukovsky flight test centre, prior to state flight tests which are scheduled to start in March 2013. A fifth prototype aircraft is being built at the Komsomolsk-on-Amur factory in Siberia.
The T-50 first flew in January 2010 and was presented to the public at the Moscow Air Show in 2011. The Russian Defense Ministry is planning to finish the state flight tests of eight prototypes by 2015, with production starting around 2016.
The T-50, which will be the core of Russia's future fighter fleet, is a fifth-generation multirole combat aircraft featuring elements of "stealth" technology, super-manoeuvrability, super-cruise capability (supersonic flight without use of afterburner), and an advanced avionics suite including an X-band active phased-array radar.
First published in RIA Novosti.
All rights reserved by Rossiyskaya Gazeta.